Spirit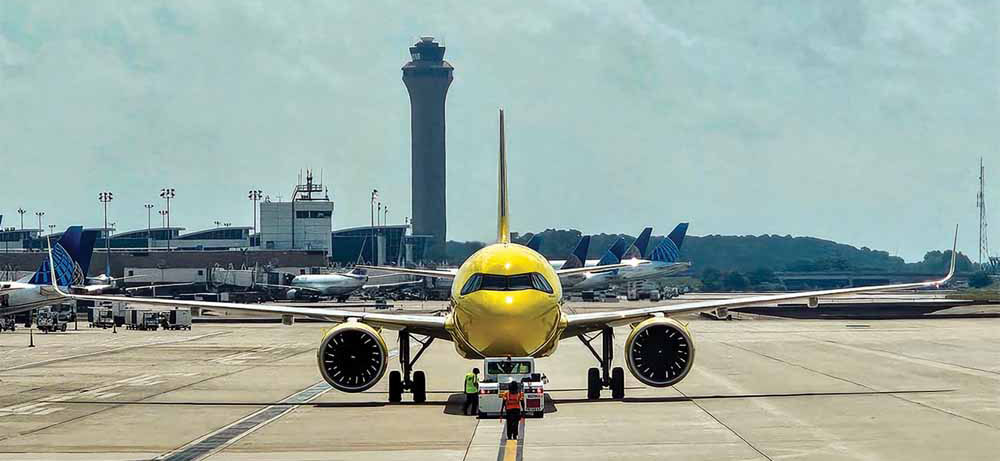 A Spirit Airbus A319-132 during an early morning preflight walk-around.
After three years of arduous negotiations including 18 months at the bargaining table with the National Mediation Board, the pilots of Spirit Airlines kicked off the new year by ratifying a five-year agreement that includes substantial pay increases, double-digit direct contributions to their retirement plans, and $75 million in ratification compensation.
"This collective bargaining agreement reflects a nearly 50 percent increase in pay and retirement over our previous agreement," said Capt. Stuart Morrison, the pilots' Master Executive Council (MEC) chairman, "and delivers much-needed job protections while maintaining important quality-of-life protections that surpass our peers."
An agreement in principle was reached in mid-January, and the Negotiating Committee and company negotiators worked nearly around the clock to finalize the language in advance of the pilots' MEC meeting on January 30. The Negotiating Committee endorsed the tentative agreement, and the MEC voted unanimously to send it to the pilots for a ratification vote.
From a dedicated website to online streaming and domicile road shows, the Spirit MEC leaders utilized the ALPA toolbox to its maximum extent when they launched their tentative agreement information campaign.
"The support of the staff from ALPA Communications and Information Technology Departments was undeniably crucial in the ratification of this agreement," said Morrison. "We didn't leave any stone unturned when it came to communications. No Spirit pilot could say 'he or she didn't know,' because we deployed so many different avenues to reach them with information."
The tentative agreement information website was regularly updated and housed a series of videos scripted to highlight the major changes in each section, the full agreement language in a clean and red-lined version that provided a clear visual of the changes from the old contract and the new language, a schedule of road shows, bullet-pointed agreement highlights, preferential bidding system (PBS) and scope FAQs, and regularly updated answers to other FAQs. Most importantly, the website hosted a pay rate/ratification compensation estimator that calculated each pilot's compensation under the agreement and the pilot's ratification compensation payout with real-time data input by individual pilots.
The MEC crisscrossed the United States conducting a dozen domicile road shows in Detroit, Mich.; Las Vegas, Nev.; Chicago, Ill.; Dallas, Tex.; Fort Lauderdale, Fla.; Atlantic City, N.J.; and Philadelphia, Pa. The second road show in Las Vegas was videotaped in its entirety, and the presentation and question-and-answer session were provided on the tentative agreement information website for those pilots unable to attend a road show. All of the various communication events were advertised to the Spirit pilots via e-mail and utilizing Facebook, Twitter, and blast text messages.
Added to the mix were the live streaming of several road show question-and-answer sessions, during which pilots who were listening online could submit their questions via e-mail.
Of the 98 percent of pilots who voted, 70 percent cast ballots in favor of the agreement, which includes
significant improvements to scope protections, including merger and acquisition, successorship, and code-sharing protections;
an average 43 percent increase in pay rates effective on the day following the contract date of signing (DOS);
direct contributions to the pilots' 401(k) accounts that increase one percent a year from 11 percent on DOS to 15 percent on DOS plus four years;
industry-standard 12-year pay scale;
industry-leading health-care provisions while maintaining the current pilot cost structure;
industry-standard rig package upon implementation of PBS;
industry-leading reserve system;
industry-standard long-term disability benefit providing own occupation coverage to mandatory retirement age, with optional buy-up to $15,000 per month;
industry-standard fatigue policy with pay protection; and
PBS letter of agreement that requires mutual agreement in all aspects of PBS with ALPA control over vendor selection.
The five-year deal positions Spirit Airlines to attract new pilots to support the company's additional growth plans over the next five years, including the 49 new aircraft on order through 2021.
"Spirit Airlines continues to be successful thanks in large part to the hard work and professionalism of its pilots, and the level of growth the airline is predicting couldn't have been supported without this deal," concluded Morrison.