Spirit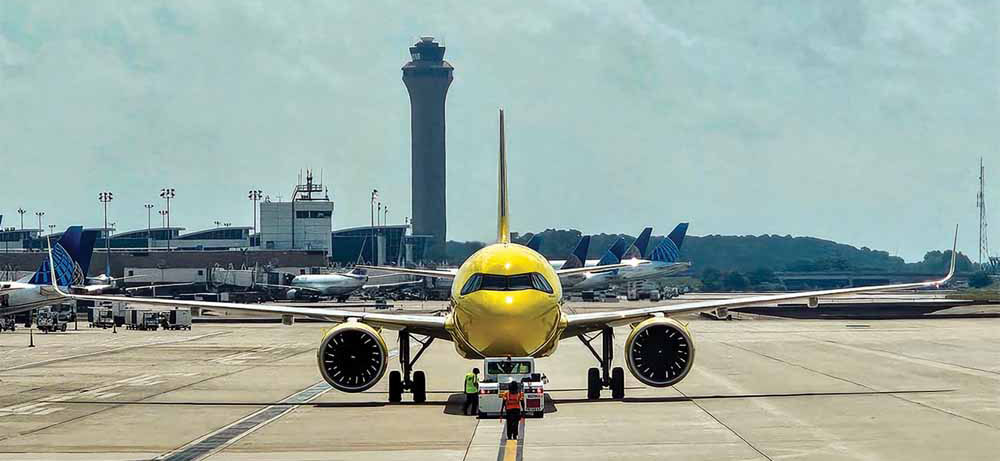 A Spirit A320 sits on the ramp at Orlando International Airport after a thunderstorm.
Ten years after being part of the last major airline strike in North America, the pilots of Spirit Airlines are looking forward, not back, as their carrier strengthens its position as the nation's most successful ultra-low-cost carrier.
Spirit's operations, fleet, and revenues are all growing rapidly. The airline has roughly doubled in size over the past five years. After previously being stymied in hiring due to its substandard pilot contract, a new collective bargaining agreement signed in March 2018 with much higher pay, industry-standard benefits, and other improvements across the board has attracted scores of new pilots.
From Sept. 1, 2019, through Aug. 31, 2020, Spirit expects to hire 672 new first officers and upgrade 330 new captains. To reach that target, the airline will need 60 new hires and 48 upgrades each month through the first quarter of 2020 before slightly slowing the pace of hiring to accommodate the airline's peak summer flying.
"Growing this quickly is a good problem to have, but it's also stretching the resources of the Master Executive Council [MEC] and our committees," said Capt. Stuart Morrison, the pilots' MEC chair. "One of our major goals in 2020 is to recruit and train more committee volunteers so that we can continue to provide quality service for our members."
Among the most active MEC committees in 2019 was the PBS Working Group, tasked with implementing one of the major changes in the 2018 contract: preferential bidding. With implementation and pilot education now largely complete, the PBS Working Group is transitioning to a permanent PBS Committee.
The airline is doubling down on its fleet growth. Spirit has an existing order with Airbus that's growing its fleet by 33 percent, expanding to just shy of 200 aircraft by the end of 2021. And in October 2019, Spirit announced a huge order for 100–150 new A319, A320, and A321neos. The aircraft from the new order are expected to join the fleet from 2022 through 2027.
Spirit corporate is growing, too. The company has purchased an eight-acre site in Dania, Fla., near the Fort Lauderdale-Hollywood International Airport to build a new headquarters campus to be completed by 2022. The new headquarters will include an office tower, a training center with simulator bays, and two hotel buildings to accommodate new hires in training.
As new pilots continue to flock to the airline, Spirit's Orlando, Fla., base is seeing significant growth while its other domiciles will continue to see steady, more moderate expansion. Operationally, management has told the MEC it will be focused on opening fewer cities in 2020 than it did in 2019, while connecting more existing cities together.
The rapid expansion of the airline has strained the Spirit MEC's structure to the limit. The airline continues to add new domiciles, and a Local Executive Council was recently added to represent training pilots. Soon Spirit's Orlando domicile will have 600 or more pilots and grow larger than the MEC's pilot base in Fort Lauderdale.
The MEC is examining various options to ensure adequate pilot representation. It could create a new ALPA Local Executive Council, possibly in the Las Vegas, Nev., domicile, or it could consider domicile representation, where one status representative would represent all the pilots at one base. Additional representatives could be added to the MEC when the number of pilots in a domicile reached a certain size.
"At our fall meeting, the MEC approved a resolution petitioning ALPA's Executive Council to consider realigning the Spirit MEC," Morrison said. "We're seeking its input to make sure that we have the proper structure in place so that our representation model keeps pace with our pilot growth."