WestJet Encore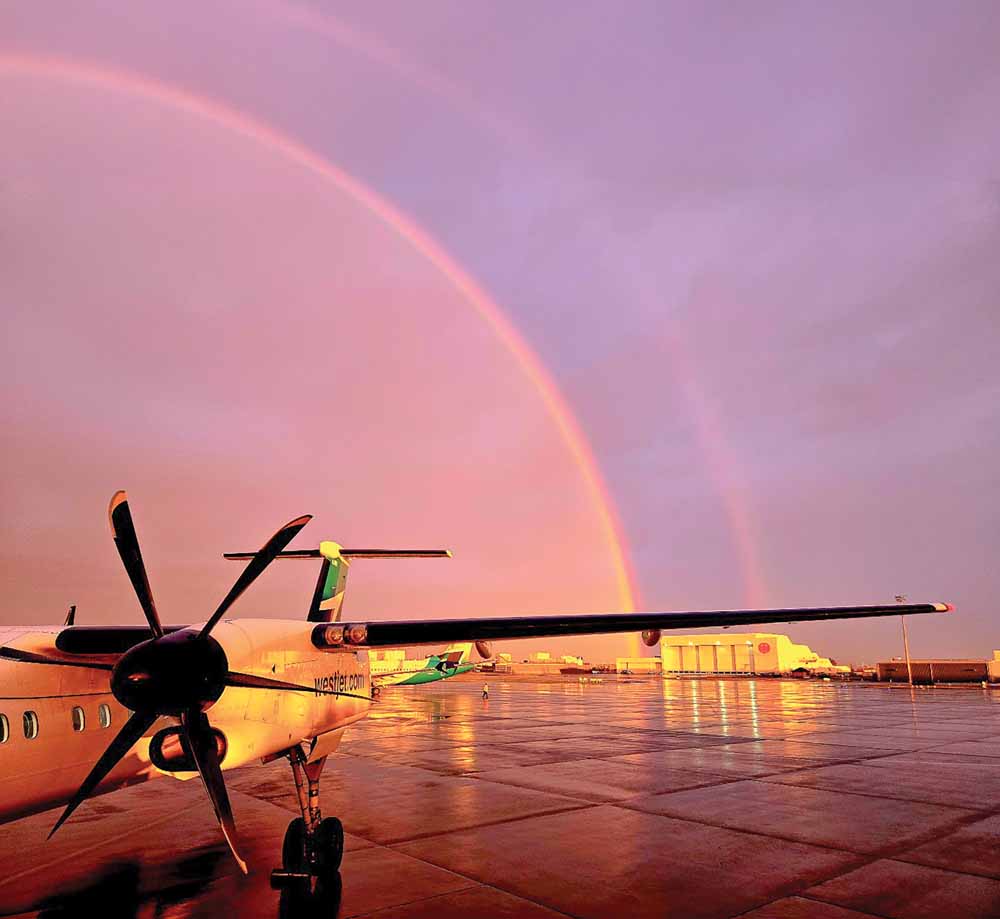 One of WestJet Encore's Q400s flies across the skies of the Canadian Rockies.
After a busy 2018 that posed numerous challenges and a steep learning curve, the WestJet Encore pilots came into 2019 stronger than ever, with a resolve to remain united in their quest to achieve a robust collective agreement.
The company, however, had other plans—challenging the pilots' Master Executive Council (MEC) Negotiating Committee during a hard-fought series of negotiations on topics including key economic items such as pay and scheduling.
By February, pilot negotiators had held several meetings with management regarding various economic items in the contract—including hourly rate of pay increases, uniform allowance, trip and duty rigs, changes to the overtime trigger, minimum daily credit, changes to vacation credit, and sick time—hoping to make progress. More often than not, those hopes were dashed as the company continued to hold strong in its position.
With little progress being made, the MEC began work to exercise other available options, including seeking the assistance of a mediator or filing for conciliation services, which would start a roughly 96-day countdown toward possible job action.
This action paved the way for both parties to find common ground and seek the assistance of a neutral, third-party mediator to participate at the bargaining table.
About this time, the MECs from both WestJet and WestJet Encore also met with the company to continue discussions on the One List, the pilot groups' single seniority list, and reaffirm their commitment to the career-progression principle.
As spring arrived, two surprises were in store for the pilots. WestJet Airlines announced it had entered into an agreement to sell the company to Onex Corporation, which would acquire all outstanding shares of WestJet for $31 per share, after which WestJet would operate as a privately held company. In addition, the pilot group quickly reached a tentative agreement with management.
"Throughout negotiations, we continued to communicate with our pilots and made the best use of the vast ALPA resources to achieve our goal of getting a good first deal for our pilots," said Capt. Ryan Petrie, then WestJet Encore's MEC chair. "This agreement represents a step in the right direction, bringing our pilot wages closer to levels in line with our industry peers, along with enhancing our work rules and benefit structure."
After a cross-country series of contract presentations in April, the pilots voted in favour of the agreement in May.
The five-year deal, which was retroactive to Jan. 1, 2019, and implemented many items upon ratification, provided increases in wages and improvements to working conditions while enhancing quality of life for the pilot group.
"This contract is thanks to the dedication and professionalism of our WestJet Encore negotiators and elected leadership, our pilots, and ALPA staff," acknowledged Capt. Ryan Leier, the current WestJet Encore MEC chair. "Thanks also go to airline management and the mediator for their efforts in working with us to reach this agreement."
With the contract out of the way, the MEC was able to focus its efforts on a successful resolution of the One List with the WestJet MEC and WestJet/Encore/Swoop management.
In May, the WestJet pilots voted down the One List proposal, with 54 percent voting against it and more than 400 choosing not to vote. However, those involved agreed to revisit the issue in an effort to come to an agreement. In December, the parties voted on and passed a newly updated pilot transfer agreement, which will better serve all involved.
With 2020 under way, the MEC continues to work on contract implementation and is dealing with the new reality that WestJet is now operating as a privately held company following the company's sale to Onex, which was finalized late last year.