Pivot Airlines (Formerly Air Georgian)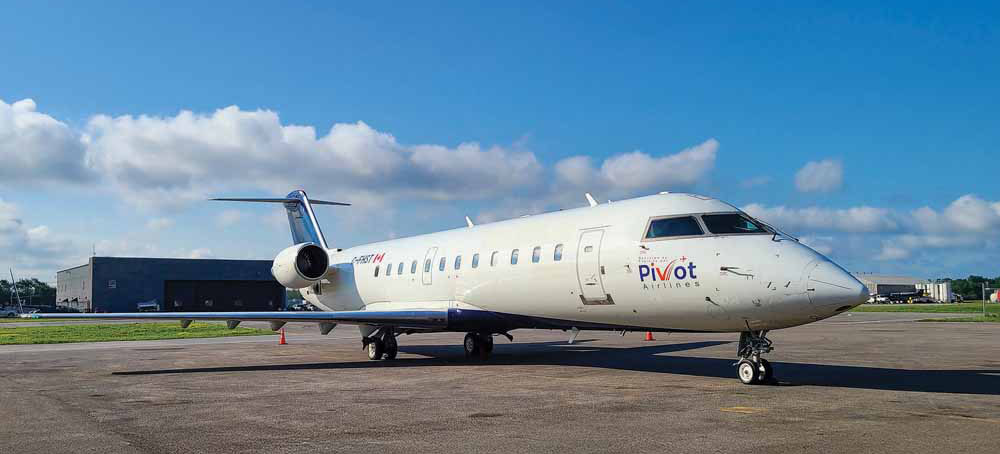 A CRJ200 prior to takeoff during a sunny day in southern Ontario.
As 2019 ended, Jazz Aviation and Air Canada were busy implementing their capacity purchase agreement (CPA), a deal that had been extended to 2035 and included transitioning all Pivot flying back to Jazz.
By January 2020, most remaining Pivot pilots choosing to transition to Jazz were doing so without problem, bringing with them their airline date-of-hire seniority—a benefit the Jazz Master Executive Council (MEC) negotiated. Those pilots with outstanding issues were having them resolved thanks to the efforts of the Jazz MEC and ALPA staff.
Pilots choosing to remain with Pivot hoped contract negotiations would begin early in the year. However, management and ALPA agreed that any contract negotiations would be postponed, allowing management more time to secure a long-term flying agreement. Management was also looking at the feasibility of operating charters and other ad hoc flying without a CPA partner.
However, in January, seismic changes within the airline also began to take shape, beginning with the notification that management had decided to move up the dates for when pilots would transition to Jazz. Upon receiving this news, the Jazz MEC began working with management to reach an arrangement to support the affected pilots.
Unfortunately, the question of how long then Air Georgian could continue without a long-term flying agreement was answered just a few weeks later when ALPA was notified that the airline had filed a notice of intention for bankruptcy as it worked to restructure its affairs. During the notice of intention process, management planned to continue pursuing new business opportunities.
What resulted was the formal ending of Air Georgian after more than 25 years in operation. By the end of 2020, ALPA's legal counsel continued working through the Ontario court as a creditor in the Air Georgian bankruptcy and restructuring process. This included trying to secure owed vacation pay, per diem, and contractual severance amounting to approximately $5,000 for each of the 13 remaining pilots who were on the property prior to Air Georgian ceasing operations.
Following a thorough restructuring, the company reemerged as Pivot Airlines with a goal to enter the charter market and establish scheduled flying for business travelers from major airports throughout Ontario and Québec.
Pivot retained Air Georgian's core management staff, two CRJ200s, and software licenses for flight planning and flight dispatch.
As the planning stages for a launch progressed, Pivot informed ALPA that it was in the late stages of securing a contract with a major Canadian airline to provide regional service within eastern Canada and between Ontario, Québec, and the United States. Unfortunately, that plan was abandoned as a result of the COVID-19 pandemic.
Pivot has subsequently announced a business plan to operate as a stand-alone regional airline based out of Kitchener/Waterloo, Ont., connecting the hub with other business centres in Ontario and Québec with de Havilland Canada Dash 8s. However, the protracted slowdown in aviation due to the pandemic has caused management to push back its official launch date indefinitely.
F/O Tim Perry, ALPA Canada president and the custodian for the pilot group, remains optimistic. "Pivot management and I continue to be enthusiastic about ALPA remaining as the bargaining agent for the airline's pilots and forging a better working relationship than previously existed between the parties. Talks are ongoing, and we've had constructive discussions about which parts of the Air Georgian collective agreement would apply, as well as which sections from prior bargaining would be considered tentatively agreed to or outstanding. Heading into 2021, I'm confident these conversations will continue."