Breeze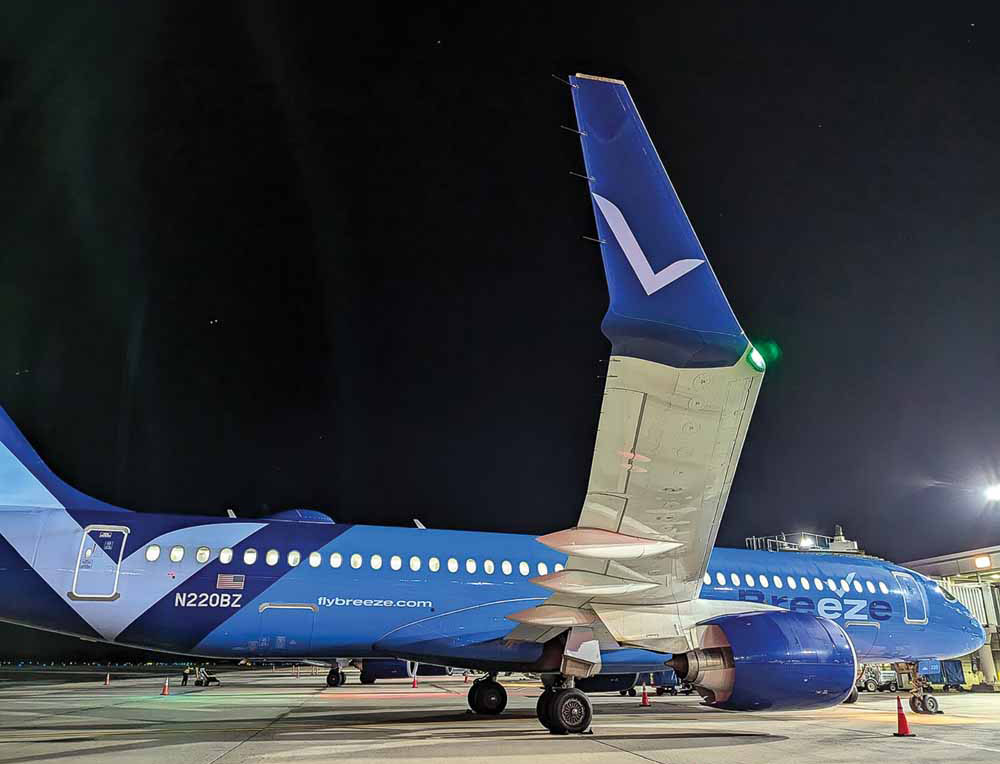 A Breeze Airways EMB190 at Sawyer International Airport. Photo: Capt. Alex Kluge (Breeze)
After becoming ALPA's newest pilot group in August 2022, Breeze Airways pilots moved quickly to establish their Master Executive Council leadership and committee structure to support the pilots and prepare for upcoming negotiations. The pilot group currently works under a "Pilot Playbook" that covers the work rules, pay, vacation, and training for pilots. However, it's not a contract and can be amended by the company unilaterally.
Just days after the pilots voted in favor of ALPA representation and subsequently received certification from the National Mediation Board (NMB), the Cottonwood Heights, Utah-based airline filed a complaint in Utah's federal district court seeking to have a judge declare the election void and order the election to be rerun as not all pilots were allowed to participate because they hadn't completed training. By October, the Justice Department, on behalf of the NMB, had filed a motion to have the court dismiss the company's complaint. ALPA also moved to intervene and filed a motion asking the court to reject the lawsuit on the grounds that Breeze's legal theory is contrary to decades-old and well-established law regarding the eligibility of trainees to participate in pilot representation elections. As Air Line Pilot goes to press, the case is still pending.
"All Breeze pilots share the goal of securing a first collective bargaining agreement expeditiously—and certainly before this litigation is resolved—as we don't believe the pilots or Breeze can afford to continue operating under the company's Pilot Playbook much longer," said Capt. Alex Kluge, the pilot group's MEC chair. "For pilots to call Breeze a career airline, we'll need the benefits that career airlines provide—job security, competitive pay and benefits, quality of life, and scheduling rules that work in tandem with our needs and our families' needs."
MEC leaders have moved forward with setting up MEC communications systems and recruiting pilot volunteers to coordinate union operations. The pilots have been successful in building their committee structure, which includes Central Air Safety, Scheduling, Negotiating, Safety/Security, and Grievance Committees. The Negotiating Committee has already begun preparing for collective bargaining.
Among the important priorities for the group was to include a diverse and inclusive mix of pilots to establish its committee structure, given the varied and unique nature of the airline's operations. This includes a diverse business model with 101 select destinations throughout the United States that are economically supported by city connections and government service agreements.
"With negotiations opening in early 2023, our Negotiating Committee has already prepared a number of concepts for improvements in scheduling, compensation, and quality of life for reserve pilots, and we're optimistic that tentative agreements can be reached on several fronts early on," Kluge observed. "We're hoping to schedule initial bargaining meetings in the first quarter of the year and to establish an aggressive negotiating schedule to demonstrate that both the pilots and management are willing to work together to ensure stability for our pilot group and the airline."