Committed to Enhancing Air Safety Worldwide
By Capt. Joe DePete, ALPA President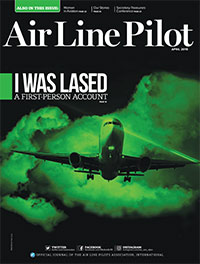 While flying remains the safest mode of transportation in the world—and ALPA pilots have been integral to this accomplishment—the recent tragedies of Lion Air Flight 610, Atlas Air Flight 3591, and Ethiopian Airlines Flight 302 remind us that there is still urgent work to do in safeguarding our skies in both passenger and cargo operations.
ALPA deeply respects the thorough accident investigations that are under way. This proven, unbiased, and objective investigatory process has been developed at the terrible cost of lives lost, and it is the most effective and efficient means to collect the factual data needed to drive regulatory and policy changes for a safer future. As ALPA members know, our union has been instrumental in shifting the U.S., Canadian, and international airline industry toward a proactive approach to improving safety that will prevent accidents before they occur.
While it has been reported that there are similarities between the tragedies involving Lion Air and Ethiopian Airlines, we must remember that those investigations are still ongoing—no final findings or conclusions have been identified. As we allow the accident investigators to do their work, it is clear that the tragedies have raised extremely important questions about our industry's foundational processes regarding aircraft design, certification, and the minimum pilot training, flight experience, and qualification standards that exist globally outside the United States.
These issues and others will be discussed and debated throughout our aviation community, including by the newly announced Department of Transportation Special Committee, which will review the FAA's certification process for new aircraft, including the B-737 MAX. ALPA will be engaged and active during these discussions in the United States and Canada, as well as at the International Civil Aviation Organization and the International Federation of Air Line Pilots' Associations. As the world's largest nongovernmental aviation safety organization, we have a vested interest in ensuring that all relevant issues are adequately investigated and that safety enhancements are identified and implemented through an open and objective process.
ALPA's national leaders, members of the Air Safety Organization, pilots, and professional staff are in contact with U.S., Canadian, and international regulatory agencies; airline managements; aircraft manufacturers; other aviation safety stakeholder groups; and other pilot and airline employee unions to urge collaboration in what must be an industrywide effort to ensure confidence in the safety of our system.
We know airline pilots in the United States are trained for life––we have raised the bar for the industry around the world. Based on the U.S. safety record and the proven success of the FAA's pilot qualification, training, and experience regulations, I have sent a letter to the International Civil Aviation Organization calling for a global review of pilot training and qualifications. ALPA is committed to enhancing air safety worldwide—in pilot training and every other aspect of aviation.
ALPA is actively engaged, and we will keep you informed. Our Air Safety Organization stands ready to work with all parties—regulators, manufacturers, employee unions, and airlines—to learn from these recent tragedies and improve safety for our passengers, crews, and cargo.