Delivering for You in 2021
By Capt. Joe DePete, ALPA President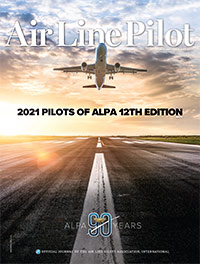 Our union's 90th anniversary this year marks a tremendous milestone made possible only by ALPA pilots' contribution and commitment. Together, we have advanced an industry and a profession that have changed human history and now chart our course to public-health and economic recovery.
As government leaders take the first actions of 2021 to defeat COVID-19 and rebuild the global economy, ALPA is making certain pilots' voices are heard loud and clear. In the United States, we are reaching out to the new administration and the 117th Congress to inform and engage lawmakers from both parties to move forward our pilot-partisan agenda. At the top of the list is securing economic aid for our industry and workers that creates a bridge beyond the March 31 expiration of the CARES Act payroll support program extension.
After Prime Minister Trudeau's recent Cabinet reshuffle in Canada, we are introducing ALPA to newly appointed Transport Minister Omar Alghabra. Under the leadership of F/O Tim Perry, ALPA Canada president, our union is redoubling our call for the government to consult with the aviation industry and labor and consider ALPA's science-based recommendations to improve COVID-19 testing and quarantine measures and provide targeted support to the aviation sector and its workers.
In addition, we continue to work at all levels to protect the health and safety of airline pilots. While pilots continue to perform our essential role in transporting vaccines to where they are needed, ALPA is focused on obtaining priority voluntary access to vaccines for all airline pilots. Similarly, our union supports the U.S. government's 100-day mask mandate, which aligns with ALPA's consistent call for government mandates regarding face masks, disinfection, personal protective equipment, contact tracing, and notification.
As we work every angle to protect the health of pilots and the traveling public, ALPA is also continuing our fight to preserve pilot jobs. Our union has supported our pilot group leaders in reaching more than 80 agreements with management since March 2020 that safeguard pilots' health and financial security while mitigating furloughs. While ALPA is doing everything we can to support our members who have been furloughed or laid off, it is clear that, without union representation and solidarity among our members, the situation could be far worse.
For 90 years, ALPA pilots have stood together on a foundation of our shared commitment to the dignity of work provided by a collectively bargained contract. As you will see in the pilot group profiles, we have built strong, collaborative business relationships with many managements based on our rights as parties to a legal contract. However, even today, we still encounter opposition and attempts at intimidation such as those faced by the Western Global pilots who are seeking union representation for the first time. For nine decades, these predictable and practiced tactics to try to distract workers from the value of representation have only steeled our resolve.
Beyond representing our members before Congress and Parliament and at the bargaining table, ALPA is always looking for opportunities to offer new resources to assist pilots. Recently, our union made available to all ALPA members our newest tool, "Flight Finder." A state-of-the-art jumpseat search feature located in the ALPA app, Flight Finder helps our members identify the best route available to get to the next trip or back home to family. Because of its importance to our members, offering Flight Finder was a priority for my administration from our first day in office—and today, it is delivered, as promised.
For 90 years, ALPA has delivered on our commitments as well as the promise of the union movement. Together, ALPA pilots have furthered the dignity of work as well as our pilot-partisan priorities. Today as in 1931, our work centers on safety, security, and fair competition and, most of all, protecting the passengers and cargo we are privileged to carry.