Hawaiian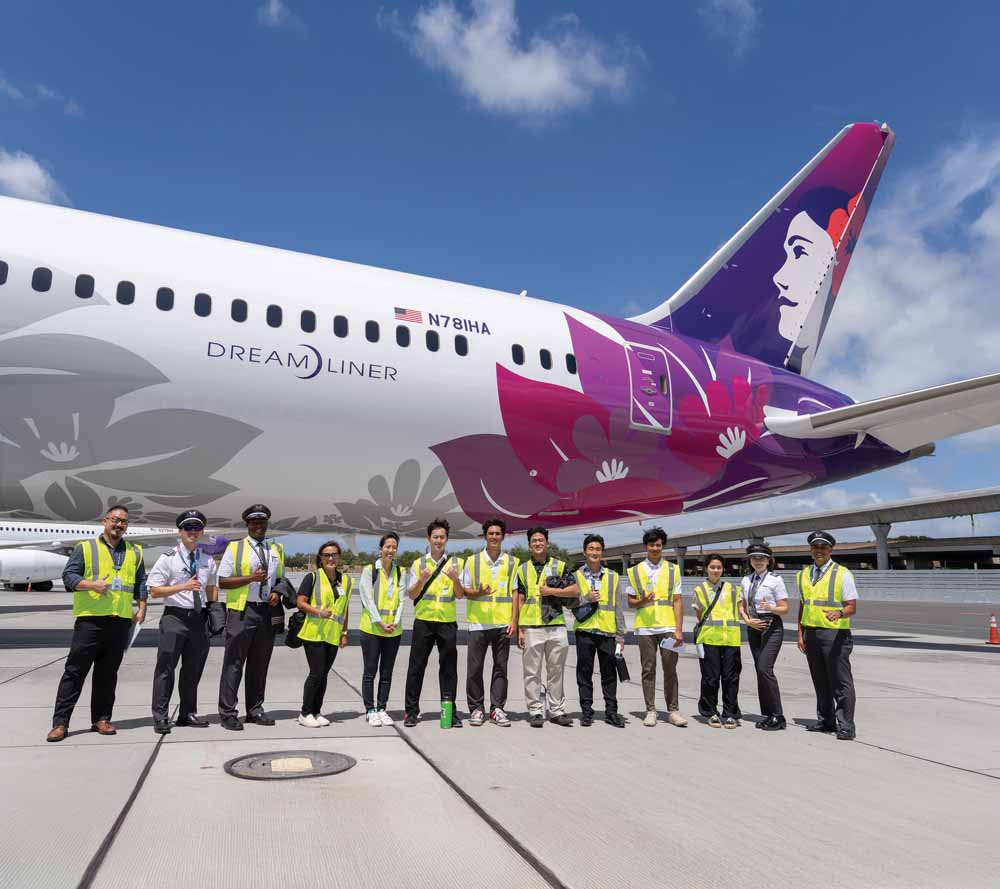 Hawaiian is scheduled to add its first B-787-9 Dreamliner to its fleet this August. (Photo: Hawaiian Airlines)
Like all ALPA pilot groups, Hawaiian Airlines pilots were hit hard by COVID-19. But from a prepandemic hiring boom in 2019 to furloughs in 2020 and then back to hiring in 2021, the pilot group has come full circle during one of the airline's most tumultuous periods.
When hired in 2019, F/O Robert Bowen thought he'd hit the jackpot. "After training, I was flying a schedule in full swing," he said.
Bowen was among dozens of new pilots hired by Hawaiian to fly widebody A330-200s to and from the islands—connecting Hawaii to Asia, North America, and the South Pacific.
This prepandemic hiring boom brought a welcomed group of diverse airline pilots to the airline. "We have individuals who've grown up and flown exclusively in Hawaii, ex-military, and those who've flown overseas. Our pilots have diverse backgrounds, cultures, and a broad range of qualifications and experience they bring to the airline," said Capt. Adam Feldman, the pilots' Seniority Block #4 representative.
However, pandemic-induced restrictions brought many unfortunate changes to the airline's operations. International flying plummeted, although it was on the rebound by year's end. And for the first time in two decades, interisland pairings included overnight stays outside of Honolulu.
"The company hadn't done interisland overnights in more than 20 years," Feldman said. "Many pilots have built their entire lives at Hawaiian around the fact that they don't have to do overnights."
New-hire Bowen saw life upended in a different way. He was among the 73 pilots furloughed by Hawaiian in the fall of 2020.
"It was a big shock to everyone," Bowen said. "I flew with captains who'd been through 9/11 and the 2008 recession and remembered being furloughed for five years or more."
Bowen braced for a trek into the unknown but was recalled in less than two months, thanks in part to the efforts of a fellow Hawaiian pilot, F/O Kai Kahele, whom Hawaii's 2nd Congressional District elected to a seat in the U.S House of Representatives in 2020.
One of Kahele's first acts in Congress was supporting legislation that saved thousands of ALPA jobs. "I was extremely proud to vote for the American Rescue Plan," Kahele said. "It infused $15 billion into the airline industry and basically saved it from collapse. Not a single pilot was furloughed since April 2021."
Kahele is the only fully qualified airline pilot currently sitting in Congress. "To be able to go from the right seat of an A330 to the dais of the House is something I never thought would have been possible," he said.
While running for office, Kahele found creative ways to balance his aviation and political work thanks to Hawaiian's daily Honolulu-Boston nonstop.
"I would bid the five-day Boston trips," he said. "It worked out perfectly. I would leave Monday and land on Tuesday morning, then go straight to D.C. I could take off my pilot uniform and put on my campaign uniform, then rejoin the crew for the flight home on Friday morning."
While the pandemic's furloughs and economic downturns temporarily disrupted Hawaiian's operations and its pilots' careers, improving conditions have resulted in the airline hiring pilots to staff the new fleet of B-787 Dreamliners scheduled to arrive this August.
"It just goes to show how fragile the airline industry is," Bowen said. "If you told me last October that we'd be hiring again, I'd have told you it was a long shot. But here we are."
"The key to maximizing the opportunities that are in front of us, and taking on the challenges we still face, is the same thing that helped us persevere through 2020 and 2021: pilots sticking together as a team and working hard for our future. Teamwork is everything," said Capt. Larry Payne, the pilots' MEC chair.