Hawaiian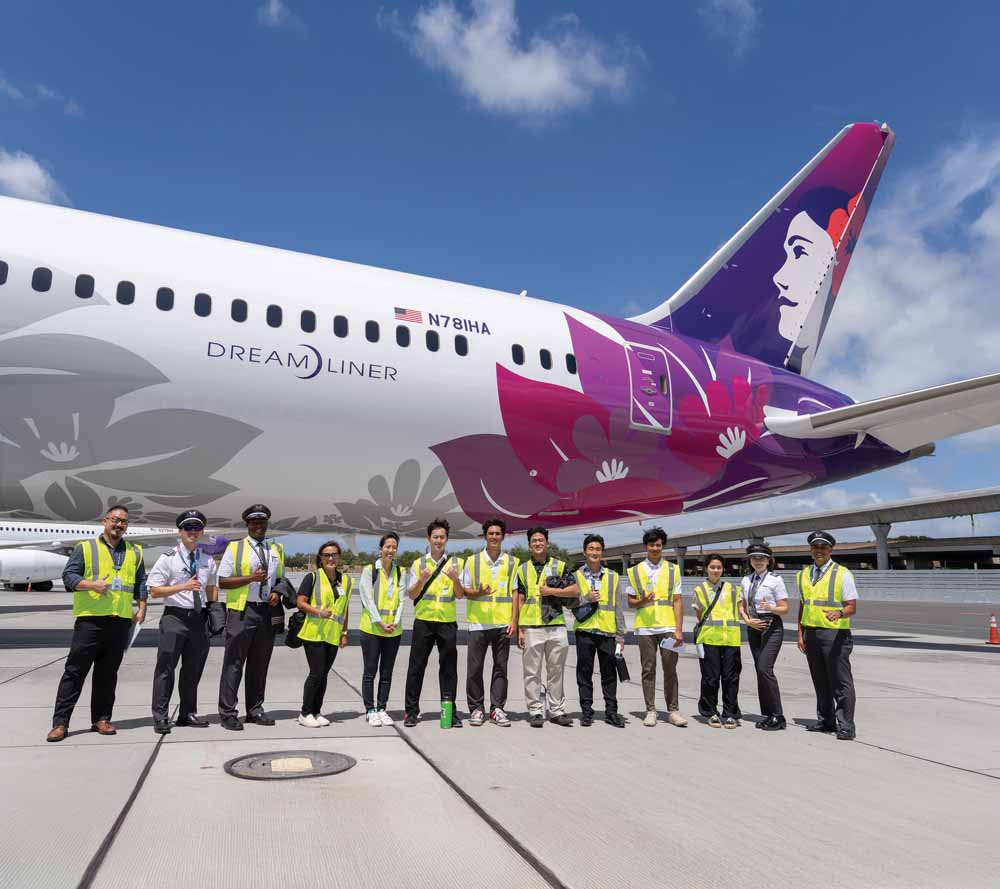 From left, Capt. Hoon Lee, the pilots' Master Executive Council (MEC) chairman; Capt. Tim Canoll, ALPA's president; Capt. Ben Peacock, the MEC secretary-treasurer, and F/O Mark Langton, Block 4 rep.
The pilots of Hawaiian Airlines began 2017 immersed in a fight for a new contract that would give them a fair share of the airline's record profits. The pilot group had established a strike operations center funded by a $2 million grant from ALPA's Major Contingency Fund and had held numerous informational picketing events. However the pilots found themselves at a standstill because the National Mediation Board (NMB) had recessed further mediated talks between the pilots and management to consider disposition of the case and had yet to release the pilots into a 30-day cooling-off period.
A major paid social media campaign targeting the company was launched in December 2016 and helped focus attention on the pilots' fight for a fair contract. Then in early February, after a few weeks of direct talks between the pilots and management, the parties reached a deal. The tentative agreement included pay rates backdated to September 2015 that raised pilot pay from 20 to 45 percent. By the end of the contract in 2022, rates will have increased by 36 to 86 percent depending on an individual pilot's seat, aircraft type, and length of service.
Of the 97 percent of pilots who voted, 76 percent cast ballots in favor of ratifying the deal, which went into effect on April 1. "With this agreement, Hawaiian pilots have finally achieved pay rates that bring us to parity with the other major carriers we compete with worldwide," said Capt. Daniel Moore, the pilots' Master Executive Council (MEC) vice chairman. "It is a world-class contract for a world-class airline and should make Hawaiian an attractive destination for new pilots."
The agreement also addressed the retirement program, bringing all pilots under a single plan by 2022, and formed a new voluntary employees beneficiary association (VEBA) to supersede Hawaiian's existing retiree health-care program. The VEBA will be funded by Hawaiian to the tune of $100 million and be privately administered by a pilot-run board of directors. The pilot-run and legally separate VEBA ensures that retiree health benefits will continue even if the airline changes hands.
Although many issues have been resolved with the new contract, some issues remain. "We continue to have 20 times the amount of grievances than we've had in the past," said Capt. Hoon Lee, the MEC chairman. "But we're hoping that we can work with management to resolve this situation."
In 2018, Hawaiian is scheduled to receive nine A321s and will have an average of 10 pilots in each month's new-hire class. The airline will be expanding its network this spring, launching new routes using A321neos while adding flights to destinations already on its route map.
The pilots of Hawaiian Airlines for years have been active in their community. In 2017, the MEC's Education Committee conducted more than 30 school visits to inspire children to think about career options in aviation. The pilots also volunteer their time and bring gifts to children at the Shriners Children's Hospital. "After the support we received from the community during the past two difficult years, it's important for us to show that we value the community and will support it during good and bad times," said Lee.
The MEC will continue to engage and keep up to date with the pilot group during the coming year through its website and active social media presence on Facebook. "To remain a strong and unified group, we must communicate and stay engaged with our pilots," Lee observed.