Delta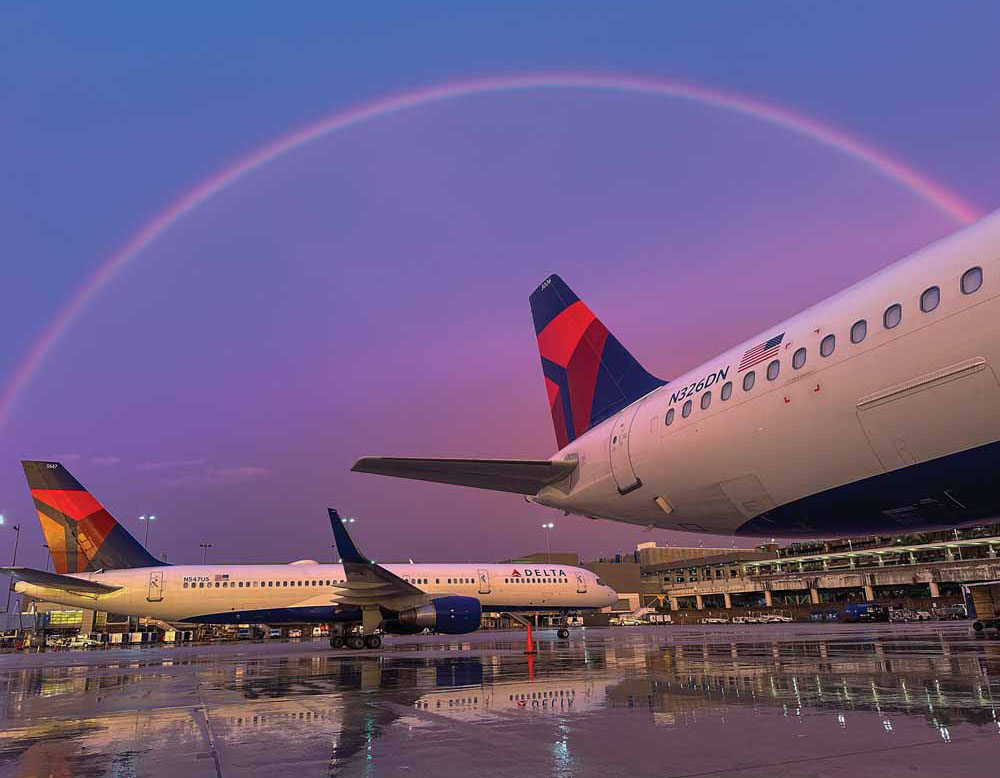 In 2017, Delta retired the iconic B-747 from its fleet.
For the Delta Master Executive Council (MEC), 2017 was a year of foundation building for Contract 2019 negotiations. The Delta Pilot Network and Membership Committees were retooled to focus on pilot engagement and unification. The Negotiating, Scope Compliance, and Strategic Planning Committees focused on joint ventures and partnerships, and the Central Air Safety Committee continued its safety vigilance.
Delta Air Lines continues to demonstrate positive profit and growth trends. The business model is one of vigorous global growth including joint ventures, partial ownerships, and other partnerships. Early projections for 2018 are of continued profitability, with a slight improvement over 2017 margins.
Delta hired more than 1,000 pilots in 2017. Since the airline resumed hiring in 2014, more than 4,000 pilots have joined the seniority list. Newly hired pilots range in age from 23 to 56 years old, and civilian pilots (56 percent) outnumber military pilots (44 percent).
Assuming modest growth and escalating retirements, analysis suggests Delta must hire more than 1,000 pilots annually. Approximately 400 pilots per year are scheduled to retire in 2018 and 2019—and that number quickly escalates, with 6,200 scheduled retirements expected over the next decade.
To engage and unify the diverse and growing pilot group, the Delta Pilot Network (DPN) was retooled in 2017, with a focus on pilot unity, engagement, and support. The committee includes more than 25 first-time ALPA volunteers with an average longevity of less than eight years at Delta. The DPN effectively serves as an entrance point for newer pilots into MEC service. The DPN also hosts pilot unity-building events around the Delta system where pilots and their families can interact with their union representatives; encourages pilot engagement with online resources, including blog.deltamec.org; and activates call centers after natural disasters have occurred.
Delta is part of a profit-/loss-sharing agreement (joint venture) with Air France–KLM–Alitalia, Virgin Atlantic, Aeroméxico, and Virgin Australia. The airline has plans to enter into an agreement with Korean Airlines and to purchase up to a 49 percent ownership stake in Aeroméxico. While each joint venture is unique, the goal of the Delta pilots is always the same—to ensure that they maintain their share of flying, which is accomplished through an agreement on production balance for each joint venture.
If an agreement can't be reached, the Delta pilot working agreement provides for base protections. To date, the pilots have succeeded in reaching an agreement with Delta management regarding Air France–KLM–Alitalia, Virgin Atlantic, and Virgin Australia and are currently negotiating terms for the Aeroméxico joint venture production balance.
As Delta's business model changes, the MEC's goal remains to protect Delta pilot flying and retain a balanced share of any partnership flying.
In addition to protecting the pilots' careers, the MEC remains committed to airline safety. In 2017, Capt. Scott Hammond, the pilots' Central Air Safety Committee chairman, and F/O Matt Clark, the Aviation Security Committee chairman, were awarded presidential citations at ALPA's Air Safety Forum (see "ALPA Honors Its Own," August 2017) for their relentless work in advancing ALPA's safety and security goals.
At the end of 2017, Delta Air Lines bid farewell to the iconic B-747 and brought new aircraft types to the fleet, including the Airbus 350, which began revenue flights late last year.
The MEC committee structure is robust, the pilots are engaged, and Delta is projecting record growth. The future bodes well for Delta Air Lines pilots.