Hawaiian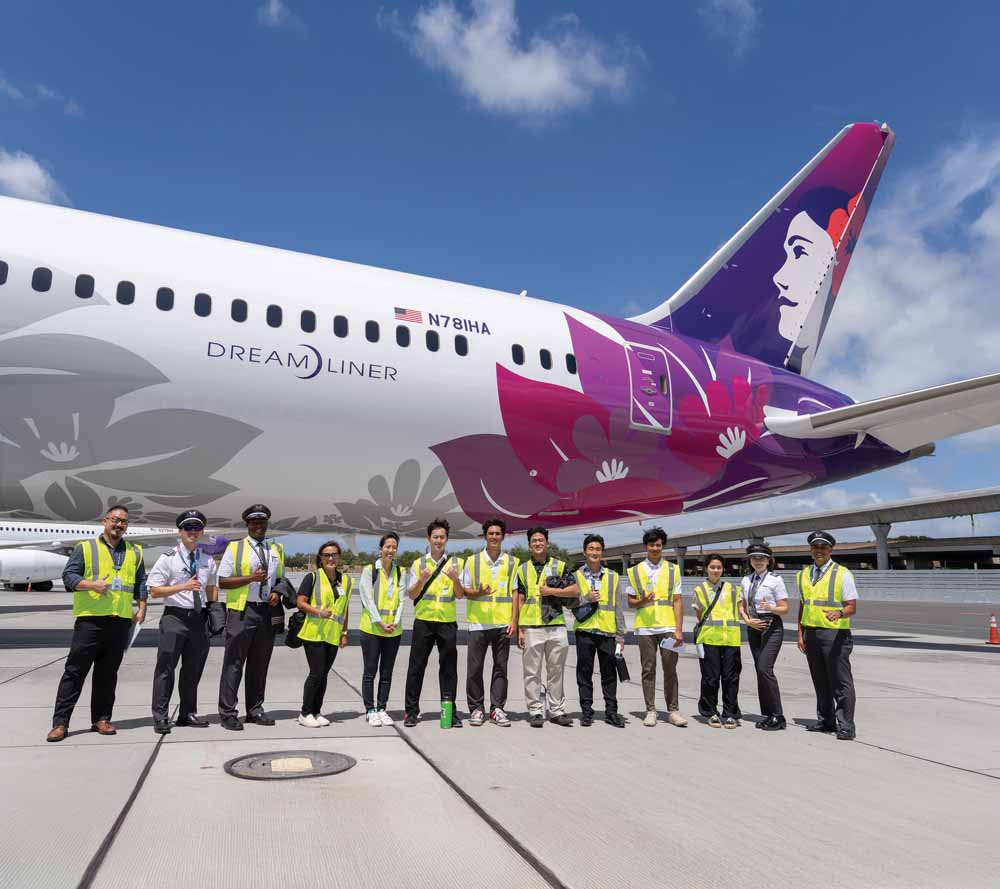 A321 F/O Rodale Tumbaga, hired in 2018, is set to upgrade to a B-717 captain this year. Photo: Capt. Bryan Shirota (Hawaiian)
Fifteen years ago, Hawaiian Airlines began the largest hiring boom in its history, nearly doubling the size of its small pilot group between 2008 and 2013 as it introduced the A330-200 to its operations. Today, those aircraft account for nearly 40 percent of the airplanes on property.
Fast-forward to 2023 and history is repeating itself as Hawaiian again finds itself amidst a record hiring surge, having surpassed 1,000 pilots on the property in 2022 and adding more than 20 pilots each month for the foreseeable future. And as in 2008, Hawaiian is again looking at new widebody aircraft to spur future hiring.
The largest driver of long-term growth, and the major news of 2022, was the announcement in October 2022 of a new crew, maintenance, and insurance agreement with Amazon, Inc. to operate a minimum of 10 A330-300F freighters over the next eight years, with the potential to expand significantly beyond those initial 10 aircraft as the contract continues.
The Hawaiian Master Executive Council (MEC) and Negotiating Committee worked diligently with management to iron out logistics allowing for that flying to be bid on and secured while addressing the unique challenges and opportunities that such flying would create.
"This agreement represents a monumental shift for Hawaiian Airlines, diversifying our operation and reducing our dependence on a single travel market," said Capt. Larry Payne, the pilots' MEC chair. "We have a proven track record of safety over the last decade in the A330, and our pilots look forward to bringing that high standard of professionalism and dedication to this new operation."
Management has already committed to opening a new pilot base in Cincinnati, Ohio, to support this new operation. This is welcome news to the more than 25 percent of Hawaiian pilots who currently commute from outside Hawaii. This Cincinnati base will be the first pilot base in the continental United States since the closure of Hawaiian's Seattle, Wash., base in 2013. Providing a new domicile option beyond the current Honolulu, Hawaii, base also stands to aid in recruiting potential applicants, which will be critical for Hawaiian's expected growth.
The recent upsurge in hiring also accompanies the accelerating revival of international markets that had gone dormant during the COVID-19 pandemic. Prior to 2020, international operations constituted a quarter of all Hawaiian flying and revenue. Those international flights steadily resumed throughout 2022, with the carrier anticipating a return to almost all 2019 international markets by spring 2023, including previously announced plans for new growth in Japan.
The airline's aggressive hiring is projected to continue well into the future with the expected delivery of 12 new B-787-9s in the coming years. The first of these aircraft, whose delivery was initially postponed at the onset of the pandemic, then delayed again due to manufacturing issues, is on course to be delivered this November and represents an exciting next generation of technology for both the pilots and their passengers.
While Hawaiian's pilots are optimistic about this new flying, their expanding ranks have also given them optimism about securing an industry-standard agreement in their ongoing contract negotiations. The MEC's Negotiating Committee has been in Section 6 negotiations since July 2021, working to achieve a new agreement that properly values Hawaiian pilots' contributions to the airline and validates their place within the industry. That work culminated in a tentative agreement that was approved by the MEC on January 16 and will be sent for a pilot ratification vote. The four-year agreement would raise pilot pay by almost 33 percent by the end of the deal and add numerous other improvements.
"Given Hawaiian's hiring needs and the current competitive market for pilots, the MEC has been adamant that competing for those pilot applicants as a major airline requires a major airline contract, and we feel we achieved it in this agreement," said Payne.
With the pilot group set to grow nearly 25 percent over the coming year, new aircraft entering service, a mainland domicile on the horizon, and the expectation of a new and improved contract, this promises to be an exciting new chapter in the history of Hawaiian Airlines pilots.