Hawaiian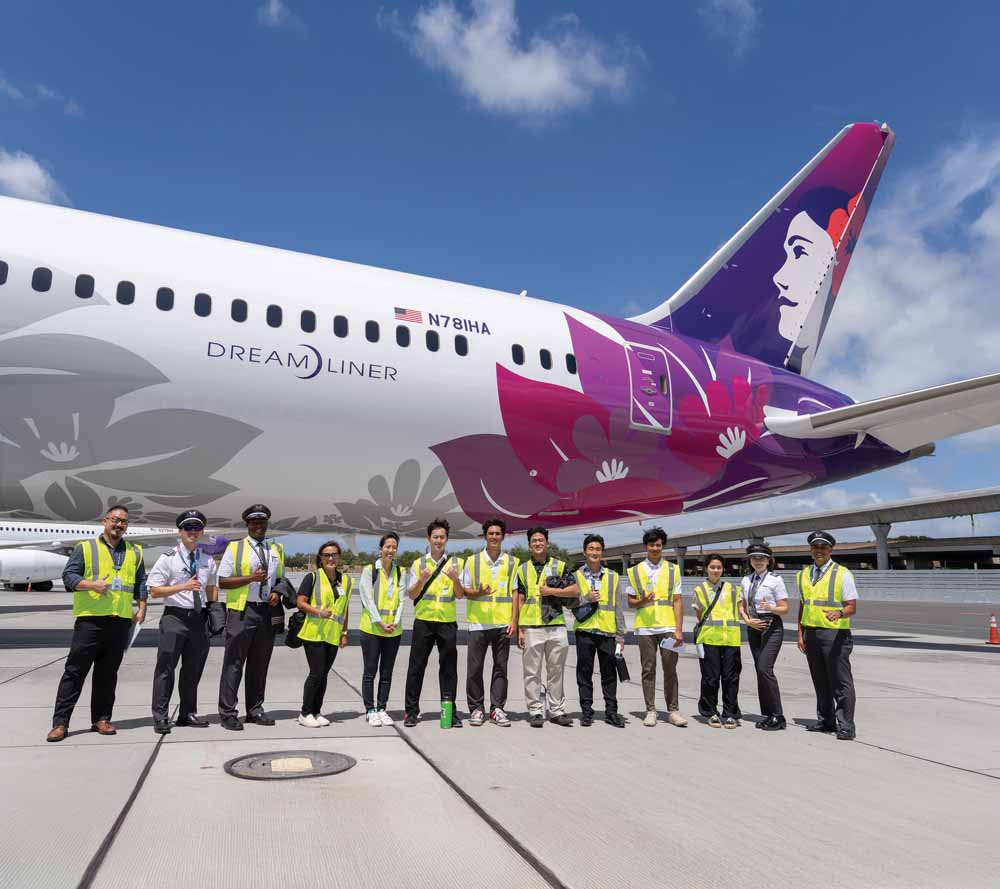 The Hawaiian Master Executive Council with newly elected U.S. Rep. F/O Kai Kahele (D-HI), center.
For years, Hawaiian Airlines pilots have enjoyed a contract item known as "surfer leaves," which allows them to take paid time off for short periods. This unique provision translated into a huge benefit when Hawaiian struggled to stay aloft at the outset of the COVID-19 pandemic.
While Hawaii's isolated location in the middle of the Pacific helped it avoid the worst of the outbreak, Hawaii Governor David Ige's decision in March to impose a mandatory 14-day quarantine for passengers flying to and from the U.S. mainland was a tremendous blow to the islands' tourism-based industry.
"We lost 90 percent of our flying," said Capt. Larry Payne, the pilots' Master Executive Council (MEC) chair. "While the airline had substantial cash reserves, we knew the company would eventually be forced to furlough, so we had to act."
Using the experience gained from the surfer leave program, the MEC negotiated a letter of agreement (LOA) creating Extended Enhanced Surfer Leaves (EESLs) and Permanent Enhanced Surfer Leaves (PESLs) to reduce the airline's cash burn while giving the company flexibility to bring back pilots quickly should economic conditions improve.
The EESL provided pilots a medium-term leave option with 50 hours of pay per month, offered in durations of 6, 12, 18, and 24 months. Once awarded, EESLs could be shortened with 45 days' notice.
The PESL offered pilots over the age of 60 an early retirement option with 58 hours of pay per month. Pilots age 60 or 61 at the end of 2020 were given a PESL option that provided 24 months of paid leave, followed by retirement. Pilots age 62 and older were offered a PESL that extended until age 65.
Pilots on both types of leave were treated as active employees by the company for the duration of the leave, with full health and retirement benefits.
When combined with payroll support program (PSP) grants, $292 million in Coronavirus Aid, Relief, and Economic Security Act loans, and flexibility from the U.S. Department of Transportation to temporarily suspend service to underperforming cities, the leaves enabled Hawaiian to avoid any pilot furloughs until October.
However, when furlough restrictions tied to the receipt of PSP grant money ended in October, the company furloughed 73 of the 226 first officers to whom they had sent WARN notices. Soon thereafter, low interisland travel demands triggered a scope provision in the pilots' contract that forced Hawaiian to suspend its regional feeder operation. The MEC subsequently negotiated a temporary scope LOA that allowed the turboprop operation to resume flying in exchange for recalling four mainline pilots from furlough and other considerations.
Throughout the pandemic, the MEC has taken pains to keep the pilot group fully informed. At the start of the outbreak, it was holding weekly all-pilot conference calls. Since March, the MEC has hosted more than 25 such calls and webinars and started its own podcast. The MEC also created a COVID-19 Committee to support pilots who contract COVID and to coordinate safety and sanitation measures with the company.
One bright spot in 2020's gloom was the election of F/O Kai Kahele to Hawaii's 2nd Congressional District. A state senator and lieutenant colonel in the Hawaii Air National Guard, Kahele becomes one of only two ALPA members serving in the current U.S. Congress.
Payne said the MEC's first priority for 2021 is to permanently bring back all its furloughees. Hawaiian has received funds from the second round of federal payroll support program grants approved by Congress in late 2020 and has offered recalls to all 69 furloughed pilots.
"Hawaiian Airlines has endured for 90 years, and we continue to believe in the promise of this company," Payne remarked. "We've been fortunate to have enjoyed a sustained period of prosperity and growth; and while there is still turbulence ahead, we're facing it with renewed confidence knowing we've survived difficult times in the past and emerged stronger and more resilient on the other side."