Leadership From the Cockpit
Time is running out for many American workers. The Payroll Support Program—which prevents companies that receive CARES Act grants from making layoffs or involuntary furloughs and secures the pay and benefits for airline workers—expires on September 30. This fall, hundreds of thousands of more workers across our entire economy could lose their jobs and health insurance due to the pandemic.
Tags:
Emily (Hanrahan) Howell Warner, 80, passed away on July 3, 2020, leaving behind a remarkable career and a legacy as a trailblazer for women in aviation. Hired to fly for Frontier Airlines in 1973, she became the first female pilot to fly jets on a permanent basis for a U.S. carrier.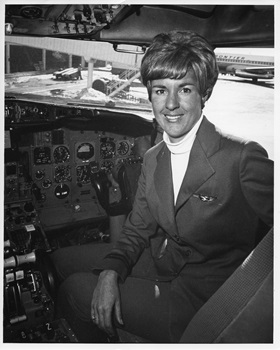 Recently, the U.S. Government Accountability Office (GAO) issued a report that further fueled frustrations with the lack of government leadership. It outlined a priority recommendation that the DOT should act upon immediately to improve our national aviation sector's preparedness for communicable disease threats from abroad. In the report, GAO officials highlighted that despite previous recommendations, the DOT was still underprepared for such an event.
Categories:
Tags:
Airline pilots are on the frontlines in the fight against the coronavirus, working around the clock to transport medical personnel and critical supplies, including Personal Protective Equipment (PPE), test kits, and other materials needed to combat this global pandemic. Unfortunately, the Federal Aviation Administration (FAA), the agency charged with keeping flying safe and protecting crewmembers, is making it hard for us to do our jobs safely—posing a risk to our health and threatening a vital supply chain.
Categories:
Tags:
Right now, the same airline pilots who fly your family for a vacation and deliver products for your business, large and small, are now fighting on the frontlines of the COVID-19 public-health crisis—transporting doctors, nurses, and medical personnel to the outbreak hotspots and keeping global supply chains moving to provide essential medical supplies. These same airline pilots are also helping strengthen the U.S. and Canadian economies by flying goods and services that drive commerce.
Tags: