With graduation season upon us, many collegiate aviators are taking the next step toward embarking on their professional piloting careers.
At Embry-Riddle Aeronautical University in Prescott, ALPA Aviation Collegiate Education (ACE) Club co-presidents Tess Osborne and Will Kasdan, industry liaison officer Man Nguyen, special assignment officer and former club president Evan Jones, and treasurer Christopher Pile all graduated with distinction from the College of Aviation with degrees in aeronautical sciences.
These five officers devoted countless hours to the ACE Club and helped keep it active during the pandemic. Specifically, they promoted, sustained, and even grew the professional development and mentoring program on campus.
As a result of this success, Osborne and Kasdan were selected by the student body and confirmed by the faculty to be commencement speakers for the Class of 2022. The co-presidents shared their experiences and credited both the university and the ALPA ACE Club for the lessons learned that prepared them for their piloting careers. They also acknowledged the club and the ALPA Education Committee's pilot volunteers as being an "instrumental" part of their college experience.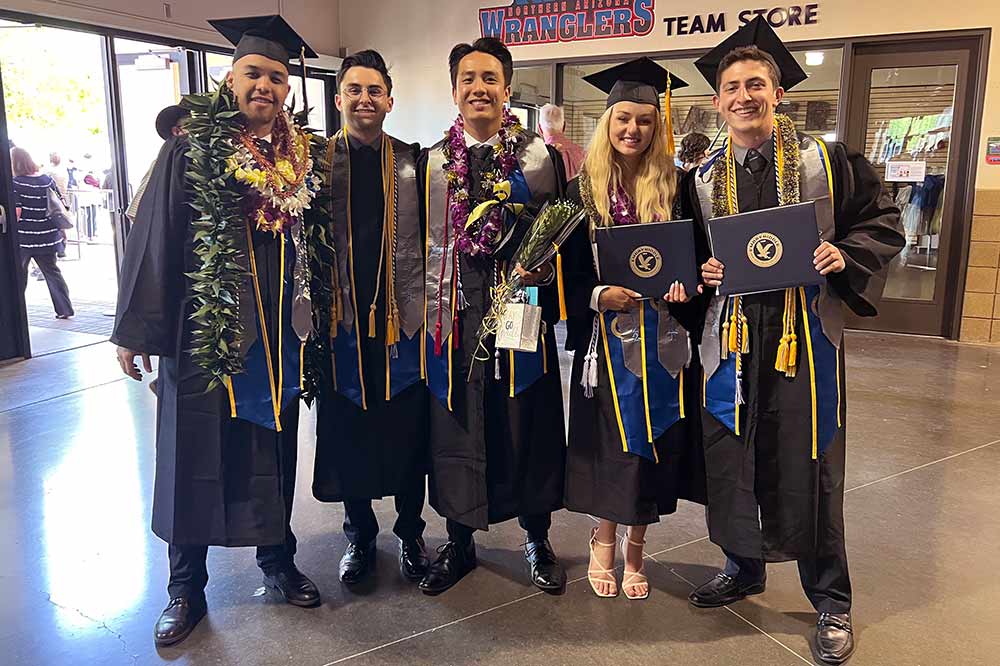 Pictured from left to right: Evan Jones, Christopher Pile, Man Nguyen, Tess Osborne, and Will Kasdan (Photo Credit: F/O Stephen Rocha)
"Being a part of ALPA ACE has truly been the most impactful part my of college experience. It has provided me with so many tools for my professional development, and my network has become a family over the years," Osborne said after the speech.
Kasdan added, "The ALPA ACE Club helped me build the confidence to start networking and make connections in the industry. I'm fortunate to have made lasting relationships with industry professionals and look forward to volunteering for the ACE club in the future."
F/O Stephen Rocha (DAL), who is the Education Committee's liaison to Embry-Riddle Prescott, attended the commencement and encouraged the graduates to get involved as soon as they join an ALPA-represented pilot group. Many students at the university are first-generation pilots who would benefit from hearing about the career paths of recent graduates.
The ALPA ACE Club, which is currently available at 13 universities, helps bridge the gap between the classroom and the flight deck. It provides structured industry mentorship as well as leadership and networking opportunities for collegiate aviators. For more information or to get involved, contact Education@alpa.org.