Leadership From the Cockpit
17 Results for Tag ALP-Our Stories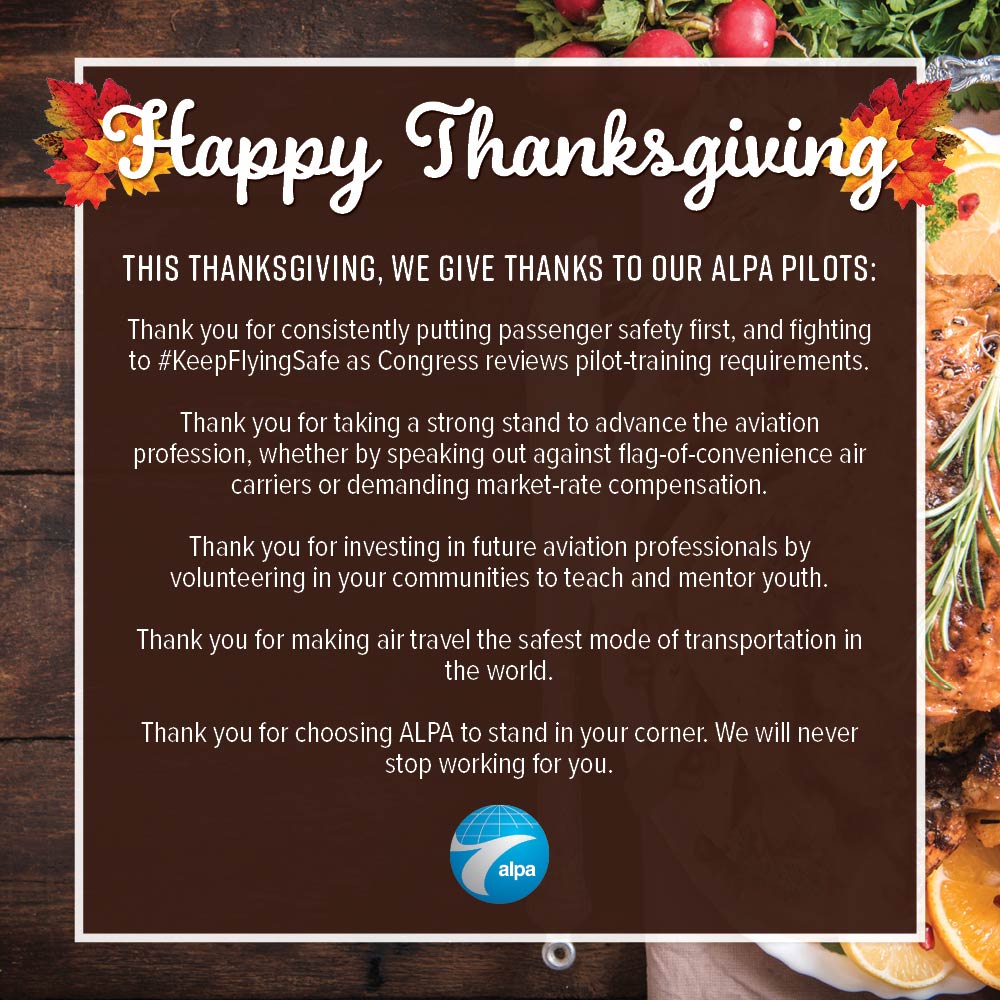 On September 23, Women in Aviation International (WAI) chapters around the world held events to celebrate Girls in Aviation Day 2017. ALPA members were enthusiastic about pitching in to help with this important initiative to ignite girls' enthusiasm for the aviation industry. Through its Education Committee, ALPA coordinated with WAI and provided informational materials to support local efforts. Pilot volunteers also participated in several different events to connect with young girls and inspire them to consider careers as professional airline pilots.



Sixteen years ago, our lives and our industry were changed forever. Today, we pause to remember the events of September 11, 2001, and to honor the brave men and women who heroically made the ultimate sacrifice.

Today is National Aviation Day, a national U.S. observation on the anniversary of Orville Wright's birthday to celebrate the development of aviation. The industry has come a long way since this day was originally commemorated by Franklin D. Roosevelt in 1939, and even more so since Wilbur Wright's first flight attempt in 1903.

One thing is for sure: aviation will never stop advancing. By it's very nature, this industry was intended to soar.

ALPA capped off its highly successful return to this year's EAA AirVenture Oshkosh convention and fly-in with its Women Fly event. Hundreds of young women lined up to attend the Friday night event, which served as a wonderful opportunity to bring these aviator hopefuls together with a core group of ALPA female pilots to talk about their start in the piloting profession and the love for flying for a living. ALPA general manager and former NASA deputy administrator Lori Garver moderated the event and surprised the entire group with arranging a special visit from Apollo 11 astronaut Buzz Aldrin, who dropped by to lend his support.

All of ALPA's week-long Oshkosh activities were organized to help the Association better connect and engage with the larger aviation community. ALPA resource coordinator Capt. Paul Ryder (XJT) took part in a press conference announcing a new coalition, Aviation Works for You, to promote all kinds of aviation job opportunities to school kids. ALPA national education committee chair F/O Mark Haley (UAL) spoke to a packed house about a day in the life of an airline pilot. And not far away, dozens of ALPA pilot volunteers reached out to hundreds of Oshkosh attendees at an information booth located in the events Education and Career Center.