The announcement of a new five-year capacity purchase agreement with United Airlines last February shed some much-needed sunshine on the vitality of Air Wisconsin, the largest privately held regional airline in the United States. We look forward to partnering with the United Express family in the coming months with the many new opportunities this partnership creates for our organization.
Our airline has a long and storied history and has flown an amazing variety of aircraft over the years—more than a dozen different types, starting with a single de Havilland Dove in 1965. We've flown across almost the whole continental United States during that time, from the Rocky Mountains to the Atlantic coast.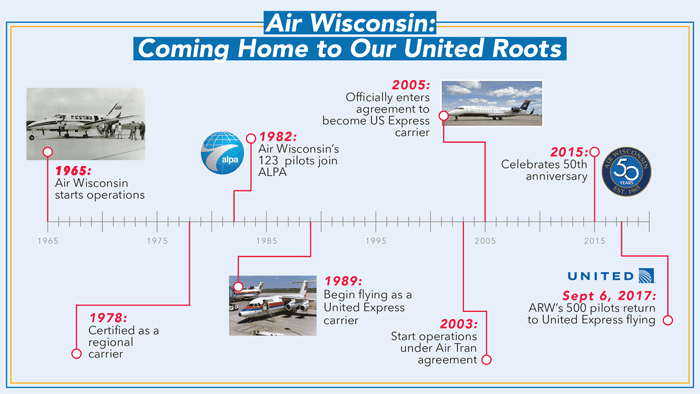 After more than two decades flying under our own colors, Air Wisconsin flew United Express livery from 1986 to 2006, pioneering the code-sharing arrangement with our mainline partner. Having just merged with Mississippi Valley Airlines, Air Wisconsin became the nation's largest regional airline. Operating a fleet that included British Aerospace Bae 146s, Short 360s, and Fokker F27s, we provided extended hub service from Chicago O'Hare and Washington Dulles.
In the coming years, Air Wisconsin purchased Aspen Airways before being acquired by United in 1991. However, United sold our carrier two years later. After a brief stint providing service for AirTran's short-lived JetConnect operation, Air Wisconsin negotiated a long-term agreement with US Airways, which extended to American when the two airlines later merged. Air Wisconsin flew its last flight as a United Express carrier on April 16, 2006, and "came home" to United when it operated its first new revenue flight for UAL on September 6, 2017.
With a clearer picture of Air Wisconsin's future and a new career-progression pathway that may enable Air Wisconsin pilots to be hired at United, we are pleased to return to our roots and look forward to what the future may bring.