Leadership From the Flight Deck
40 Results for Tag ALP-Our Stories
Special guest commentary by F/O Karen Lacy (DAL)
Like most airline pilots, aviation is in my blood. My paternal grandparents had their private pilots' licenses, and my dad has his private pilot license and was a PATCO air traffic controller. Looking back, there wasn't a time when I wasn't interested in flying. I went to college for aviation, but I started shortly before 9/11 so the job market was pretty bleak when I graduated. I tried several nonflying jobs, but nothing felt "right" until I started flight instructing in my spare time. Before too long, I took the plunge and began my career at a U.S. regional carrier. After a several years, I was hired by a major U.S. airline, and I was thrilled to finally be at my dream job.
But now that dream job is turning into a nightmare. The impact of COVID-19 has created an unprecedented crisis for many of our nation's industries, but airlines have been hit exceptionally hard.
Being an airline pilot is more than just a job. I met my husband while working, and I had my first baby while we were pilots. What I do for a living makes up so much of who I am. And today, I know that on October 1 I will be out of a job.
Emily (Hanrahan) Howell Warner, 80, passed away on July 3, 2020, leaving behind a remarkable career and a legacy as a trailblazer for women in aviation. Hired to fly for Frontier Airlines in 1973, she became the first female pilot to fly jets on a permanent basis for a U.S. carrier.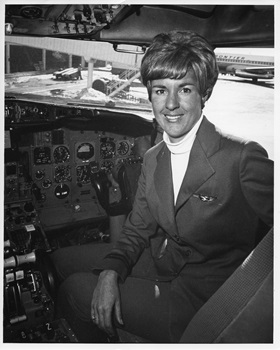 Eighty-eight years ago on July 27, 24 "Key Men" led by Capt. Dave Behncke, founded the Air Line Pilots Association (ALPA). During the early days of air travel, pilots lacked many basic safety provisions. Capt. Behncke, ALPA's first president, had the foresight to bring pilots together with one goal: to advance aviation safety—and that goal remains the core of our mission today.
This week marks the 50th anniversary of the lunar landing of Apollo 11, the first spaceflight to land humans on the moon. Eight years after President John F. Kennedy's call for Americans to go to the moon and come back, Apollo 11—the fifth manned mission of NASA's Apollo program—was launched from Kennedy Space Center. Astronauts Neil Armstrong and Buzz Aldrin landed the lunar module "Eagle" at 20:18 UTC. The video broadcast of the two astronauts became the first TV transmission to Earth from the moon. An estimated 530 million people watched the video images of Neil Armstrong walking on the lunar surface. It was during this broadcast that Armstrong said his famous words, "One small step for man, one giant leap for mankind," thus ushering in a new era for space exploration.
Today, only 2.5 percent of airline pilots in the United States are of Asian American/Pacific Islander decent. For Asian American and Pacific Islander Heritage Month, ALPA is proud to honor the contributions of some of the first Asian-Pacific American aviators and reflect on the hardships and challenges they faced. Let us introduce you to a few unsung heroes who overcame obstacles to blaze a path forward for future aviators.