Oshkosh 2019 Celebrates ALPA Pilots
By John Perkinson, Senior Staff Writer
Capt. Gene Soucy (Northwest, Ret.) performs a flyby in his classic Grumman Showcat.
For a short time each summer, Wittman Regional Airport in Oshkosh, Wisc., boasts the busiest control tower in the world, as the facility transforms to host the Experimental Aircraft Association's (EAA) annual AirVenture. More than 10,000 aircraft arrived for the 67th running of North America's largest air show this past July, with an average of 127 takeoffs and landings per hour during the course of the event.
Amid the periodic roars of fighter flybys and the droning of maneuvering aerobatic airplanes, throngs of ALPA members could be seen engaging in virtually every aspect of the "world's greatest aviation celebration."
For the third year in a row, ALPA was on hand to advance the Association's strategic goal of securing the future of the profession while interacting with the flying community. ALPA took advantage of this unique opportunity to join the veritable village of aviation enthusiasts for daily aerobatic and formation-flying performances, static displays, and other presentations. The Association's pilots engaged with Oshkosh attendees, particularly young people, talking about what it takes to be an airline pilot and the sense of pride and accomplishment that comes with flying for a living. In addition, ALPA members flew some of the 2,758 performing show airplanes while others were among the 863 exhibitors and participated in Oshkosh's 1,500 forums and workshops.
At Boeing Plaza, airline flying took centerstage as EAA AirVenture featured attractions included a commemoration of the 50th anniversary of the iconic B-747, a long-standing symbol of both international air travel and air cargo transport.
EAA's WomenVenture activities kicked off with the arrival of a United Airlines B-787-8 crewed exclusively by female ALPA members. Capt. Debra McCaw and F/O Monica Smith piloted the inbound flight, and Capt. Denna Gollner and F/O Sally Crain flew the outbound trip.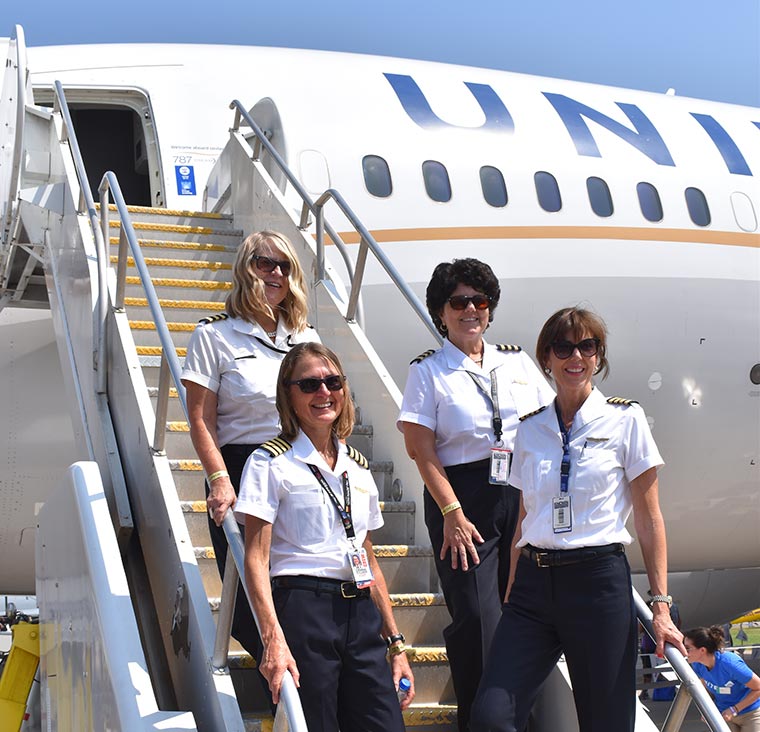 United's all-female flight crews that piloted a B-787 for EAA WomenVenture. Front row from left: Capts. Denna Gollner and Debra McCaw. Back row from left: F/Os Monica Smith and Sally Crain.
ALPA's presence at Oshkosh and the many ways members contributed to this year's aviation extravaganza clearly conveyed to the hundreds of thousands of air show guests—and others who followed the air show in the news and on social media—that airline pilots are the foundation of North American aerospace.
30,000-foot view
Capt. Joe DePete, ALPA's president, attended his first "Oshkosh" as an opportunity to speak with business leaders like National Air Transport Association President Gary Dempsey and National Business Aviation Association President Ed Bolen. During his stay, DePete met with Sen. James Inhofe (R-OK), a general aviation pilot with more than 11,000 flight hours, who cointroduced in July the Promoting the Launch of Aviation's Next Era Act of 2019.
ALPA's president, who also participated in a control tower visit and flew right seat in a vintage Ford Trimotor, noted that the real takeaway from this event was "the incredible sense of community exhibited at this unique annual gathering.
"Regardless of our different backgrounds and experiences, everyone at the convention and fly-in had a fascination with flight and a desire to see aviation flourish," DePete observed, adding, "Oshkosh demonstrated that more than half a million people can come together for a week and actually agree about something—the love of flying."
Securing the future of the profession
Because ALPA's main purpose at Oshkosh was to promote the profession to the next generation of aviators, union functions were spearheaded by the Association's Professional Development Group (PDG). Event organizers included Capt. Bill Couette, vice president–administration/secretary, who oversees the PDG; F/O Kandy Bernskoetter (FedEx Express), ALPA's Membership Committee chair; F/O Costas Sivyllis (United), ALPA's Education Committee chair; and F/O Justin Dahan (FedEx Express), ALPA's Education Steering Committee and Oshkosh coordinator, who handled much of the on-site coordination.
Pilot volunteers were assigned to two primary posts. In the Pioneer Airport area across from the EAA Aviation Museum, Capt. Scott Stonier (FedEx Express), Capt. David Waditschatka (Air Transat), and others guided young people through a KidVenture activity in which children conducted a walkaround of a Cessna 150 and pointed out 10 operational problems.
Many were quick to catch the flat tire, broken wingtip light, and the bird's nest hidden behind the propeller, and each participant who completed the checklist of KidVenture tasks walked away with a set of wings.
Capt. Scott Stonier (FedEx Express) walks Hannah through a preflight check of a Cessna 150 at KidVenture.
Meanwhile in Exhibit Hangar C, Capt. Chris Gilbert (Compass), F/O Karen Leckey (United), F/O Jeff Hicks (Frontier), and other pilots staffed ALPA's information booth, greeting visitors and answering questions. Capt. Mary Ana Gilbert (Delta) and others reminded ALPA pilots signing the booth's member register that the Association would be holding a member drawing for a Bose A20 aviation headset. Of the many ALPA pilots who registered, the lucky winner was F/O Thisura Wijepala (Calm Air).
Northeast of the hangar in the EAA Forums area, ALPA members provided special presentations sharing unique insights into the airline pilot lifestyle. In an outdoor theater, Sivyllis gave a talk titled "Learn What Airline Pilots Do," explaining day-to-day aspects of the job. He spoke to the crowd about bidding schedules, what it's like to commute from another city, the importance of seniority, and what he called "life during the day."
In a nearby theater, Bernskoetter moderated a panel discussion titled "ALPA Women Fly." Pausing periodically for the sounds of passing airplanes, she and F/O Stacey Jackson (WestJet), Capt. Lisa Nydahl (Delta), F/O Kaori Paris (United), and Capt. Bridget Matarrese (Endeavor Air) discussed the rewards and challenges of serving as a female flight deck officer.
Bernskoetter posed numerous questions to her fellow pilots, such as "How do you handle long-term training or longer trips and being away from your children?" and "Do you commute? How does that work with your family scheduling?" The group also talked about the value of finding a good mentor.
In the Vette Theater of the EAA Aviation Museum, Capt. Mike Arcamuzi (FedEx Express) outlined his flight plan for starting an airline piloting career in a presentation titled "From Classroom to Cockpit." He discussed the many flight academies and collegiate aviation programs available as well as scholarship sources and supportive aviation organizations. Arcamuzi also directed the audience to the Cleared to Dream website—a clearing house of information about pursuing a flying career maintained by ALPA's Education Committee.
Engaging members
One of ALPA's goals in attending Oshkosh was to reconnect with the Association's many members in attendance. As part of this effort, ALPA held weekday receptions in the Camp Scholler area, from 6:00 p.m. to 9:00 p.m., during which members and their families were encouraged to enjoy dinner and mingle. Five master executive councils (MECs) graciously sponsored these gatherings—Air Transat, Delta, Endeavor Air, FedEx Express, and United—with each group provided its own unique fare for the evening.
Late in the week, DePete and Couette sat down with EAA Radio for a live studio broadcast. This interview gave them a chance to share their views about the airline piloting profession and the union's activities over both the FM airwaves and the airfield's loudspeakers.
"When I look back, I feel so lucky to have had a career like this," said DePete, who discussed airline flying and ALPA's mission to keep the piloting job a great career. He also outlined several of the Association's ongoing priorities and its role as a safety advocate.
Chatting with announcers Wireless Mike and Zach, Couette explained the role of the PDG, noting, "We have over 2,000 volunteers with the Education Committee." He spoke about ALPA's ongoing outreach efforts with young aviators, adding that during the last academic year, the Association was able to make contact with more than 21,000 students.
On display
In addition to these scheduled union functions, ALPA members entertained, educated, and informed Oshkosh attendees in all kinds of ways. The week's air show A-lister performers included Capt. William "Skip" Stewart (FedEx Express), who excited the crowd with his Pitts S-2S biplane, Prometheus. Capt. Julie Clark (Northwest, Ret.), a legendary aerobatic pilot, flew her T-34, Free Spirit, and announced that this year's performance at EAA AirVenture would be her last. Capt. Gene Soucy (Northwest, Ret.), performed a flyby, entertaining spectators in his classic Grumman Showcat.
Oshkosh's warbird aerial routines, featuring vintage military aircraft, included Capt. John Bixby (United) flying a North American T-28 Trojan, Capt. Eddie Kurdziel (Delta) in the cockpit of a British Fairey Firefly, and Capt. Stuart Milson (FedEx Express) piloting an Air Force Heritage Flight Foundation P-51 Mustang.
In Warbird Alley on the north side of the airfield, Capt. Chris Dowell (United), a former ALPA executive vice president, displayed a U-3A Blue Canoe. Just down the line of parked aircraft, Capt. Valerie Scott (United) described to bystanders the features of a parked B-25 Mitchell bomber, Devil Dog, an airplane she flies for the Commemorative Air Force.
Back in Boeing Plaza, F/O Melinda Coel (Envoy Air) stood before a massive Boeing KC-135 Stratotanker, explaining to passersby her responsibilities as a pilot of the U.S. Air Force's 128th Air Refueling Wing. F/O Bryan Jandorf (Delta) talked to visitors about flying a U.S. Air Force Fairchild Republic A-10 Thunderbolt. Close by, Capt. John Gustafson (FedEx Express) revealed that he temporarily traded his duties as a B-777 pilot to serve as an EAA "West Ramp Rat," marshaling aircraft in and out of the central display area.
In the exhibit hangars and halls, a number of ALPA pilots represented their airlines and other interests. Capt. Matt Sheehan (Piedmont) and F/O Evan Kopin (Piedmont) fielded questions about flying for their Salisbury, Md.-based carrier. Capt. Adam Fareed (Trans States) chatted with visitors about piloting the Embraer ERJ 145, and F/O Ben Wallander (Delta), working the University of Wisconsin-Oshkosh booth, talked up his alma mater's aviation management program.
Family matters
Throughout the Wittman Airport grounds, it was hard to miss the many family connections present and the legacy ALPA-member mothers and fathers have passed—and are passing—along to their children.
Capt. Robert Hart (United), the International Aerobatic Club treasurer, was in the Oshkosh IAC building talking with his daughter, Kaylin, who revealed that she's learning to fly a Piper J-3 Club. Capt. Margie Freeman (United) sat at a picnic table at the United MEC-sponsored reception with her daughter, Sydney, who attends Embry-Riddle Aeronautical University in Dayton, Fla., and who earlier that week completed the requirements for her private pilot's license.
Flying often runs in families and World War II hero Col. Charles McGee and his son, Capt. Ron McGee (Continental, Ret.), were sitting at a booth outside the RISE ABOVE traveling exhibit, a panoramic movie theater recounting the remarkable history of the Tuskegee Airmen. Back at Hanger C, Capt. Bill Secord (FedEx Express) stood with his son, Marshall, age 8, taking in all the Oshkosh activity around them.
Perhaps the best example of passing it forward could be seen at the FedEx Express MEC-sponsored evening reception. Arcamuzi was having dinner with his two daughters, Alex and Stephanie, who both volunteered to help with ALPA functions at the 2018 EAA AirVenture as Endeavor Air pilots. They returned this year as United first officers. Arcamuzi noted that his son, Harry, would soon be flying for Endeavor Air.
It was hard to be a part of this year's Oshkosh and not feel the sense of community. As DePete noted, "So many at Oshkosh were clearly passionate about their pursuit of flying—a sure sign that North America's status as the global leader in aviation will endure."
This article was originally published in the September 2019 issue of Air Line Pilot.