ALPA's Superior Airmanship Award
A History of Teamwork
The most important safety assets on any airliner—cargo or passenger—are two adequately rested, fully qualified, and well-trained pilots. Day and night, they safely transport passengers and cargo to their destinations, routinely performing the expected. But they must also be able to safely manage the unexpected when situations arise.
To honor those flight crews that have experienced unexpected and extraordinary events while piloting their aircraft, ALPA bestows upon them its Superior Airmanship Award.
The following summaries highlight just a few of the efforts through the years of a handful of Superior Airmanship Award crews that by working as a team and using their knowledge, skills, and abilities made the difference between a safe landing and the unthinkable alternative.
1984
On April 21, 1984, Eastern Airlines Flight 494 had just departed Atlanta, Ga., for Greensboro, N.C., when a faulty right thrust reverser inadvertently swung open, causing the DC-9 to roll uncontrollably to the right. Quickly, the flight crew—Capt. James Robertson and F/O J.L. Bellmer—shut down the No. 2 engine and managed to initiate a slow, climbing turn just above stall speed, return to the field, and execute a safe landing of their crippled aircraft. There is no procedure, either emergency or abnormal, outlining the steps pilots should follow in this situation.
It was later discovered that the hydraulic system that normally keeps the thrust reversers in place had malfunctioned and backup safety latches were defective.
From left, F/O J.L. Bellmer and Capt. James Robertson.
1994
Capt. Ronald E. Weldon, F/O Andrew E. Faust, and S/O William A. Jensen were the flight crew of Northwest Airlines Flight 969 on the morning of Dec. 24, 1994. They took off from Boston's Logan International Airport in heavy rain and strong, gusty winds bound for Fort Myers, Fla.
During climbout, the crew encountered a serious problem controlling the pitch of the B-727 and determined it involved the stabilizer trim. Following company procedures, the crew tried unsuccessfully to remove all electrical power to the trim motor.
Controlling the aircraft required great physical strength, and the pilots found level flight impossible to maintain. They declared an emergency and cautiously dumped fuel to return to the airport.
Despite an unusual landing configuration, with both pilots flying they successfully landed the airplane without injury or damage.
From left, F/O Andrew E. Faust, S/O William A. Jensen, and Capt. Ronald E. Weldon.
2001
In the early morning of Aug. 24, 2001, Air Transat Flight 236, A330 service from Toronto, Ont., to Lisbon, Spain, was flying over the Atlantic Ocean. Nearing Portugal, Capt. Robert Piché and F/O Dirk De Jager observed that engine gauges showed high oil pressure and low oil temperature and that thousands of kilograms of fuel were missing.
The two pilots quickly realized they had to make a nighttime diversion to Lajes Airport on Terceira Island in the Azores; but about 100 miles from the airport, the right engine flamed out. Minutes later, the left engine quit.
With a minimal amount of hydraulic pressure and electrical power supplied by the airplane's ram air turbine, the flight crew worked to fly the airplane on a long glide. During the landing rollout, the A330 blew all eight main gear tires—likely due to the antiskid system being inoperative. The pilots were able to successfully stop the airplane on the runway with few injuries to those on board.
Investigators later determined that a ruptured fuel line in the nacelle caused a large amount of fuel to be pumped overboard.
From left, Capt. Duane Woerth, ALPA's president; Capt. Robert Piché; and F/O Dirk De Jager.
2015
Capt. Terry VanHoose and F/O Mark Moser were piloting ExpressJet Flight 4291 from Houston, Tex., to San Luis Potosi, Mexico, on May 11, 2015, when their aircraft experienced a critical system failure due to a lightning strike. Both air data computers and the standby airspeed indicator stopped functioning. Complicating matters, severe thunderstorms were in the vicinity. Flying in instrument conditions, the flight crew acted swiftly, diverting to San Antonio International Airport, where the Embraer 145 touched down without incident.
>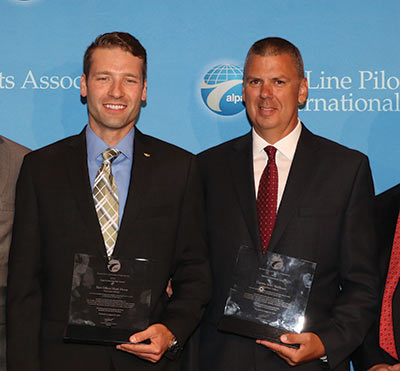 From left, F/O Mark Moser and Capt. Terry VanHoose.
This article was originally published in the August 2019 issue of Air Line Pilot.