Five Questions for ALPA's Veterans Affairs Subcommittee Chair
Powered by Pilots
By Christopher Freeze, Senior Aviation Technical Writer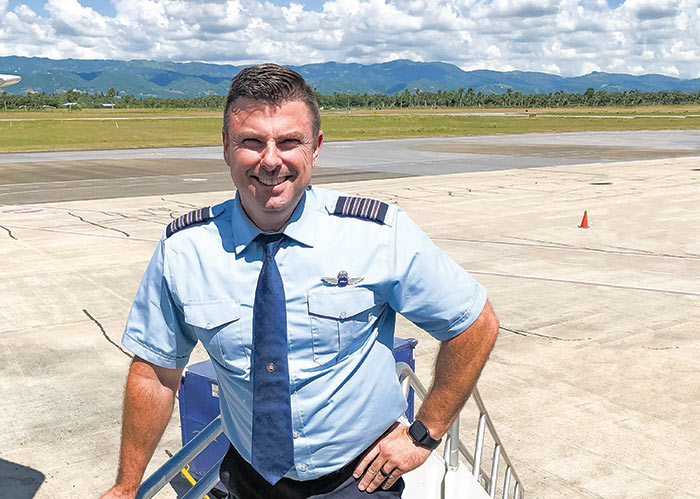 Capt. Richard Corbett (JetBlue) chairs ALPA's Veterans Affairs Subcommittee, which supports ALPA members who are military reservists and veterans.
Editor's note: This column showcases the efforts of a cross section of ALPA pilots who volunteer their time and talents to advocate for the union's priorities and the cadre of knowledgeable and passionate staff specialists who support them.
Veterans Affairs, a subcommittee of the Association's Membership Committee within the union's Professional Development Group, offers support to ALPA members who are military reservists and veterans. The subcommittee works with ALPA's Legal Department to clarify the policies of the U.S. Departments of Defense, Labor, and Veterans Affairs that apply to this segment of ALPA's membership, along with providing other related and useful information.
Air Line Pilot sat down with Capt. Richard Corbett (JetBlue), the subcommittee's chair, to learn more about the pilot who leads the Association's efforts to help pilots transition to their new careers, navigate union resources and protections, and leverage their experience to better serve their pilot groups and air carriers.
1. How did you get into aviation/flying?
Capt. Richard Corbett: I was born and raised in Oakland, Calif., and spent a lot of my childhood at the airport there and in San Francisco. My mom and dad both worked for TransAmerica Airlines and later for United Airlines. My dad retired from United, and my mom decided to go to FedEx Express, where she's about to retire and start a new chapter in life.
With that introduction, I got into aviation by entering the Air Force out of high school in 1991. At the same time, I went to college, participated in ROTC, and started to work on earning my civilian flying certificates. In 1996, there weren't many pilot slots so I became a navigator. After spending a short period of time in the AWACS and the U-2 aircraft communities, I transferred to the Air Force Reserve in August 2001 and went to Laughlin Air Force Base in Texas for undergraduate pilot training. I flew the KC-10 at Travis Air Force Base in California until I retired in December 2017. During my period in the reserves, I was hired at JetBlue Airways in March 2006 and am currently a captain on the A320/A321 based in Los Angeles, Calif.
2. How did you first become involved with ALPA work?
Corbett: I began my ALPA volunteer work when we voted in the Association at JetBlue. At the time, I was a first officer and our group needed a first officer status representative in Long Beach, Calif. I was voted in and assisted with the local executive council until being voted the chair of JetBlue's Military Affairs Committee. I spent several years as the Military Affairs chair, and in the fall of 2019 I was selected to become the chair of ALPA national's Veterans Affairs Subcommittee.
3. What are your roles and responsibilities as ALPA's Veterans Affairs chair?
Corbett: Pilots transitioning from the military to the airline industry face unique challenges. Meeting with a member of the Membership Committee is often the first interaction new hires have with ALPA—and for most military members, it's the first time they come into contact with anyone from a labor union. My role as the Veterans Affairs chair is to explain the advantages and benefits of belonging to a union. The subcommittee also helps members who are still serving in the uniformed services with issues that fall under the Uniformed Services Employment and Reemployment Rights Act (USERRA), legislation that protects civilian job rights and benefits.
To assist with the numerous issues that our military members may encounter, we maintain the Veterans Affairs webpage on alpa.org. This site houses the USERRA Guide

, which is written in a Q&A format and deciphers the law and explains how it's applied. We also have a military transition guide, which we're currently updating, that's geared toward pilots looking at or in the midst of transitioning from military to airline flying.
In addition, we help individual ALPA pilot groups set up Veterans Affairs or Military Affairs Committees, develop relationships with transition programs such as the Rotary to Airline Group, and are growing ALPA's national Veterans Affairs Subcommittee into a valuable resource that benefits all members.
4. How do you see ALPA national and staff helping you achieve your goals?
Corbett: Being part of the Membership Committee allows us to have an insight into the challenges that military new hires face as they embark on their airline careers. By combining assets, Veterans Affairs and the Membership Committee can discuss ideas about how to better serve our military veterans and drilling reservists, as well as offer perspectives into each group's responsibilities and goals. Throughout the pandemic, Veterans Affairs has been working alongside the Membership Committee to assess employment opportunities in the National Guard or Reserve for ALPA pilots who potentially may be furloughed. Veterans Affairs has been working closely with each military branch to learn what positions are available, approximately how many positions are available, and the process for those interested in pursuing a National Guard or Reserve job. Additionally, through Veterans Affairs, we've made ALPA members aware of the various educational opportunities available to learn a new trade or skill.
The work of our subcommittee wouldn't be possible without the dedicated and tireless efforts of ALPA's Legal Department, which helps with interpreting and applying USERRA. Reemployment rights become critical during times of furlough and during other types of leaves, and Veterans Affairs and ALPA's top-notch legal team ensure that companies adhere to the law.
5. What advice would you give to new pilots who want to get involved with ALPA?
Corbett: Start by talking with your local representatives to see if they have any need in an area that you're passionate about, have a background or specialized training in, or simply a committee that could use assistance. ALPA provides a fantastic opportunity for those willing to serve and assist their fellow pilots. Being an ALPA volunteer is an opportunity for you to share your experience and knowledge and to further educate yourself along the way.
From time to time I hear negative comments from pilots about various issues, and I always say there's an opportunity within ALPA to volunteer and work to improve the process. ALPA's resources allow for this to happen. We're constantly looking for ways to improve how we do things in order to better serve our members.
ALPA operates on the professionalism and the volunteerism of our pilots, and the overall rewards for assisting our pilot members are priceless.
This article was originally published in the November 2020 issue of Air Line Pilot.