Five Questions for ALPA's UAS Director
Powered by Pilots
By Christopher Freeze, Senior Aviation Technical Writer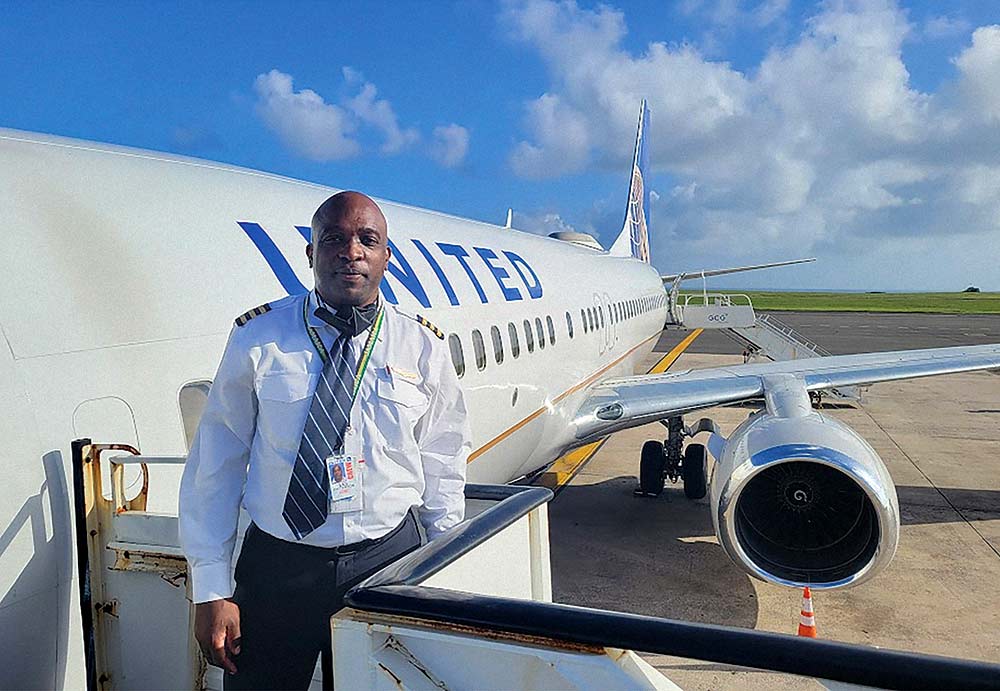 F/O Vaslav "Vas" Patterson (United) serves as the Air Safety Organization's Unmanned Aircraft Systems director.
Editor's note: This column showcases the efforts of a cross section of ALPA pilots who volunteer their time and talents to advocate for the union's priorities and the cadre of knowledgeable and passionate staff specialists who support them.
The primary tasks of ALPA's Air Safety Organization (ASO) Unmanned Aircraft Systems (UAS) director are to serve as the subject-matter expert on the safe integration and potential impact of drone operations on the airspace system and to provide guidance.
Air Line Pilot sat down with F/O Vaslav "Vas" Patterson (United), the ASO's UAS director, to learn more about the pilot who serves as the Association's lead advisor on this growing segment and his role in helping to improve aviation safety worldwide.
Air Line Pilot:
1. How did you get into aviation/flying?
F/O Vaslav "Vas" Patterson: Since I can remember, I've always wanted to be an airline pilot. I first saw an airline flight deck as a curious six-year-old while on a flight from Jamaica to Miami, Fla., where my dad lived and worked. The captain of the Air Jamaica flight did what we so commonly do now when kids visit the flight deck—he turned on all the lights, gave me his hat, and put me in the left seat. It was awesome, and that's where my initial interest started.
Ten years later, after moving to the United States from the beautiful island of Jamaica at about the age of 16, I was fortuitously placed in George Wingate High School in Brooklyn, N.Y., for my last two years of high school. While at Wingate, I had the opportunity to pick an elective, and to my surprise there was a flight program. Our teacher, David Strachan, took numerous young inner-city kids and me to the Farmingdale Long Island Airport (now Republic Airport), where I got my first few hours of flight time. It wasn't a significant amount of flight time, but it was enough to spark that fire and the love of aviation that's led me to where I am now.
That fire and love took me to Ozark, Ala., where I earned all my ratings and started flight instructing. I then went on to Embry-Riddle Aeronautical University where I earned a bachelor's degree and eventually my master's degree in unmanned systems, which led me to the work I'm now doing for ALPA.
2. How did you first become involved with ALPA work?
Patterson: My involvement in ALPA work started at the regional level. While at Mesa Airlines, I was offered the opportunity to be a Pilot-to-Pilot® representative and also helped to monitor and track the Jets for Jobs numbers during a very tumultuous time in the aviation industry shortly after 9/11 and the age 65 rule change. Fast-forward a few years later and I'm doing ALPA work at the national level putting my master's degree to good use as the Association's UAS director.
3. What are your roles and responsibilities as the UAS director?
Patterson: I'm part of the ASO, working with the Aircraft Design & Operations (ADO) Group on UAS, one of the ADO's many areas of responsibility. In my role as UAS director, I help shape and guide the safe integration of UAS into the national airspace system (NAS). UAS/drones/remotely piloted aircraft systems are a new entry into the NAS, and as such the rules and regulations that govern the safe operation of UAS are currently being developed and codified. Our team's goal is to help this new fledgling industry find its wings by offering the multitude of resources that ALPA is able to provide to safely integrate UAS into the NAS.
Our team is present at RTCA and ASTM meetings to help drive the standards under which these UAS operate. We also support Capt. Joe DePete, ALPA's president, as a member of the Advanced Aviation Advisory Committee where we work hand in hand with the UAS industry and other stakeholders on various FAA tasks to help guide the UAS integration process. We've also participated in multiple Aviation Rulemaking Committees, providing recommendations on what may become the rules that govern UAS operations. These rules range from pilot training to certification to equipment to operating regulations.
4. How do ALPA national and staff help you achieve your goals?
Patterson: I don't think a lot of people truly understand the respect for and influence that ALPA has as an organization. Just about every meeting or discussion that takes place in the aviation industry has an ALPA representative at the table. Not only are we at the table, our opinion is highly sought after—and many times we're the only one at that table with the knowledge of how the airspace system truly works.
Whenever I go to represent ALPA and our more than 65,000 members on any given issue, the very best experts and staff in the world in that area assist me. I'd be remiss if I didn't point out the excellent support I receive from our professional staff; their depth of knowledge is unmatched. The support for what I do flows from the top of the Association and the ASO down. I'm given the latitude and backing from Capt. Bryan Lesko (United), the ASO's ADO chair, and Capt. Frank Pizzonia (United), the ASO's Aviation Safety chair, that allows me to accomplish a variety of tasks in support of our goals.
5. What advice would you give to new pilots who want to get involved with ALPA?
Patterson: Do it! If you have a skill or area of expertise and the opportunity to shape the industry, you should take it. Do it not only for yourself, but also for you family and fellow pilots. The work you do can help keep your family safe while flying, walking, or driving. The work you do can help protect pilot jobs. The work you do can help to positively affect the industry in so many different ways—and the greatest part is you're supported and led by the absolute best aviation professionals in the industry.
For me, when I attend a meeting at RTCA I know that my input will help shape a new aviation design standard. When I represent ALPA at an Aviation Rulemaking Committee, I know that the recommendations sent to the FAA have ALPA's fingerprints throughout. As a result, the safety of the airspace in which we operate day and night isn't degraded or compromised. The work that we do is sometimes thankless, but the results produce a safer and more secure operating environment. I'm proud to be a volunteer for this great Association.
This article was originally published in the July 2022 issue of Air Line Pilot.