Five Questions for ALPA's Reduced Crew Operations Committee Chair
By John Perkinson, Senior Staff Writer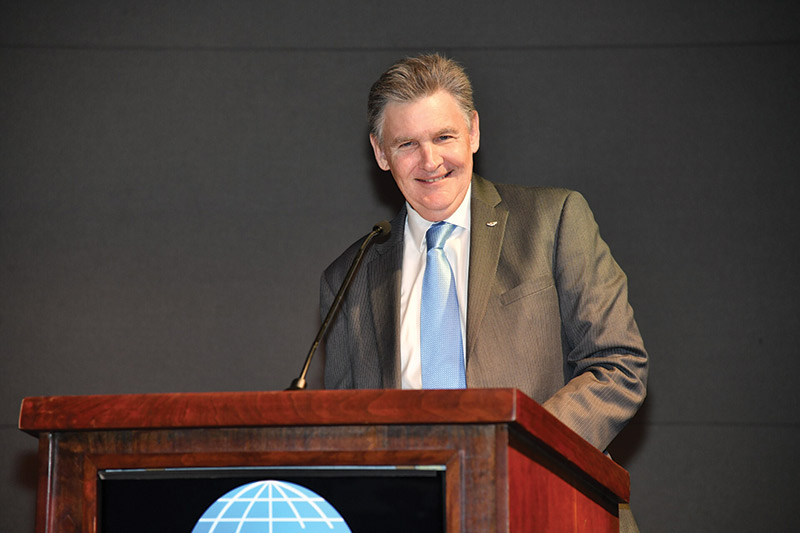 Capt. Russ Sklenka (FedEx Express), ALPA's executive administrator, chairs the Association's Reduced Crew Operations Committee.
Editor's note: This column showcases the efforts of a cross section of ALPA pilots who volunteer their time and talents to advocate for the union's priorities and the cadre of knowledgeable and passionate staff specialists who support them.
The most vital safety feature on any airliner is having two experienced, well-trained, and well-rested pilots on the flight deck. To support current crew-complement requirements, the ALPA President's Committee on Reduced Crew Operations (PCRCO) was established in May 2022. Recently converted to the continuing Reduced Crew Operations Committee by the Association's Board of Directors, committee efforts include opposing petitions for exemption, global engagement with manufacturers, information sharing, surveying, continuing research, and educating the public about the dangers of altering current minimum flight deck complement standards.
Air Line Pilot recently sat down with Capt. Russ Sklenka (FedEx Express), ALPA's executive administrator, who chairs the Reduced Crew Operations Committee, to learn more about the individual who spearheads this responsibility for the Association.
Air Line Pilot:
1. How did you get into aviation/flying?
Capt. Russ Sklenka: I have to say that I consider my career path to be somewhat atypical as compared to those I've read about in other profiles appearing in Air Line Pilot. Throughout my teen years, my only real exposure to aviation was watching from a distance as the occasional F-4 Phantom would scream into the break at Homestead Air Force Base, just south of my home in Miami, Fla.
After working my way through college, I planned to go to grad school but needed a breather from the classroom. While trying to figure out what my future might hold, I spent a week fishing with an uncle, and that experience set me on the path to a career in aviation.
This uncle had been a Marine aviator, flying A-1 Skyraiders in the Korean War and later flew as an Eastern Air Lines pilot. After some long talks with him, a little research, and some soul searching, I made the decision to pursue naval aviation through the Officer Candidate School (OCS) program in nearby Pensacola, Fla. Along with the U.S. Naval Academy in Annapolis, Md., and Navy ROTC programs, OCS is one of three principal means to become a newly commissioned officer in the Navy.
While I'd never flown before, the challenge of trying something completely new really appealed to me, and I can't begin to tell you how fortunate I feel to have served. The many experiences I had and lessons I learned were simply invaluable, and that also goes for the 32-year flying career I embarked on with FedEx Express in the years that followed.
2. How did you first become involved with ALPA work?
Sklenka: When I was hired by FedEx in 1990, the pilot group wasn't represented, and I had no real experience with commercial aviation, much less with unions. That said, I did have a keen sense of fairness and equity and the value of having a say in my career.
It made sense that joining ALPA would give me and my fellow pilots a greater voice in our workplace as well as some much-needed checks and balances. It also helped that union work led me to meet so many truly outstanding people. I can't overstate how much appreciation I have for the individuals I've worked with over the years. I got involved with my local council, and that experience eventually led me to my responsibilities today.
3. What are your roles and responsibilities as the Reduced Crew Operations Committee chair?
Sklenka: One of the most significant challenges to aviation safety has been attempts to promote reduced-crew, single-pilot, or remotely piloted operations in the airline industry. With our current level of technology, any efforts to reduce minimum flight deck staffing levels pose unnecessary risks to pilots, passengers, cargo, and the general public. ALPA's mandate has been and will always be that safety is priority one.
Since May, the PCRCO and its new continuing counterpart have served as a single point of contact within ALPA on all reduced-crew issues, and we've taken a particular interest in recent efforts to develop urban and advanced air mobility. The committee has worked with ALPA's Air Safety Organization, the Collective Bargaining Committee, and other union subject-matter experts to assess the consequences of reducing the human element in airline operations and communicate this information in a meaningful way to the different audiences who need to hear it.
I've truly appreciated the opportunity to assemble this outstanding group of pilots and staff. U.S. commercial aviation is the safest form of transportation in history, and it's our mandate to keep it that way. Addressing the many avenues though which to advance awareness of this issue is vital: legislative, regulatory, contractual, and public-engagement considerations are all required to effectively guide this cause.
Efforts to reduce flight crew complement aren't going to simply go away, and ALPA is the vanguard to ensure that policy makers and regulators are properly informed about what it will take to maintain North American's remarkable airline safety record. We have an amazing team of pilots and staff who are well suited to carry this mission forward when I pull the chocks in December.
4. How do ALPA national and staff help you achieve your goals?
Sklenka: Staff has helped in every way imaginable. Over the last four years, I've had the great pleasure of working with ALPA national staff, and I'm very confident that, together with the Association's national officers, we've served ALPA pilots well during this term.
Case in point is the COVID-19 pandemic, a crisis for which there were no Quick Reference Handbook procedures. To say that adaptability, innovation, and thinking outside the box were essential to our very survival—with the virtual operational shutdown that occurred when the World Health Organization declared the pandemic in March 2020—is an understatement.
ALPA leaders, staff, and innumerable pilot volunteers achieved something never accomplished before. We were intimately involved with federal lawmakers, helping them craft what would become the Coronavirus Aid, Relief, and Economic Security Act. This legislation helped set in motion three installments of the payroll support program, which ensured that airline employees continued to receive salaries and benefits despite the catastrophic disruption this global health crisis had on airline operations.
At a time when the United States has been politically divided, this remarkable legislation garnered support from members of Congress from both sides of the aisle. Spearheaded by ALPA's Government Affairs Department with support from the Engineering & Air Safety, Economic & Financial Analysis, and Communications Departments, the effort to get this legislation introduced and passed was a mammoth undertaking. If there was ever a better combination of ALPA-PAC contributions and member dues dollars at work, I'm not aware of it.
5. What advice would you give new pilots who want to get involved with ALPA?
Sklenka: I realize life is complicated, and it often seems like there isn't enough time in the day to handle all the demands and responsibilities. That said, you'll likely spend the bulk of your flying career as a member of ALPA. This will also likely be the job in which you earn the lion's share of your life's wages. Shouldn't you take some degree of ownership in your profession and interest in its ongoing welfare?
ALPA is a pilot-driven organization and without pilot input, the entire operation grinds to a halt. We owe it to ourselves, each other, and the generations that will follow us to be engaged and to participate. Imagine the tremendous result if all 66,000-plus members contributed just a little bit of their time. ALPA is what we make it and to not avail yourself of the chance to get involved and give something back to the profession would truly be an opportunity lost.
This article was originally published in the December 2022 issue of Air Line Pilot.