Five Questions for ALPA's Aviation Safety Chair
Powered by Pilots
By John Perkinson, Senior Staff Writer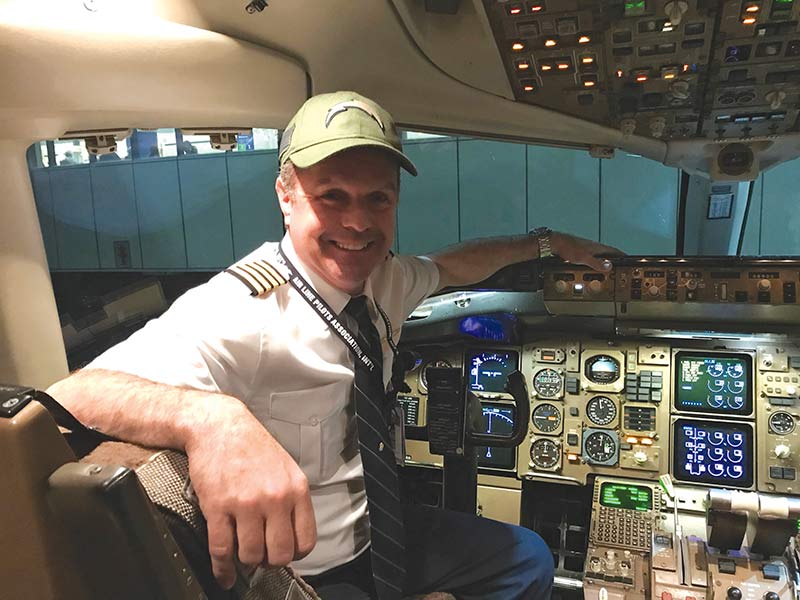 Capt. Frank Pizzonia (United), ALPA's Aviation Safety chair, on the flight deck of a B-757 preparing for a flight from Newark Liberty International Airport to Europe.
Editor's note: This column showcases the efforts of a cross section of ALPA pilots who volunteer their time and talents to advocate for the union's priorities and the cadre of knowledgeable and passionate staff specialists who support them.
A primary mission of ALPA is to promote and champion all aspects of air transportation safety, throughout all segments of the aviation community. Appointed by ALPA's national safety coordinator (NSC), with the approval of ALPA's president, and confirmation by ALPA's Executive Council, the Air Safety Organization's (ASO) Aviation Safety chair leads, coordinates, and manages the activities of subject-matter experts in a variety of related safety disciplines. The chair also works with the Association's NSC to coordinate and promote ALPA's participation in government and industry panels, work groups, and research projects, as well as other external representations.
Air Line Pilot recently sat down with Capt. Frank Pizzonia (United), the ASO Aviation Safety chair, to learn more about the individual who spearheads these responsibilities for the Association.
Air Line Pilot:
1. How did you get into aviation/flying?
Capt. Frank Pizzonia: I distinctly remember complaining to my uncle when I was about 20 years old that I really wanted to learn to fly, but that it was expensive and a lot to take on. He responded by yelling at me, saying that if flying was something I really wanted to pursue, I should stop making excuses and just do it. In many ways, his outburst was the thing that triggered my flying career.
Soon after our talk, I took flying lessons at New York Stuart International Airport in Orange County, N.Y. I graduated from high school in 1986 and immediately joined the U.S. Army, where I served as a flight operations coordinator/dispatcher. Leaving the service four years later, I went to Embry-Riddle Aeronautical University in Daytona Beach, Fla., where I graduated in 1992 and returned to Stuart International to earn my certified flight instructor certificate. For the next several years, I worked as a flight instructor to build my hours.
2. How did you first become involved ALPA work?
Pizzonia: My friend, Tom, was the Central Air Safety Committee chair at Continental Express, where we had both flown for about two years. Our carrier was the launch customer of the Embraer E145 and there were some initial issues that needed to be resolved. In fact, I complained to Tom that the radar system was inadequate. Much like my uncle challenging me, Tom said, "Well, what are you going to do about it?"
And just like before, I realized I could complain or I could do something about it. I joined the pilot group's Safety Committee, conducted some initial research, made some calls, and was eventually invited to participate in a radar test.
Working with a group of individuals, we resolved the problem. I wrote an article about the experience for my pilot group's newsletter and, honestly, was both surprised and excited about the difference I had made. In 1998, I took over as the Central Air Safety Committee chair at Continental Express.
During my airline career flying at Continental Express, ExpressJet, Continental, and United, I've had a variety of experiences like this that helped prepare me for my current job.
For example, I participated in the accident investigation of Continental Flight 1404, which crashed during the takeoff roll at Denver International Airport on Dec. 20, 2008. In addition to teaching ALPA training courses and working with the United pilots' Event Review Committee to evaluate Aviation Safety Action Program (ASAP) reports, I've also served as the Aviation Safety vice chair for six years under Capt. Steve Jangelis (Delta).
3. What are your roles and responsibilities as the Aviation Safety chair?
Pizzonia: I support Capt. Bob Fox, who, as well as being the first vice president, is ALPA's NSC. I also oversee ALPA's technical groups, including
the Accident Analysis & Prevention Group,
the Aircraft Design & Operations Group,
the Airport & Ground Environment Group,
the Air Traffic Services Group, and
the Human Factors & Training Group.
In addition to these technical groups, we also have safety management system and aviation sustainability and environment subject-matter experts. It's the technical group chairs and other volunteers who are the real experts.
I also work with Capt. Fox to prepare an annual budget based on our administrative and operational needs, and I help coordinate ALPA participation on International Federation of Air Line Pilots' Associations committees and government and industry panels and study groups. Plus, I work with ALPA's Safety and the Training Councils, which are made up of representatives from each of our pilot groups.
4. How do ALPA national and staff help you achieve your goals?
Pizzonia: Simply put, I couldn't achieve my goals without both. Serving as the Aviation Safety chair is a full-time job that I manage when I'm not also flying full time for my airline. ALPA leaders are tremendously supportive of the work of the ASO. And the Association's professional staff members are always there to handle the coordination, logistics, and technical expertise I need to carry out my duties. They have the connections and know the government and industry landscape well enough to help me navigate where I need to go with any issue that arises.
As an example, for many years, I worked with Capt. Don McClure. Don served as a pilot rep and accident investigator for the Eastern Air Lines pilot group, before joining ALPA's Accident Investigation Board. After leaving airline flying, he went to work as an ALPA employee in the Engineering & Air Safety Department.
ExpressJet was the first regional airline to have a Flight Operations Quality Assurance (FOQA) program, which provides a system for collecting and analyzing operational data extracted directly from the aircraft. It's one of several voluntary reporting systems we use to identify problem areas and trends to help improve safety.
I had no idea what I was dealing with, but Don had the answers. He also helped our pilot group implement ASAP. We couldn't have done it without him.
ALPA staff members are invaluable. They're awesome.
5. What advice would you give to new pilots who want to get involved with ALPA?
Pizzonia: It's just a matter of raising your hand and volunteering. If you have a specialty skill, great! But even if you don't, ALPA will train you. ALPA offers a host of training classes to help you better understand these different work environments and the many ways you can contribute.
As a group chair, I'd rather have an individual who's untrained and interested than a subject-matter expert who lacks motivation. There are plenty of pilots who just want to fly and then there are the others who want to give something back. These are the people I'm looking for.
It's important to remember that aviation safety work is a marathon, not a sprint. There's always going to be a crisis, and it's important to pace yourself and not lose sight of the things that matter, including family. Other volunteers can help with projects, and the ASO's Pilot Assistance Group offers a variety of programs that deal with stress and other issues, regardless of whether they're of a personal or professional nature. Don't allow yourself to burn out.
As for advice, here at ALPA, we make a point of separating our safety work from our industrial efforts. That's not to say that our pilot group Negotiating Committees avoid bargaining for terms that enhance safety. They occasionally do, and we in the ASO applaud their efforts.
However, if you're going to be an Aviation Safety rep, I recommend that you stay out of the politics. As a trainer, I tell my students to do what you think is right. Don't worry about the position you hold. It's your reputation that matters the most.
I've survived many master executive council and local executive council chairs and their administrations because I didn't take a political stance. I focused and continue to focus on safety, and that's what has kept me going. If you're planning on becoming an ALPA safety volunteer, I strongly encourage you to do the same.
This article was originally published in the October 2022 issue of Air Line Pilot.