FedEx Express Pilot Journeys into Space
By John Perkinson, Senior Staff Writer
F/O Charles Hobaugh (FedEx Express), STS-129 commander, in a training session at the Space Vehicle Mockup Facility at NASA's Johnson Space Center.
F/O Charles Hobaugh (FedEx Express) has experienced what few others have: traveling beyond Earth into space. Prior to his career as an air cargo pilot, he served as a space shuttle astronaut on three missions—twice as a pilot and once as a commander. In total, he logged 36 days in space, completing nearly 600 orbits.
"Being an astronaut wasn't something I ever thought was going to be a possibility for me," said Hobaugh, who grew up watching television shows like Star Trek and I Dream of Jeannie, imagining what it would be like to be astronaut Tony Nelson. His fascination was solidified when he watched the televised coverage of Apollo 11 Commander Neil Armstrong walking on the moon in July 1969.
Space shuttle Atlantis lifts off for STS-104 with Hobaugh at the pilot's controls.
Hobaugh began flying at the age of 14 in the remote regions of Alaska with his father, who was temporarily based there with the U.S. Coast Guard. The aspiring pilot attended the U.S. Naval Academy where he graduated with a B.S. degree in aerospace engineering in 1984. With a commission as a second lieutenant in the U.S Marine Corps, he garnered the call sign, "Scorch," and flew combat missions in the Persian Gulf during Operations Desert Storm and Desert Shield.
In 1991, Hobaugh attended the Naval Test Pilot School where he performed flight tests, helped develop the AV-8B Harrier, and helped design the F-35 Lightning before transitioning to a test pilot school instructor, flying the F/A-18 Hornet, the T-2 Buckeye, the U-6A Beaver, and gliders. During his service as a Marine, he flew more than 40 different aircraft and accumulated more than 5,000 flight hours and more than 200 vertical and short-takeoff aircraft carrier landings.
Setting his sights higher
All these experiences served Hobaugh well when he applied to the NASA Astronaut Selection Program. "It's very difficult to make yourself look good on paper," he said, acknowledging the thousands of applications NASA must wade through to determine who the agency will select. Not chosen for the astronaut program on his first try, Hobaugh applied again. On his second attempt he was accepted, receiving the news via radio while flying as an instructor with a student in the back seat.
"We were actually dropping bombs on an old hulk in the middle of the water on the Chesapeake Bay," he said, remembering the excitement he felt and the challenge of staying focused on the task at hand.
In August 1996, Hobaugh reported to the Johnson Space Center in Houston, Tex., where he received two years of training and evaluation. He was eventually assigned to STS-104 (space transport system, NASA's mission identification) and would serve as pilot on board the space shuttle Atlantis.
The reusable low-Earth orbital spacecraft launched from the Kennedy Space Center in Merritt Island, Fla., the morning of July 12, 2001. Its mission was to transport and install a quest joint airlock to the International Space Station. Spacewalkers mounted two nitrogen tanks and two oxygen tanks to pressurize this system. They also conducted basic maintenance on the station.
"There are some very surreal moments when you get into space and you see someone floating around or something floating by for the first time," he noted, adding, "You've really just got to put your head down and work or you never get anything done." During the 13-day operation, Hobaugh and his four team members traveled 5.3 million miles before touching down in Florida on July 24.
Hobaugh performed a variety of jobs between space shuttle flights, including technical duties as part of the Astronaut Office Spacecraft Systems/Operations Branch. He acted as capsule communicator, working in the Mission Control Center as the contact for other space shuttle crews. He served in this capacity for STS-107 during which space shuttle Columbia was lost on reentry into the atmosphere in February 2003. Hobaugh radioed, "Columbia, Houston, UHF Comm Check," several times after Mission Control lost contact with the vessel.
The ensuing investigation revealed that a piece of foam broke off during launch, damaging the thermal protection system on the leading edge of the spacecraft's left wing.
Another day, another mission
In August 2007, Hobaugh once again flew as pilot, this time on the space shuttle Endeavour for STS-118. The crew traveled to the International Space Station to deliver and assemble a starboard S5 truss segment, an external stowage platform, and a replacement control moment gyroscope. The crew used these and other materials to upgrade the station shuttle power transfer system. While on board, Hobaugh was the primary station robotic arm operator for installing external hardware from the International Space Station payload bay to the Space Station, in addition to other tasks.
NASA traditionally plays music as a wake-up call for astronauts. A popular song, dedicated to a specific space shuttle astronaut, is chosen each day to wake the entire crew. On August 11, the crew began its daily routine to the sounds of John Mayer's "Gravity," specifically selected for Hobaugh. And with Space Station duties completed, the FedEx Express first officer returned to Earth landing Endeavour on Kennedy Runway 15, nearly 13 days later, on August 21.
For STS-129, the ALPA pilot was reunited with Atlantis but this time in a different role. "I now get to be the orchestrator or the leader of a superior group of individuals, but I don't get to play as much, so I guess that's the biggest change for me," he said in a preflight interview.
Hobaugh served as space shuttle commander for his third and final spaceflight, traveling once again to the International Space Station for 10 days in November 2009. The crew transported two express logistics carriers and about 30,000 pounds of replacement parts for systems that provided power to the station, kept it from overheating, and helped it maintain its proper orientation in space. A scarf belonging to famed aviator Amelia Earhart accompanied the crew along with an assortment of medals, shirts, and patches to commemorate the trip.
STS-129 was the 31st space shuttle mission and the final shuttle crew rotation flight for the Space Station. Atlantis returned to Earth on November 29 with an extra passenger, Nicole Stott, who had been working at the station since August.
Hobaugh retired from the Marines as a colonel in September 2010, resigned from NASA in August 2011, and began flying for FedEx Express. A B-777 first officer based in Memphis, Tenn., he remembers his time with NASA fondly. He's particularly proud of his association with and work on the International Space Station.
"The station is remarkable and incredibly sophisticated. Every mission is an international effort, and it's amazing how unified the team becomes," Hobaugh observed. "We all have objectives we're trying to do on the mission, and there's very little difference among individuals even though we come from very different cultures." Despite the vastness of space, it's clear that the shared experience of journeying into this great expanse brings people closer together.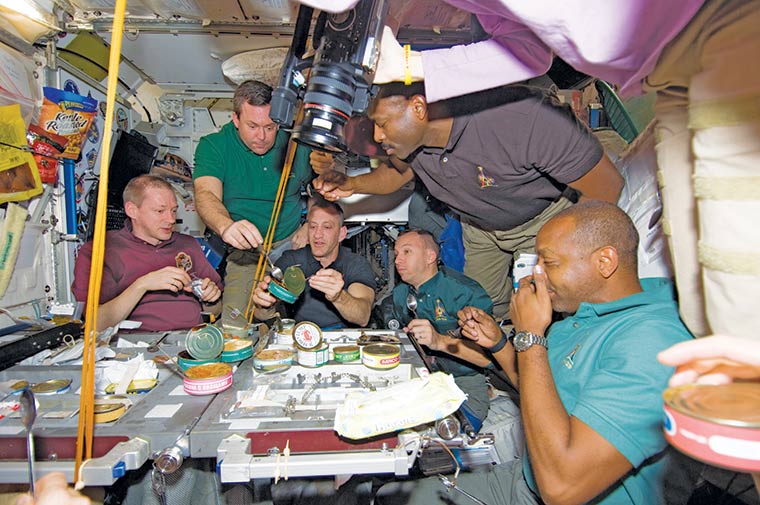 Left: The crew of STS-129 enjoys a meal on board the International Space Station.
This article was originally published in the October 2019 issue of Air Line Pilot.