'Fatigue Management: Best Practices and Lessons Learned'
By Christopher Freeze, Senior Aviation Technical Writer
Capt. Don Wykoff (Delta), chairman of ALPA's Flight Time/Duty Time Committee, welcomes attendees to the flight-time/duty-time seminar, noting, "When it comes to fatigue management, our successes are rooted in working together."
More than 120 pilots, airline industry representatives, consultants, and government officials gathered for a flight-time/duty-time (FT/DT) seminar January 17–18 at ALPA's Herndon, Va., Conference Center. The two-day meeting entitled "Fatigue Management: Best Practices and Lessons Learned" was cohosted by ALPA and Airlines for America (A4A) to share experiences, exchanges strategies, and collaborate on advancements in FT/DT policies and procedures.
Capt. Don Wykoff (Delta), chairman of ALPA's FT/DT Committee, welcomed attendees, stating, "When it comes to fatigue management, our successes are rooted in working together. We generally find that we're 90 percent in agreement. And if we build upon that 90 percent, the remaining 10 percent is much easier to solve."
Billy Nolen, A4A's vice president for safety, touched on the seminar's purpose, saying "We have to, together, ask the questions: 'How can we find a solution to our differences?' How can we satisfy the needs of management, the needs of the pilots, and that of the FAA...while keeping in mind what's right and safe?"
Billy Nolen, Vice President for Safety, Airlines for America
"It's easy to overlook the impact of fatigue," said Jodi Baker, the acting deputy director of the FAA's Office of Safety Standards. "But it's a risk, and that puts other aspects of aviation at risk as well…. Everyone needs to look at the common interests of all involved and be honest in how we approach fatigue."
Cumulative fatigue
In a panel entitled "Cumulative Fatigue: Is Our Fatigue Issue Self-Inflicted?" Steven Hursh, the president and chief scientist of the Institutes for Behavior Resources, discussed his findings on sleep. "There's a lot of data to input in researching cumulative fatigue…, but you can find trends in the data sets by pairing trips with similar trips, like international to other international, and set it against safety criteria."
Steven Hursh, President and Chief Scientist, The Institutes for Behavior Resources
Hursh's research identifies four successful mitigating factors to reduce cumulative fatigue: augmented crews and inflight rest for international operations, recovery time between trips for domestic unaugmented operations, preduty naps before night operations, and nap opportunities at the sort facility for cargo operations. "These strategies seem to work best—in addition to conventional wisdom that more opportunities for rest and longer periods of rest will result in a pilot who is less fatigued," Hursh concluded.
Fatigue risk management plans
Dale Roberts, the FAA's aviation safety inspector for fatigue risk management, led a discussion about fatigue risk management plans (FRMPs), reminding attendees that they're "operational and functional processes describing how the carrier will manage, monitor, and mitigate day-to-day flightcrew member fatigue. Each Part 121 air carrier must have an FAA-approved FRMP, regardless of the type of operation being conducted.
Dale Roberts, Aviation Safety Inspector for Fatigue Risk Management, FAA
"An FRMP serves as a way to provide fatigue education and awareness training, as well as facilitate a means to evaluate the effectiveness of existing FRMP processes, fatigue education, and the FRMP as a whole," Roberts said.
"When FRMPs first came out," said Capt. Jim Mangie (Delta), director of Delta Air Lines Pilot Fatigue Program, "we had to do a gap analysis of our programs, using a checklist-type approach. And what we quickly realized was that the old ways of doing things, while legal, just weren't going to cut it anymore."
Capt. Brian Noyes (United), a member of ALPA's FT/DT Committee, noted, "When an FRMP is first written, both management and pilots want to put a lot of material into it to try and cover every single situation. But if you include too much information, it becomes cumbersome. Our latest rewrite at United was to simplify the FRMP."
Capt. Darrell Cox (Mesa), a member of ALPA's FT/DT Committee, stated, "an FRMP needs to be a living document, continuously being improved upon as you learn more about what works and what needs another look."
Capt. Darrell Cox (Mesa), ALPA Flight Time/Duty Time Committee Member
Capt. Rich Hughey (FedEx Express), the chairman of the ALPA President's Committee for Cargo and a member of ALPA's FT/DT Committee, highlighted his carrier's proactive stance on FRMP development. "Elements of our FRMP existed before FRMPs were in place, as part of a science-based collective bargaining agreement negotiated in 2006. We have a Scheduling Improvement Group [SIG], composed of management and pilots, that actively builds pilot schedules based on our agreement, pilot preferences, and Part 121. Additionally, from our 2011 agreement, a Fatigue Risk Management Group [FRMG] was created with both reactive and proactive processes. Like the SIG, it's a cooperative partnership. For example, to better mitigate fatigue, we have five different reserve periods across 24-hours intended to better align potential assignments to occur near the start of the reserve period…. This works relatively well in our hub-and-spoke system."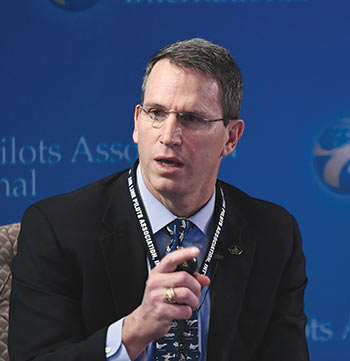 Capt. Rich Hughey (FedEx Express), ALPA Flight Time/Duty Time Committee Member
In a panel discussing methods to collectively do better, Wykoff pointed out that FRMPs have a lot of similarities to safety management systems, and that fatigue management has become more risk-based. "But that's the world we're moving into. And that's not a bad thing," Wykoff noted.
"We need to have our existing programs move beyond the prescriptive FAR Part 117 and FRMPs to include the customizable benefits of fatigue risk management systems [FRMS]," Wykoff advocated. "Such a system would go beyond hazard identification and transitional procedures…. It's a data-driven means of continuously monitoring and managing fatigue-related safety risks, based on scientific principles, knowledge, and operational experience that aims to ensure the relevant personnel are performing at adequate levels of alertness."
Wykoff discussed the concept of Fatigue Safety Action Groups (FSAG), which are traditionally responsible for coordinating FRMS activities. "Since fatigue management must be based on shared responsibility and requires an effective safety reporting culture, it's strongly recommended that the FSAG includes representatives of all stakeholder groups—management, scheduling staff, and crewmember representatives—with input from other individuals as needed to ensure that the group has appropriate access to scientific, statistical, and medical expertise."
While the FSAG's principle functions are to oversee the development of the FRMS and assist in its implementation, the FSAG process also has a role in risk identification and mitigation in a more traditional, prescriptive approach. Using the FSAG in this manner provides the operator and pilot group representative a method to identify and mitigate a fatigue-related operational risk well before it becomes a significant, disruptive hazard.
Fitness for duty
Noyes addressed the concept of fitness for duty, noting that "it's largely subjective. While Part 117.5 gives a definition and a requirement to be fit for duty, this can vary from one pilot to another. I have a responsibility to be rested before duty, but the operator also has to provide me the opportunity to be rested."
Capt. Doug Marchese (JetBlue), chairman of his pilot group's Fatigue Committee, and Lydia Hambour, manager of JetBlue's FRMS, described how management worked with the pilots in setting up the carrier's system. "Ninety-nine percent of the time, we agree as to what the expectation is," Marchese stated. "The schedulers will look at what sort of trips we have done previously to see if there's something unusual that could prompt a fatigue call. The data are then applied to future schedules so that the problem and its risks are reduced. This holistic approach has worked well so far, and it allows for adjustments to be made well in advance."
Capt. Pete Davis (Atlantic Southeast), a member of ALPA's FT/DT Committee, discussed the problem of absolutes in fatigue calls. "Pilots need to feel they're making the right call, and management, too, needs to feel that it made the right call. It becomes a problem when there's disagreement, such as when a crewmember won't extend for any reason or when management complains about a pilot who won't extend. Each situation is unique, and there needs to be an evaluation of the circumstances. So we have to ask ourselves if we're educating everyone as to what it really means not to be fit for duty."
F/O Julia Reiners (Delta), vice chair of her airline's Fitness Review Board, poses a question to the seminar panelists.
Extensions
"For something that happens so little, why the big fuss?" asked Wykoff during a panel discussion. "Statistically, extensions are a rare event. But when they do happen, we still have carriers that believe the extension is absolute. In fact, we still have the rare outlier carrier that believes a pilot must report rested for the extension and always accept any extension request asked of him or her. We all know that delays can push the duty day longer than planned," Wykoff said. "Part 117 allows for this—as long as we, both the company and crew, are in agreement that the additional time is within the pilot's capability based on how he or she feels to continue operating.
"The entire system is based on a shared responsibility for the operator and the crewmember," continued Wykoff. "For the system to work, the crewmember must make a good and timely decision on his or her ability to extend a flight duty period, and the operator must acknowledge the position the pilot is in and respect the decision being made. Education is instrumental in effectively working through this issue. The crewmember should be educated on the effects of fatigue and how best to recognize and mitigate fatigue while the operator, in addition to the basics of fatigue education, must understand the limits of human performance."
Fatigue calls
"While fatigue calls are handled far better than in the past, we can still do better," said Hughey. "The old system at my carrier that involved irregularity reports and numerous back-and-forth calls to revise and reschedule a fatigued pilot has been replaced with an automated system that requires objective documentation and input. That information goes to the Scheduling Improvement Group for review and to the Fatigue Event Review Committee for analysis."
Hughey noted that FedEx Express has 10–12 fatigue calls in any given month while having 4,700 pilots flying 15,000 to 18,000 flight segments.
"Many hypothesize that the so few calls are a result of a recently changed reporting culture, a recently changed structured reporting process, and joint scheduling and fatigue risk management processes between the crewmembers and the company."
In summing up the flight-time/duty-time seminar, Wykoff remarked, "We've made great progress in our journey to effectively implement FAR 117. But there is much to do as we continue this journey. Working together for joint solutions will remain the key to effective and meaningful fatigue management."
Part 117 Guidance Available Online
For more information on flight time/duty time, Part 117 legal interpretations, and to view the ALPA's Guide to Part 117 Flight-Time Limitations and Rest Requirements, visit the Association's Flight Time/Duty Time Committee website.
Download ALPA's Part 117 calculator app, which is available for Apple, Android, and Windows devices.
Flight-Time/Duty-Time Questions?
Have questions about flight-time limits under Part 117? Members of ALPA have access to the Association's flight-time/duty-time subject-matter experts by calling the flight-time/duty-time information line at 703-689-4326 or e-mailing Legal@alpa.org.
"Pilots can call to get answers to their Part 117 questions," said Jim Johnson, a senior managing attorney in the Association's Legal Department. "Each month, we receive a dozen or more calls from ALPA pilots, and we're here to keep them flying safely and legally. We certainly don't want anyone flying fatigued or accidentally breaking these rules."
This article was originally published in the March 2018 issue of Air Line Pilot.