DePete on DAC: Representing ALPA, Advising the Industry
By Christopher Freeze, Senior Aviation Technical Writer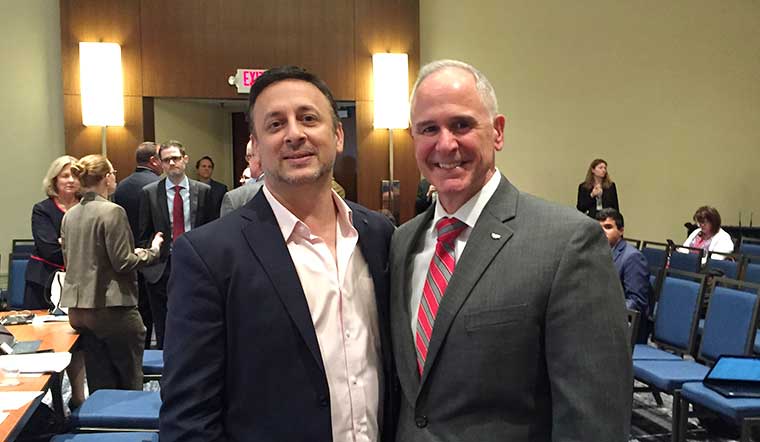 Michael Chasen, chair of the Drone Advisory Committee and CEO of PrecisionHawk, Inc., left, and Capt. Joe DePete, ALPA president, attend the Drone Advisory Committee meeting held in June in Arlington, Va.
On June 6, the FAA's Drone Advisory Committee (DAC) convened its first meeting of 2019 in Arlington, Va., to provide guidance from governmental and industry stakeholders to the agency on integrating drones or unmanned aircraft systems (UAS) into the national airspace system.
"We're no longer talking about what's going to happen with drones in the future. It's happening now," said Michael Chasen, the CEO of commercial drone and data company PrecisionHawk and chair of the DAC. "And this group needs to work closely with the FAA to ensure that we have the proper framework to handle the exponential growth in deploying drone technology that we expect to see over the next few years and months."
Capt. Joe DePete, ALPA's president and newly appointed DAC member, represented airline pilots and labor interests, urging the committee to remain focused on safety. He cited the need for drone detection systems to be installed near airports as part of a layered approach to mitigating the risk from drones.
"We don't have to wait until all the pieces are in place for counter-drone systems near airports. Let's start with detection and build a more complete drone security solution as the technology and legal process allows," he said.
DePete, who previously served on the subcommittee responsible for carrying out the DAC's work, reminded members that "safety is everyone's responsibility." He also expressed support for the FAA's outreach efforts, which will include a drone safety and education week taking place in mid-November.
The FAA Reauthorization Act of 2018 contained 50 provisions directly related to UAS, from establishing FAA authority over all UAS operating in the national airspace system and prioritizing integration to closing the "hobbyist" loophole.
The FAA has held several briefings with the DAC, discussing the outlook on rules that will establish requirements for remote identification and tracking small UAS, outreach efforts such as the upcoming "Drone Safety Week," and developing a knowledge test for recreational flyers.
During the June meeting, the DAC accepted four assignments from the FAA.
1. Develop recommendations for early equipage of remote ID for drones. At present, a final rule from the FAA is likely up to 24 months away, and there will be a period of time before compliance is mandatory. Of particular interest to the FAA are technologies that could be voluntarily used by manufacturers or operators in the interim and how their use might differ from and impact what may be in the final rule. The committee was also tasked to determine what incentives or other drivers could be used to encourage early adoption of remote ID technologies.
2. Identify current existing or emerging technical solutions at the aircraft or operational limitation/capability level that would reduce threats to safety and security. The DAC was charged with determining actions—to be taken by the FAA and agreed to by industry—that would substantially reduce the likelihood of unintentional threatening behavior by UAS operators and improve security.
3. Review and recommend improvements to the FAR Part 107 waiver process. Currently, waivers to the rules are the primary mechanism for conducting expanded operations such as night operations and flights operating over populated areas.
4. Review the FAA's UAS integration plan. DAC members were tasked with assessing the FAA's comprehensive plan for UAS integration as required by the FAA Reauthorization Act of 2018.
The DAC was created in May 2016 to advise the FAA on priorities, formalize stakeholder input, and make recommendations to the agency for a safe, comprehensive UAS integration strategy. Its 34 members represent a wide variety of UAS interests, including industry, government, academia, retail, and technology. Members include leaders and CEOs of organizations and companies such as ALPA, Alphabet, Amazon, Boeing, DJI, Intel, the National Air Traffic Controllers Association, and UPS. ALPA's Air Safety Organization has continually called for the safe integration of drones into national airspace and robust training requirements for their pilots.
This article was originally published in the August 2019 issue of Air Line Pilot.