Commercial Space Operations: A Growing Concern to the Airline Industry
By Christopher Freeze, Senior Aviation Technical Writer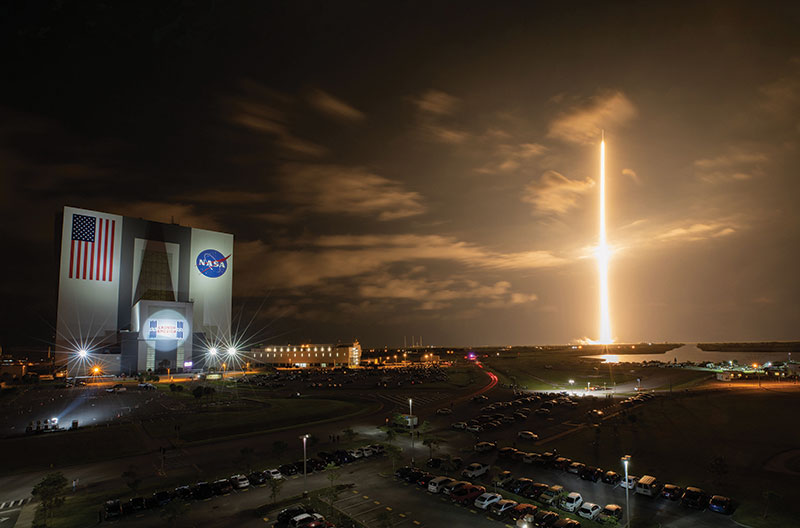 A SpaceX Falcon 9 rocket soars upward from Launch Complex 39A at NASA's Kennedy Space Center in Florida on April 23, 2021. Photo: NASA
In recent months, rocket launch debris that's reentered Earth's atmosphere has made riveting news media headlines.
On March 25, a SpaceX Falcon 9 second stage reentered over the northwest United States and southwest Canada with debris as heavy as 300 pounds surviving the fall on Washington state and likely parts of Canada. And on May 9, the uncontrolled reentry of a Long March 5B first stage had a four-hour window of uncertainty. Arriving 50 minutes early, it rained debris over Africa before landing in the Indian Ocean. Had it been 15 minutes late, it would have reentered over central Florida. A late reentry of 105 minutes would have placed any debris in the airspace above Washington, D.C., along a line from Texas to New Jersey. Rocket debris can easily penetrate an aircraft and cause serious damage.
These events triggered a solution-based response from ALPA to the International Civil Aviation Organization (ICAO), underscoring the Association's decades-long commitment to the safe integration of commercial spaceflight into the airspace system. On May 14, Capt. Joe DePete, ALPA's president, sent a letter to ICAO Secretary General Dr. Fang Liu highlighting the threat posed by the reentry of debris from orbit as commercial space operations continue to grow in frequency.
ALPA is calling on ICAO to work with the United Nations to create global standards for launch planning and recovery, to promote guidelines for vehicles that are designed to burn up completely upon reentry, to engage with national regulators and air navigation service providers to provide timely warning of any reentry, and to develop procedures to divert aircraft away from potential reentry hazards. In the letter, DePete reaffirms ALPA's offer to assist ICAO in addressing this reentry safety hazard "in the belief that through collaboration and a common goal to achieve the highest possible safety levels, that the global aviation community can rise above the challenges we're currently facing to the benefit of all humanity."
"The airline industry long ago realized that the 'big sky theory' wasn't an acceptable collision risk-mitigation strategy, and yet there seems to be an ongoing view that the big sky theory is an acceptable level of risk for space debris reentry," the letter states. "The problem becomes even more apparent when looking at the forecast for future launches."
Proactive Safety Culture
Although ALPA's advocacy on the safe integration of commercial spaceflight and education regarding the impact of commercial space operations has been ongoing for years, much work remains to accomplish this critical goal given the uptick in frequency of rocket launches and the potential growth of "space tourism."
Worldwide, the number of space launches has increased by 54 percent, from 74 launches in 2010 to 114 launches in 2020. This trend is expected to continue, with the FAA Office of Commercial Space forecasting a further increase between 36 to 100 percent just in the U.S. by fiscal year 2025. Industry estimates are even higher, with fiscal year 2025 growth of 177 percent over 2020 figures.
ALPA has promoted collaboration among those impacted by commercial space operations in highly visible forums, most recently in October 2019 when the Association jointly held a conference with the Commercial Spaceflight Federation (CSF).
During the conference, keynote speaker Sen. Ted Cruz (R-TX), then chair of the U.S. Senate Subcommittee on Aviation and Space, observed, "I believe we can have a safe and efficient commercial spaceflight industry and also a safe and efficient civil aviation industry. I believe the two industries can and should work together in tandem."
At the conclusion of the conference, DePete and Eric Stallmer, then CSF president, issued a joint statement, saying, "ALPA and CSF vow to continue to work together to improve the commercial aviation and space community's understanding of each other's technologies, operations, and constraints; to explore potential solutions to conflicting demands for airspace; and to advocate for optimized use of airspace around launch and reentry activities. We agree that the status quo can't continue and that the private sector must help the FAA innovate to minimize any negative impacts of the growing commercial aviation and space industries. As leaders of our respective industries, ALPA and CSF have taken cooperative action to solve these problems. We're working with colleagues and other key stakeholders to improve how we operate today, as well as advocating for investments in new air traffic control tools that will better optimize airspace while preserving safety as we enjoy future growth in both air and space transportation."
For the Common Good
In conjunction with the 2019 conference, ALPA published an updated white paper, "Safe Integration of Commercial Space Operations into the U.S. National Airspace System and Beyond," that takes a deeper look into the integration of commercial space operations into the national airspace system (NAS) and beyond, particularly in the area of oceanic air traffic management.
In ALPA's original white paper on space operations, released in 2018 and titled "Addressing the Challenges to Aviation from Evolving Space Transportation," numerous considerations were highlighted that the tremendous growth in commercial space operations will present to the nation, including space operator approval, spaceport licensing, regulations for spacecraft crew and participants, spacecraft design standards, and other critical issues.
ALPA projects that the number of commercial space launches and recoveries will rapidly escalate in the next 10 years and that the U.S. will lead by example in successful commercial space operations that are safely integrated with the mature commercial aviation industry.
However, this growth is taking place much faster than anticipated and as a result of launches and recovery operations, the Association points out that an undue burden has been placed on critical and limited public resources—namely, the NAS, air traffic management, ground infrastructure, and airport services. For example, current space launches require closing large volumes of airspace, which not only places large administrative burdens on commercial space operators, but also causes significant disruption to aviation.
ALPA's updated white paper highlights the opportunity that exists today for the aviation and commercial space industries to collaborate on and benefit from a joint vision for the future, and addresses the evolution from today's manual, segregated operations to a future that's highly integrated—not just with airspace sharing, but also in information sharing, situational awareness, collaborative decision-making, and operational procedures. Integrating commercial space operations and commercial aviation operations into the NAS is an urgent need that requires careful planning and commitment from many different sectors of the industry.
By working together, both the aviation and space communities have the opportunity to benefit from investments in national airspace infrastructure, as ALPA identifies numerous opportunities in the paper that are a win-win for stakeholders in both the aviation and space industries. These include investments in communications, navigation, and surveillance of oceanic airspace; improvements to air traffic control automation; and the development of new procedures and separation standards.
Along with the creation of spacecraft design-assurance standards and operator and crew certification, ALPA foresees that in the near future space operators can "file and fly" like any other operator in the NAS, with separation standards and a harmonized safety approach.
For both commercial aviation and space operations, future growth and success are dependent upon safe and efficient access to the same shared public resource—the NAS. Since airline pilots have the unique advantage of being daily users of the NAS, ALPA has been a leading voice for the safe integration of space transportation operations into commercial aviation infrastructure and operations.
The Association and the aviation industry recognize the responsibility to share the safety lessons learned so that others don't repeat them, and ALPA is dedicated to facilitating the safe integration of new and expanding users of the NAS. This commitment applies to all users, including unmanned aircraft systems, hypersonic and supersonic flight, and commercial space. By working together, the aviation and commercial space industries have an opportunity to use a data-driven, risk-predictive approach to safely integrate commercial spaceflight into the airspace.
Addressing Concerns
However, the safe integration of commercial space operations comes with challenges. In 2018, officials in Colorado received a commercial spaceport license from the FAA for the Front Range Airspace (now known as the Colorado Air and Space Port) despite concerns about conflicts with aviation. The spaceport—one of 18 in the U.S.—is located just six miles southeast of Denver International Airport, one of the busiest airports in the U.S.
At a June 2018 House Aviation Subcommittee hearing on commercial space transportation regulatory reform, Rep. Peter DeFazio (D-OR) said, "I recently met…people raising concerns about the proximity of a proposed spaceport…proximate to Denver International Airport and the potential for interference with operations there."
Also speaking at the hearing, Capt. Tim Canoll, then ALPA's president, expressed concern that it would be difficult for ALPA to assess specific impacts of launches from the spaceport on operations at Denver International Airport because any vehicle that planned to use the spaceport would require a launch license from the FAA, a process that would include separate reviews of how it would affect airport operations.
In December 2020, Japanese space tourism company PD Aerospace signed a partnership agreement with the spaceport to test craft there. And while no launches have yet to occur from the Colorado facility, ALPA continues to actively monitor any developments and associated risks.
In mid-May, a private company in Canada secured $10.5 million in financing for a launch vehicle and site preparation at Canada's first commercial spaceport to be built in Nova Scotia. The planners intend to conduct up to eight launches annually at the location, starting in 2023.
While the facility may be an economic boon for Canada, rocket launches from the site are on the Atlantic Ocean and have the potential to affect many transoceanic airline routes.
Successful Integration
Wayne Monteith, FAA associate administrator of commercial space transportation, has observed, "Both of these industries, commercial aviation and space, must be successful—not just from a national economic standpoint but from a national security standpoint. So we have to figure our way through this dilemma of shared airspace—a finite national airspace system—as today we primarily segregate commercial space traffic from other operations. We need to move to the point where we can integrate."
The impact of airplanes and space operations sharing airspace was evident during the first launch of SpaceX's Falcon Heavy rocket in 2018. During the launch, a large swath of airspace over the Atlantic Ocean was closed to airplanes for more than three hours. To avoid the restricted area, a Delta Air Lines flight from New York to San Juan, Puerto Rico, was required to fly along the shore with many other flights, increasing the fuel burned and distance flown and delaying its arrival.
According to the FAA, in 2018, 1,400 flights were affected by spacecraft launches, which caused airlines to fly an additional 70,000 miles.
"When the SpaceX Falcon Heavy first launched, I was running the Eastern Range [the missile and rocket launch range, covering more than 10,000 miles from the Florida mainland through the south Atlantic and into the Indian Ocean]," said Monteith. "The risk and danger from that mission was over in about eight and a half minutes, yet it was at least three times that long before the airspace was reopened."
Sharing Experience and Leadership
Ultimately, multiple conversations with a diverse array of industry and businesses need to take place, and ALPA continues to work to facilitate such discussions.
"For nearly 90 years, ALPA has been at the forefront of creating the safest form of long-distance transportation in human history," DePete stated in the Association's 2019 white paper. "Some of these safety gains carried a high human cost that should not be borne again. The pilots of ALPA, and the aviation industry at large, stand willing and ready to share our experience and expertise with the commercial space industry in the hope of avoiding past mistakes, capitalizing on hard-earned lessons, and building a future we can all be proud of."
This article was originally published in the June 2021 issue of Air Line Pilot.