Alaska Pilot Enjoys Alternate Career as a Country Music Songwriter
Our Stories
By John Perkinson, Senior Staff Writer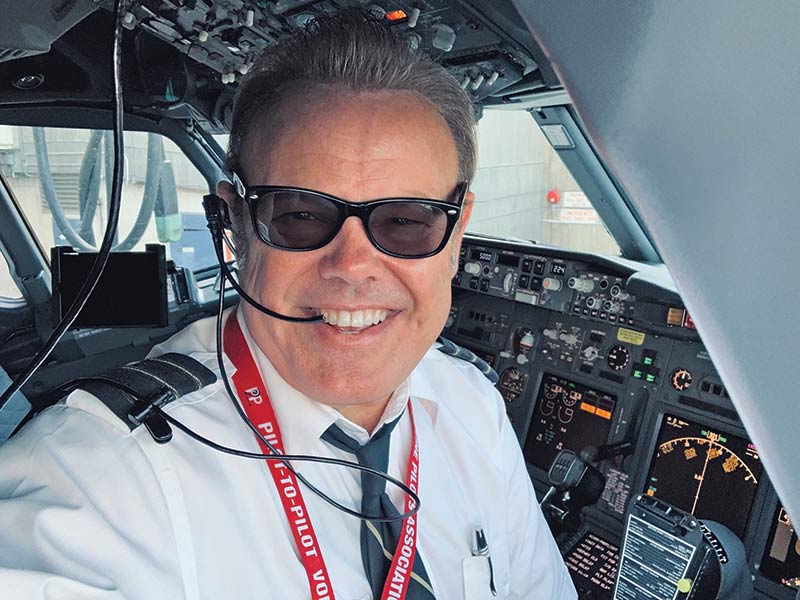 F/O Tom Perkins (Alaska), a B-737 pilot based in Los Angeles, Calif., prepares for departure.
F/O Tom Perkins (Alaska) professed his love for both aviation and country music at a young age, but it wasn't until he became an adult that he was able to pursue both passions. Today, the Los Angeles, Calif.-based B-737 pilot is also a songwriter for Ronnie Dunn of the 2019 Country Music Hall of Fame duo Brooks & Dunn.
Most recently, Perkins cowrote Dunn's "Broken Neon Hearts," the first single from his fifth solo studio album, 100 Proof Neon. He and Matt Willis penned the song and pitched it to Dunn at the end of last year.
This past New Year's Eve, the country music artist called Perkins, who was on a Seattle, Wash., layover, saying he wanted to rework the second verse. Perkins awoke the next morning and placed a Zoom call to Dunn and Willis. The Alaska pilot didn't have a guitar at his disposal, so he sang the new lines a cappella from his hotel room. The three then finalized the lyrics, and Perkins left to fly a trip to Maui, Hawaii, later that day. Dunn was pleased with the final result, and the song became the opening track, setting the tone of the album.
Change of Tempo
This jet-setting encounter was a far cry from Perkins's quiet lifestyle growing up on a family farm in Alabama. Visiting his grandparents' nearby home, he would see photos of his grandfather who had served as a B-24 Liberator pilot in World War II and of an uncle who had flown F-105 Thunderchiefs for the Air National Guard, which sparked curiosity and interest in the young man.
At Perkins's own home, his father often listened to country music. At the age of four, Perkins took a trip to Nashville, Tenn., with his parents to watch a taping of the Johnny Cash Show at the historic Ryman Auditorium. As he got older, Perkins routinely listened to selections from his father's extensive record collection, including Cash albums, and learned how to play the guitar. In time, he joined a local bluegrass band and also learned to play the mandolin and dobro.
Johnny Cash was particularly influential for Perkins, who wrote the song "Drinking Coffee" based on a comment the country music legend made. Perkins had watched a television interview with Cash, who during an exchange was asked about his views of the afterlife. Cash remarked that he envisioned heaven as mornings drinking coffee with his wife, June Carter Cash—a country music legend in her own right. "I just got chills," Perkins remembered.
Thinking about all the places Cash traveled during his extensive career, Perkins penned the lyrics, "I've been blessed to see the sunset on a sandy Cabo beach/Smelled wood smoke from a campfire under fall-tipped Aspen trees/I love the lights of New York City on a snowy Christmas night, and a southwest Texas sunrise stretched out on an open sky."
The song continues, "But if anyone asked me my favorite place to be, of everywhere I've been is right here, right now, right by the kitchen counter/Two cups, a fresh pot, with both my arms around you/My idea of paradise is just like what Johnny said about June. It's mornings drinking coffee and you."
Second Verse
A graduate of the University of Georgia, Perkins attended flight school in Ft. Lauderdale, Fla., where he earned his licenses and ratings. After some time as a flight instructor, he flew corporate jets before joining DHL World Express (later ASTAR Air Cargo). All the while, he continued to write songs and perform in bands.
Perkins envisioned himself flying for ASTAR for the rest of his career, but fate interceded. He was laid off by the air cargo carrier shortly before it shut down its entire operation. The situation left him angry and cynical. He'd been flying professionally for about 20 years, and in his mind, his flying career was over.
Making a fresh start, Perkins moved to Nashville to pursue songwriting. "To make ends meet, I shoed horses and sold cars. I even operated a food truck," he said.
Three years later, he returned to aviation flying Metroliners for a small outfit before moving on to Beechjets. Coincidentally, the person hiring him for the latter job was the son of an ALPA volunteer who'd previously represented Perkins in an ASTAR grievance case. Perkins flew 900 hours that year. He had a brief stint at NetJets and started with Alaska in 2018.
Meanwhile, Perkins continued writing music with Nashville regulars Rob Snyder ("Dark Horse"), Chancey Williams ("Let Me In"), Kevin Jackson ("Gonna Wanna"), Cody Riley ("The Devil Smiles"), Dan Alley ("Come On"), and Matt Willis ("Different Kind of Wild").
Perkins also continued performing. Of his music, one critic wrote, "Whether he's playing an Eric Church song, a Merle Haggard classic, or one his own originals, Tom paints pictures with his music that communicate the various shades of color, beauty, and hard livin' that is 'country.'"
Commenting on his songwriting gig, Perkins said, "Ninety-nine percent of the time, I'm writing with other people. That's just how music gets done. You bounce ideas off each other and, hopefully, inspiration happens." He called it "writing the room," noting, "Let's face it. Everything's already been said. The trick is to come up with something that resonates with people." Perkins added that he's "always looking for a catchy phrase, story, or theme."
Perkins acknowledged that he hasn't directly written songs about flying because he compartmentalizes his life. "A lot of my friends in Nashville don't even know that I'm also an airline pilot," he remarked. And yet, his experiences on the flight deck have had a way of creeping into his music.
In "Carolina Downpour," a song Perkins cowrote with Willis, a guy travels to Myrtle Beach, S.C., to take a break from what's happening in his life. As it starts to rain, he leaves a club and meets somebody walking in the door. The two strike up a conversation and hit it off.
Perkins pitched the lyrics to Willis, singing, "There's nothing better than a Myrtle Beach getaway/Sand, sun, Corona, being lazy all day/Sitting at a little surfside table for two/Cumulonimbus in the distance/Summertime storm clouds rolling up and moving in."
Willis cut him off at that point, questioning the word "Cumulonimbus." Perkins explained that it's a cloud formation, adding, "Hey, it works."
Perkins, center, jams with country music sensation Ronnie Dunn at this year's Whiskey Jam.
Fast-Forward to Last Year
A fellow songwriter Perkins had worked with, Nikki Fernandez, mentioned that Ronnie Dunn was putting together a music publishing company, Perfect Pitch Publishing. Perkins recalled, "She said, 'Send me some songs, a bio, and some pictures.'" A week later, Fernandez called Perkins to say that Dunn wanted to meet with him to sign a publishing deal. "A publisher is to a songwriter what a record label is to an artist," Perkins observed, adding that he was overjoyed to be a part of the team.
Last winter, Perkins told event promoters of Whiskey Jam, a popular music series held at a club in Nashville, that he cowrote "Broken Neon Hearts" for Dunn and wanted to perform it. The song was being released on February 11 and the promoters agreed, asking Perkins to play it three days later on February 14. They also wondered if Dunn would be willing to make a surprise appearance and sing with Perkins. Dunn agreed.
That night, no one at the club knew that Dunn was going to perform. Perkins and his band played two songs. For the third tune, Dunn stepped from a private area onto the stage. "Of course, all the cell phones came out," Perkins chuckled.
The ensemble played "Broken Neon Hearts." But rather than step down after three songs, which is customary for the Whiskey Jam series, the band continued with Brooks & Dunn fan favorites, "Neon Moon," "Boot Scootin' Boogie," and "My Maria."
Perkins considers himself fortunate in many respects. "At the end of the day, I love people and their stories, and flying airplanes gives me the chance to meet a lot of interesting folks," he said. "Aviation has also given me the opportunity to see the world. It's given me a breadth of learning to draw from and allowed me the perspective of a flight deck as opposed to a tour bus."
This article was originally published in the August 2022 issue of Air Line Pilot.