Air Safety Forum Returns and Reinforces the 'ALPA Safety Net'
By ALPA Staff
Capt. Joe DePete, ALPA's president, opens the 66th Air Safety Forum, welcoming approximately 450 members of the international aviation community to the first forum in three years.
Capt. Joe DePete, ALPA's president, opened the 66th Air Safety Forum's public days on Wednesday, September 14, welcoming approximately 450 members of the international aviation community—ALPA pilots, industry subject-matter experts, government liaisons, and members of non-ALPA pilot groups—to the first forum in three years.
"The safety net that ALPA pilots and our industry have fought so hard to create—with its many strong and closely knotted lines—protects our passengers, crews, and cargo with a level of safety never seen in history," he stated.
"While intertwined," DePete continued, "each individual piece of line is essential to the strength of our industry's safety net. If even one piece becomes frayed or is cut, we risk developing holes that will cause the entire safety system to unravel. Each of you here today helps make up our industry's safety net—and I thank you for your commitment."
DePete addressed efforts to reduce important pilot safety and qualification standards during his keynote address, emphasizing that newly released FAA data shows that the United States has created more than 9,000 certificated aviators over the past year. "We're on track to produce more than 10,000 this year—a record for pilot production," he reported.
As the leader of the world's largest nongovernmental aviation safety organization, DePete made clear to attendees that ALPA will oppose "with its full weight these and any other efforts to evade, undermine, weaken, or repeal first officer qualification, experience, and training requirements."
Ending his remarks, DePete stated, "ALPA pilots have worked for more than 90 years to help design, build, and strengthen our industry's safety net. And for the sake of the passengers and shippers who we're immensely proud to serve, ALPA pilots will fight to protect every piece of line in the safety net."
Trottenberg Highlights Sacrifices and Successes
Department of Transportation (DOT) Deputy Secretary Polly Trottenberg gave the forum's opening keynote presentation. Trottenberg, who supports DOT Secretary Pete Buttigieg in providing leadership and strategic vision for the agency, recognized "all the sacrifices that this industry has made" during the pandemic as well as the important work the airline sector performed by delivering medicine and supplies "when they were desperately needed throughout the country."
She spoke about the work ahead to integrate new industries such as drones and commercial spaceflight safely into the national airspace, highlighting the new safety partnership between the NTSB and the FAA that allows the agencies to collaborate on the investigation of commercial spaceflight accidents.
Trottenberg underscored the FAA's announcement in July of a proposed rule requiring secondary flight deck barriers on newly manufactured passenger airliners and noted ALPA's strong advocacy for secondary barrier requirements at the highest levels of government, saying the rule is a priority for the administration and that "We're going to get it done."
ALPA lauded the proposed rule on passenger flight deck barriers after years of delay by airline opposition that's resulted in thousands of airplanes coming into service since 2021 without this critical security equipment. The union is also calling for existing aircraft to be retrofitted with secondary flight deck barriers and for primary flight deck barriers to be required on all-cargo aircraft.
Trottenberg acknowledged ALPA's advocacy and made clear that the administration fully supported Congress's establishment of the first officer qualification requirement, observing, "We know how much it supports safe operations."
Polly Trottenberg, the Department of Transportation's deputy secretary, discusses integrating new industries such as drones and commercial spaceflight safely into the national airspace.
COVID, Cleaning, and Cabin Air Quality
"Health and Air Quality in Aviation," the opening forum panel, examined COVID, cleaning and sanitizing the flight deck and cabin, and cabin air quality. Moderated by F/O John Taylor (United), ALPA's Air Safety Organization (ASO) Pilot Assistance Group chair, the panel included Capt. Travis Ludwig (United), ALPA's Pilot Assistance vice chair; Bryan Moran, Boeing's Clean Airplane Program leader; and Chloe Shen Morosetti, a principal engineer at United Airlines.
The panel discussed and praised the release of ALPA's revised white paper, "Enhancing Pilots' Occupational Safety and Health Protections," which was updated in August 2022.
Taylor touched on the difficulty in initially responding to COVID. "There was no plan, no schedule to deal with a pandemic that took down our industry internationally."
Instead, the industry had to react on the fly. Morosetti spoke about getting requests from pilots about cleanings, forming a product review board to review the cleanings, and focusing on products for safety and efficiency. She pointed out that United put a checklist on the flight deck to ensure that everything that should be done was done. "It was important to have good internal communication in place" to make certain nothing was missed.
Moran reviewed Boeing's efforts during the pandemic, noting the "unprecedented, amazing collaboration throughout the airline industry and government." He relayed how all the parties made in-house research and the results available to all stakeholders, and he and others praised the RTCA working group and its collaboration.
Ludwig discussed cabin air quality and potential hazards during flight, pointing out that some pilots are being affected by suspected chemical substances, but that more research is necessary. He outlined ALPA's three-phase approach: prevention, detection, and mitigation and highlighted ALPA's Fume Exposure web page, encouraging those who've been affected to fill out a report on ALPA's site as well as file an Aviation Safety Action Program report.
Ludwig also touched on the collaboration in response to COVID, lauding the RTCA working group as well as the International Civil Aviation Organization (ICAO) and the FAA. "Communication, communication, communication," he said, is what helped save the day.
A Letter from Sully
Capt. Sully Sullenberger (US Airways, Ret.) was scheduled to speak but had to withdraw at the last moment. Instead, he sent a letter, which DePete read to attendees.
"During my 30-year airline career as an ALPA member, few things were more rewarding than serving as the local safety chair for my local executive council," he wrote. "In that role, I saw firsthand the singular impact that ALPA has on maintaining and advancing the safest aviation system in the world."
Sullenberger referred to the fight to maintain the current first officer qualifications regulation. "Our industry should continue to find the best ways to equip pilots with the knowledge, skill, experience, and judgment they need to fulfill their professional obligations," he stated. "Our industry should ensure that airline pilots are able to meet the moment, as they work never knowing if or when they'll suddenly face a crisis of a lifetime"—as he did on Jan. 15, 2009, on the Hudson River when the aircraft he was piloting encountered a bird strike.
He concluded, "I want you to know you have my full support in this fight. I'm with you in solidarity in keeping our skies safe."
Examining Recent Training Challenges
Capt. Todd Lisak (JetBlue), ALPA's ASO Human Factors & Training Group chair, led a panel discussion titled "Training Challenges in the Post-COVID World" to look at the types of training pressures the industry has experienced in attempting to resume regular operations.
"COVID keeps throwing new challenges at us," said Brad Sheehan, Delta Air Lines' vice president of training and standards, who compared the early days of the pandemic and the difficulties in keeping pilots current to the record-setting number of pilots the airline has recently hired. He talked about making the necessary adjustments during this difficult period to be more communicative and more agile when addressing pilot training and operational needs.
F/O Paul Ryder (United), his pilot group's Master Executive Council (MEC) secretary and ALPA's former national resource coordinator, observed that despite recent hurdles, including the large numbers of "baby boomer" retirements and the lack of available flying to keep pilots current, the U.S. airline industry has experienced no fatalities. Referencing current first officer qualification standards, Ryder noted, "During the pandemic, that framework demonstrated not only its safety but its resilience."
F/O Ellen Brinks (Delta), ALPA's ASO Aeromedical Group chair, acknowledged the new attitude about pilot mental health issues, observing, "It's okay to not be okay." She recognized ALPA's many Pilot Assistance programs and services, including the creation of the Pilot Peer Support program and the Aeromedical Group's use of videos and podcasts to explain how to deal with different aspects of stress.
Col. Benjamin "Alvin" Drew, a NASA astronaut, talked about the "Go Fever" phenomenon associated with rocket launches as part of the space program and the need to delay when safety concerns arise. "You need a culture that allows you to say 'no,'" said Drew, adding that to do so, you have to establish protocols, develop relationships, and ensure everyone on the team has a chance to be heard.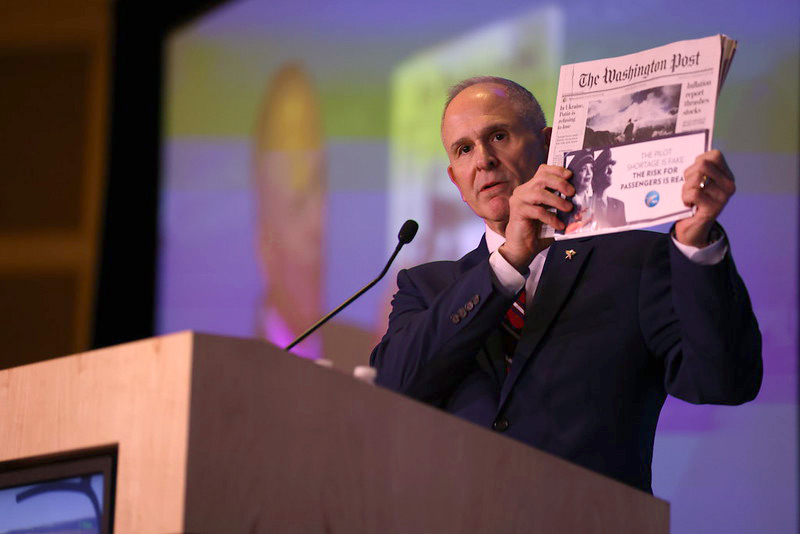 DePete displays the Association's latest safety-focused ad campaign, a cover wrap of The Washington Post, in his address on Wednesday.
Homendy Talks Shared Leadership
ALPA welcomed the Honorable Jennifer Homendy, the 15th chair of the NTSB, to the Air Safety Forum on Wednesday. In his introduction, DePete referred to her as "a tireless advocate for safety," and she returned the compliment.
"I can't tell you how much I appreciate your safety leadership, the safety leadership of ALPA, and all of you as ALPA members and leaders yourselves," she told DePete and the crowd.
"Transportation workers are the backbone of America. They're also some of the best people I know. That's why I'll never stop fighting so hard for worker safety in every mode of transportation," she observed.
Homendy spoke about many of the shared safety interests between the two organizations, beginning with the safe integration of space travel into the national airspace system. She announced that the NTSB and the FAA had just reached a new agreement—updating one that was 22 years old—on commercial space mishap investigations, clearly spelling out which agency handles what issues.
She referred to the pandemic and praised the steadfast work of pilots and ALPA in helping the aviation industry make it through. She also talked about the repeated stress leveled on the shoulders of pilots and praised ALPA's Pilot Peer Support program and how it's been there for members in need during a very difficult time.
Homendy then focused on pilot training and qualifications and the efforts of some to weaken them by employing false arguments. "Lowering safety standards to address the failure of some airlines to anticipate and adequately prepare for such a rapid recovery isn't the answer," she said. "Seeking exemptions from pilot flight- and-duty time and minimum rest requirements isn't the answer. Rolling back training criteria and qualification standards among other important safety requirements that were just enacted into law isn't the answer. And risking our nation's extraordinary aviation safety record and the lives of flight crews and the traveling public isn't the answer. Absolutely not."
She brought up advances and new technologies in the industry, but cautioned that there are limits. "New technologies need to be designed to supplement—not supplant or replace—a highly skilled workforce," she said.
Homendy also discussed the NTSB's shared desired with ALPA to address the cargo carveout, stating that the board has been concerned about cargo fatigue for decades. "Cargo pilots deserve the same protections as their colleagues in passenger aviation—and so do their families," she said.
She closed with comments on another shared priority: diversity, equity, and inclusion. "We need to embrace our differences and broaden our lens," she said. "Together in solidarity, together in safety," she concluded.
Highlighting Recent Aeromedical Issues
Brinks engaged in an hour-long discussion with Dr. Quay Snyder, the president and CEO of the Aviation Medicine Advisory Service, ALPA's Aeromedical Office, and Dr. Brett Wyrick, deputy federal air surgeon of the FAA's Office of Aerospace Medicine. As part of the forum's "Ask the Doctors" panel, she alternated between the two, asking questions about the effects of the pandemic, changing views on pilot mental health issues, and efforts to increase pilot retirement age.
When asked about COVID infections during the last two years, Wyrick asserted that the only thing his agency is concerned about is whether this condition is going to affect the pilot's ability to do their job. He noted that there have been some complications with older pilots as well as instances of long COVID and that the FAA continues to monitor these situations.
Regarding mental health concerns, Wyrick said that the agency has changed its thinking and is now treating these conditions much like a broken arm, e.g., once you're healed, you can return to the flight deck. He spoke about the Office of Aerospace Medicine's efforts to streamline special issuance procedures and improve on keeping pilots better informed about processing times and the status of their records.
Snyder observed that the Germanwings Flight 9525 tragedy in 2015 revealed barriers to seeking help and treatment for pilot mental health concerns, prompting regulators to revisit corresponding policies. "We encourage pilots to establish a long-term relationship with an aviation medical examiner," remarked Snyder, adding that an extended-observation period provides the aviation medical examiner with a better understanding of a pilot's overall well-being.
When determining an appropriate airline pilot retirement age, Snyder observed that the real concern is cognitive capacity and the ability to fly. Numerous studies, including one in 2017 by the European Union Aviation Safety Agency, suggest cognitive abilities decline with age and there's an increased risk of cardiovascular issues and diabetes. In addition, difficulties arise when breaking with the ICAO commercial air transport medical standard, which is recognized in most parts of the world.
In introducing the two panelists, Brinks acknowledged, "A representative from Transport Canada's Medical Department was not able to join us this year. We're hopeful they'll be back with us in 2023."
Addressing the Increase in In-flight Disturbances
Over the past few years, in-flight disturbances and unruly passenger reports have increased "exponentially," remarked Capt. Wolfgang Koch (Delta), ALPA's ASO Aviation Security Group chair and moderator of the "A Renewed Focus on In-flight Disturbances" panel.
"There's a tipping point from ugliness or uncomfortable to a safety or security issue," explained Thomas Kaminski, Alaska Airlines' director of in-flight training and standards. "It's very hard to identify that point where your job moves from de-escalation to containment."
Jeff Fuller, a supervisory special agent in the FBI's Civil Aviation Security Program, pointed out that many of these instances didn't rise to the level of federal action. Early on, at least, many outbursts were mask-related, but refusing to wear a mask isn't an FBI concern unless or until any further action is taken, he said. Resources played a part as well, and Fuller reported that ALPA's letter to the attorney general emphasizing the issue helped him get more resources dedicated to addressing the issue.
Tirrell Stevenson with the Federal Air Marshal Service and F/O Kaori Paris (United), a member of ALPA's Membership Committee, both touched on the importance of de-escalation training. Stevenson explained that the Transportation Security Administration (TSA) is in the midst of issuing a new "road map" for federal air marshals, saying it includes both ways to assist the FBI and being able to address threats before they even board the aircraft. He also praised the Federal Flight Deck Officer (FFDO) program and promised the TSA's continued support.
Paris, a member of the FAA's Air Carrier Training Aviation Rulemaking Committee De-escalation Working Group observed, that the working group's goal is to ensure that flight crews are getting the right tools and training. She reported that the work group reviewed trigger points, best practices, crew resource management, and more in trying to address the issue.
Whatever the response, "This needs to be a long-term change," said Kaminski. "This can't be one and done; it has to continue in perpetuity." He also noted that with the mask mandate gone, the number of mask-related incidents have gone down but total incidents remain high.
Capt. Phil Gower (Jazz Aviation), ALPA Canada Security chair, addressed how the situation differs somewhat north of the border. While the southern airports in Canada tend to mimic their U.S. counterparts in terms of security, he said many of the northern airports serve smaller airlines with little or no security, so in-flight disturbances are a much more serious issue. ALPA Canada started an informational campaign to show police what charges are available for them in an effort to increase arrests. "This violence wasn't there five years ago," Gower said, "but it is now so we need to address security now. These are ALPA members we need to protect."
View Photos
Pekoske Cites Partnership with ALPA
The Honorable David Pekoske, the TSA administrator, served as Wednesday's closing keynote speaker. In his opening remarks, he recognized the TSA and ALPA as "partners in aviation security," adding, "We wouldn't be able to do the work we do at the TSA were it not for pilots working very closely with us."
He acknowledged the contributions of Koch, ALPA's Aviation Security Group chair, as a valued and contributing member of the TSA's Aviation Security Advisory Council.
Pekoske briefly discussed his agency's growing concern with cybersecurity. Citing Russia's invasion of Ukraine and China's threats to Taiwan, he asserted, "We want to make sure the critical infrastructure in this country is cyber resilient." He stressed that the TSA has exercised its authority to make transportation one of the most robust industries, from a cyber perspective, as compared to the 15 other critical infrastructure sectors in the country.
Pekoske also provided briefings on areas in which his agency and ALPA work together, including addressing in-flight incidents, crewmember self-defense training, the Federal Air Marshal Service, international harmonization, one-stop security, the FFDO program, and Known Crewmember® (KCM).
Regarding the FFDO program, Pekoske acknowledged its 20.5 million successfully completed missions since 2003 and communicated the need to maintain this crucial layer of aviation security. He also highlighted the tangible value of KCM. "Just know that I support the Known Crewmember program," said Pekoske, adding that he wants to see it get better and continue. He asked participants to fully comply with KCM rules, particularly as they apply to the carriage of weapons and transporting someone else's baggage.
"You are, by the nature of the process you went through to be in the positions you're in and the work you perform every single day, a key part of our security process. I want to make sure that we recognize that in providing facilitation for your movement in the airport," he remarked.
DeFazio: ALPA Activism Advances Aviation
The Honorable Peter DeFazio (R-OR), the House of Representatives House Transportation and Infrastructure Committee chair, started off the final morning of the 66th Air Safety Forum by supporting several of ALPA's key initiatives.
"We're not going to roll back the 1,500-hour rule," DeFazio said. "We've had the safest period in aviation since the mandate."
He discussed his years of advocating for aviation improvements and people over profit, from airplane hijackings in the 1970s to leading the fight to ban cigarettes on airplanes and as well as eliminate the FAA's "dual mandate" to both regulate safety and promote commercial aviation.
During the pandemic, DeFazio led the passage of the payroll support program, the most proworker relief package in U.S. history, to stabilize U.S. airlines and ensure they had workers ready to drive recovery. "You know that it takes political activism, and all about using the clout that you have, for the payroll support program—which we did three times," he said. "It saved the aviation industry."
DeFazio has covered much ground in his 36 years of public service, from aircraft design with the Boeing MAX to 5G and the telecom industry to introducing the Fair and Open Skies Act numerous times to end U.S. approval of flags of convenience in international civil aviation.
He encouraged ALPA pilots to stay involved on Capitol Hill. "Keep flying, and keep being totally engaged," DeFazio said. "Work with your leadership and your political team. And if we do that, we'll have the best, safest aviation system in the busiest airspace in the world."
From Refugee to Pilot Trainee: Kazzembe Shares Aviation Aspirations
Attendees heard an inspiring story on Thursday during which Dieudonne Kazzembe detailed the obstacles he's overcome on his way to the flight deck while showing his leadership to the many ALPA leaders in the room with a motivational call for everyone to follow their passions and achieve their goals.
A senior at Arizona State University (ASU), Kazzembe's story is truly incredible. At three years old, he lost both biological parents. When he was five years old, he and his surviving family members relocated to a refugee camp in Uganda, where they stayed for eight years. Then in 2014, he came to the United States as an unaccompanied refugee minor.
"At 13 [years old], I came to the U.S. and I found myself falling in love with planes," Kazzembe said. "The love of flying made me want to improve all aspects of my life—I went from a miserable kid to a plane at full thrust."
With his passion for aviation, Kazzembe turned his focus to his studies and making the dream of becoming a pilot a reality. A four-time Aero Club Foundation scholarship recipient, he's using scholarship funds to pay for flight training at ASU and is close to earning his private pilot's license.
"If you have a passion for something, never let it go. No one can limit your successes," he said. "If you believe in yourself, you can turn your life around. I was a refugee, but now I'm an incredible man with many stories to tell."
Kazzembe left the stage with these motivational words: "Once you conquer your mind, you can conquer anything. Always know that you can beat the odds, like I did."
The Importance of Data Collection to Advancing Safety
On Thursday, the forum featured a panel titled "Crunching the Numbers: A Discussion About Using Data to Enhance Safety." Moderated by F/O Jeff Mee (United), ALPA's ASO Accident Analysis & Prevention Group chair, the panel examined the use of voluntary safety programs to monitor trends and irregularities.
"We want to look at ways data is used to take a proactive approach to identifying and mitigating risk," said Mee, setting the stage for the discussion. In his introductory remarks, he highlighted the work of the Commercial Aviation Safety Team (CAST) to dramatically reduce the U.S. airline fatality risk by applying a disciplined, data-driven approach.
Panelist Vivek Sood, an FAA operations researcher who cochairs the Joint Implementation Measurement Data Analysis Team (JIMDAT) and oversees the CAST Safety Portfolio, talked about the goal set in 1997 for CAST of "an 80 percent reduction in the fatal accident rate in commercial aviation over 10 years." The group has successfully evolved from a reactive methodology to a more proactive approach, resulting in a 94 percent fatality risk reduction since CAST was established.
Capt. Mike Schilz (Delta), an ASO Accident Analysis & Prevention Group member and the industry JIMDAT cochair, reviewed the evolution of the Flight Operations Quality Assurance Program (FOQA) in which flight data is collected from aircraft flight recorders. He explained that FOQA and information from the Aviation Safety Action Program are then channeled into the FAA's Aviation Safety Information Analysis and Sharing (ASIAS) system "to be used on a much broader scale."
Building upon CAST's work and the collection of information from voluntary reporting systems, Kyle Quakenbush, the lead aviation systems engineer at MITRE, explained how this protected data is processed and ultimately used by these groups to enhance aviation safety. He discussed his organization's effort to "provide meaningful information that's going to help JIMDAT and CAST make meaningful decisions and recommendations." The ASIAS data repository continues to expand to include a wide variety of public and protected data sources.
View More Photos
Striving for Safe Integration of UAS
"We're just at the beginning of integrating [UAS, UAM, AMM, RPAS, drones, and similar aircraft] into the national airspace," remarked Capt. Bryan Lesko (United), ALPA's ASO Aircraft Design & Operations Group chair, as he moderated the panel "UAS: Challenges and a Way Forward."
He was joined by subject-matter experts from industry, government, and ALPA. Dallas Brooks, the aviation regulatory lead at Wing Aviation LLC, reported that Wing is already delivering thousands of packages to homes around the world via drones. "Having that package at your door within minutes, with no pollution and excellent service" is the company's primary goal, he stated, "but we're going slow on purpose to make sure that we do it right."
Capt. Vas Patterson (United), the ASO's UAS director, noted that ALPA is advocating for pilot training and pilot certification for all aircraft, whether they're manned or unmanned. As Dr. Parimal Kopardekar, director of NASA's Aeronautic Research Institute, remarked, "There's a crew somewhere." In creating such training, Patterson indicated, "We'll have to look at the issues involved and create training profiles to adjust to these issues."
Both Brooks and Greg Bowles, head of government affairs at Joby Aviation, which is testing an all-electric vehicle that has vertical takeoff and landing capabilities, discussed how certification affects them. Bowles observed their aircraft will be able to pass standard FAA certification by working with the agency, while Brooks indicated that Wing would likely seek two types of certification: one for aircraft and one for the system that runs the aircraft.
ALPA Part of the "Crew" at Transport Canada
On Thursday afternoon, Andy Cook, Transport Canada's associate director general of civil aviation, provided a Canadian perspective to ALPA's aviation priorities. He highlighted the close working relationship between the two organizations in reaching shared goals.
Cook reflected on the COVID-19 pandemic, Canada's response, and how the pandemic affected aviation. Many of Canada's health restrictions resulted in "a profound impact on the industry," he admitted. "But I want you to know that in every decision that Canada has taken in the past few years, the interest of the industry was always listened to."
Regarding the current recovery, Cook stated that it proved "the aviation industry is resilient. Carriers have made it through this pandemic and will go on to get through other hardships in the future just like they have in the past."
He discussed three key elements that he believes assisted the government and the industry in recovering from the pandemic: (1) Close collaboration between Transport Canada, other federal departments, and industry; (2) Implementation of targeted measures to help the industry; and (3) Transport Canada keeping its agenda moving while managing the impacts of the pandemic.
Cook mentioned that Transport Canada continues working to harmonize safety management systems with ICAO standards, and during a Q&A session addressed the mask mandate, flight-time/duty-time regulations, backlogged medical exams, and more.
"Transport Canada continues to prioritize the safety and security of all passengers," Cook said in closing. "We'll continue to review and adjust our safety measures to align with public-health advice. We'll continue to balance appropriate health and safety measures with the resumption of key activities and in support of Canada's economic recovery from the pandemic. We'll continue to engage with stakeholders like ALPA on a regular basis as we collectively navigate and recover from the pandemic. And we'll continue to build lessons learned and adjust responses to further strengthen our ability to ensure the safety and security of the traveling public."
Safely and Efficiently Sharing the National Airspace
The final panel of this year's Air Safety Forum featured an all-star lineup of aviation industry leaders who examined how both longtime users and new entrants will share the national airspace system moving forward. Capt. Steve Jangelis (Delta), a former ALPA Aviation Safety chair and ASIAS industry cochair, moderated the discussion titled "Space Suites, Drone Zones: Integration Leaders Chart the Shared Path Forward."
Panelists included DePete; Homendy; Capt. Terry McVenes, president/CEO of RTCA, Inc.; Capt. Craig Hoskins, vice president of safety, security, and technical affairs for Airbus Americas, Inc.; Karina Drees, president of the Commercial Spaceflight Federation and chair of the Commercial Space Transportation Advisory Committee; and Lorne Cass, president of Aero NowGen Solutions, LLC.
In his opening remarks, Jangelis acknowledged the three FAA committees bringing stakeholders together to discuss this effort: the NextGen Advisory Committee, the Advanced Aviation Advisory Committee, and the Commercial Space Transportation Advisory Committee. "The FAA has had a really fever-pitched pace and pressure to try and get vehicles in the sky," he said, adding that the agency continues to urge a studied assessment of the environment to ensure safety remains the priority.
The group stressed the need to develop commonalities for sharing airspace and basic technical solutions as a foundation for future discussions. Several panelists referenced "connecting the dots," suggesting that the various communities requesting airspace access must find a way to work together and share information to maintain safety and improve efficiencies.
McVenes referenced the possible need for a whole new set of regulations, e.g., "digital flight rules," to clearly delineate how these various kinds of vehicles will detect and avoid one another. "You don't wait to get the process set up," asserted Homendy, stressing the need for aerospace industries, labor, and government to work together now to anticipate the demands of this new operating environment and to take proactive action to avoid accidents.
Cass summed up much of the discussion in his final comments. "There's an understanding that the airspace system is finite, and we all have to share it, but we can do it," he said.
Pilot Honorees
To learn more about all of the pilots honored at the Air Safety Forum, visit
alpa.org/awardees
This article was originally published in the October 2022 issue of Air Line Pilot.