PAL Airlines and Air Borealis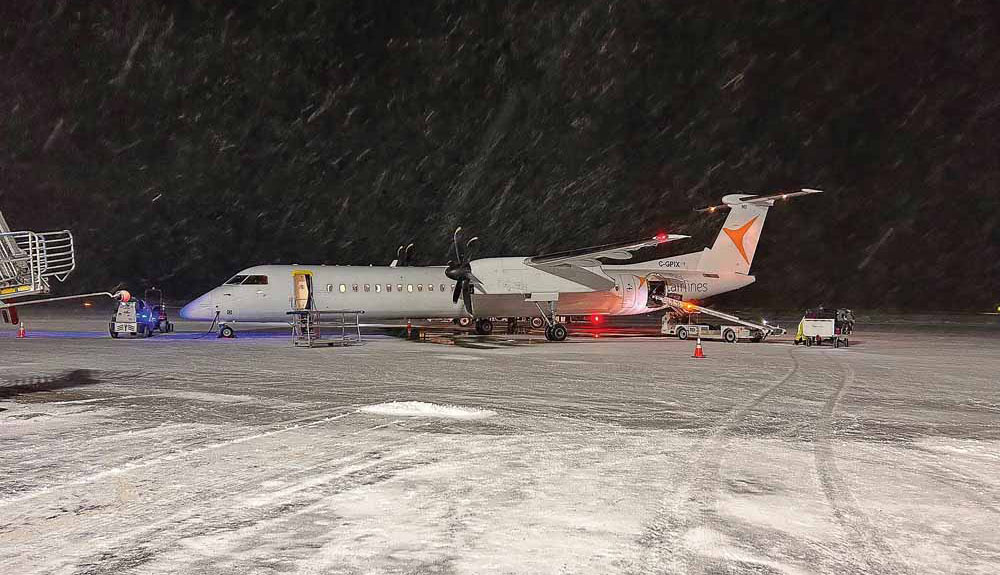 PAL Airlines pilots, joined by their ALPA colleagues, demonstrate strength in unity in their quest for a first collective agreement.
With the 60-day conciliation period wrapping up shortly before Christmas 2021, PAL Airlines pilots and management remained in dispute over the pilots' first collective agreement, which resulted in the parties entering a federally mandated 21-day cooling-off period. The pilots and management subsequently agreed to work with federal mediators to help move the process forward.
Although both sides were able to find some common ground, they remained far apart on most of the pilot group's key issues: hours of service, scheduling, scope and job security, benefits, and compensation.
Heading into 2022, the pilots' Master Executive Council (MEC) was freshly armed with authorization from the pilot group to strike should such an action become necessary.
In retaliation for the strike vote, management requested that the federal government declare virtually all of the airline's flights an essential service. Under such a designation, the pilot group's right to engage in self-help would be severely curtailed. Canada's Labour minister referred the issue to the Canada Industrial Relations Board, essentially bringing any further progress in negotiations to a standstill until the matter was resolved.
While the issue was under review, the pilots demonstrated to management, airline owner Exchange Income Corporation, and the community that they remained unified in their goal to reach a fair contract.
Through ads in local and regional newspapers and on prominent billboards, radio, and social media channels, the pilots delivered their message to their intended audiences. So did their informational picket in St. John's, Nfld., on March 21, as the Federal Mediation and Conciliation Service resumed negotiations between the pilots and management in an effort to fairly conclude more than two years of unproductive bargaining.
"Our pilots continue to demonstrate their full commitment to attaining an industry-standard collective agreement that provides fair pay, job security, and fixes to scheduling to allow for adequate rest," said F/O Conrad Reid, the pilots' MEC chair, at the time. "Even in the face of threats from PAL executives, we remain committed to negotiating a collective agreement that reflects our contributions to the success of PAL Airlines and our community."
While the essential services question under consideration by the CIRB was expected to take more than a year to resolve, both sides agreed there were merits to continuing negotiations. Facing staffing shortages and the pilots' unrelenting communications campaign, management began taking negotiations more seriously than it had during the first two years of bargaining, resulting in an agreement in principle in mid-July and a tentative agreement shortly thereafter.
In September, the MEC announced that the pilots had ratified their first-ever collective agreement with the airline. Of the nearly 70 percent of eligible pilots who cast ballots, 92 percent voted in favour of the three-year agreement, which included increased compensation, a credit-based pay system, strong job-security protections, and significant improvements to working conditions.
"For more than two years, we demonstrated our unwavering commitment to achieving a collective agreement that reflects the contributions we've made to our airline and our community. By bringing pilot wages in line with our industry peers and significantly enhancing our work rules, we can be proud of what we've accomplished," noted Reid.
With a contract in place, the pilots' focus has shifted from negotiations to moving forward with contract implementation though the use of a joint ALPA-management implementation committee designed to assist in resolving any unintended contract issues and clarifying provisions of the new agreement.
PAL Airlines and Air Borealis, the two divisions of PAL Airlines Group, operate as separate carriers with their own operating certificates. ALPA organized the two pilot groups separately with different government-issued bargaining unit certifications. However, the Association considers the two groups unified as one pilot group with separate local councils under one MEC.