Frontier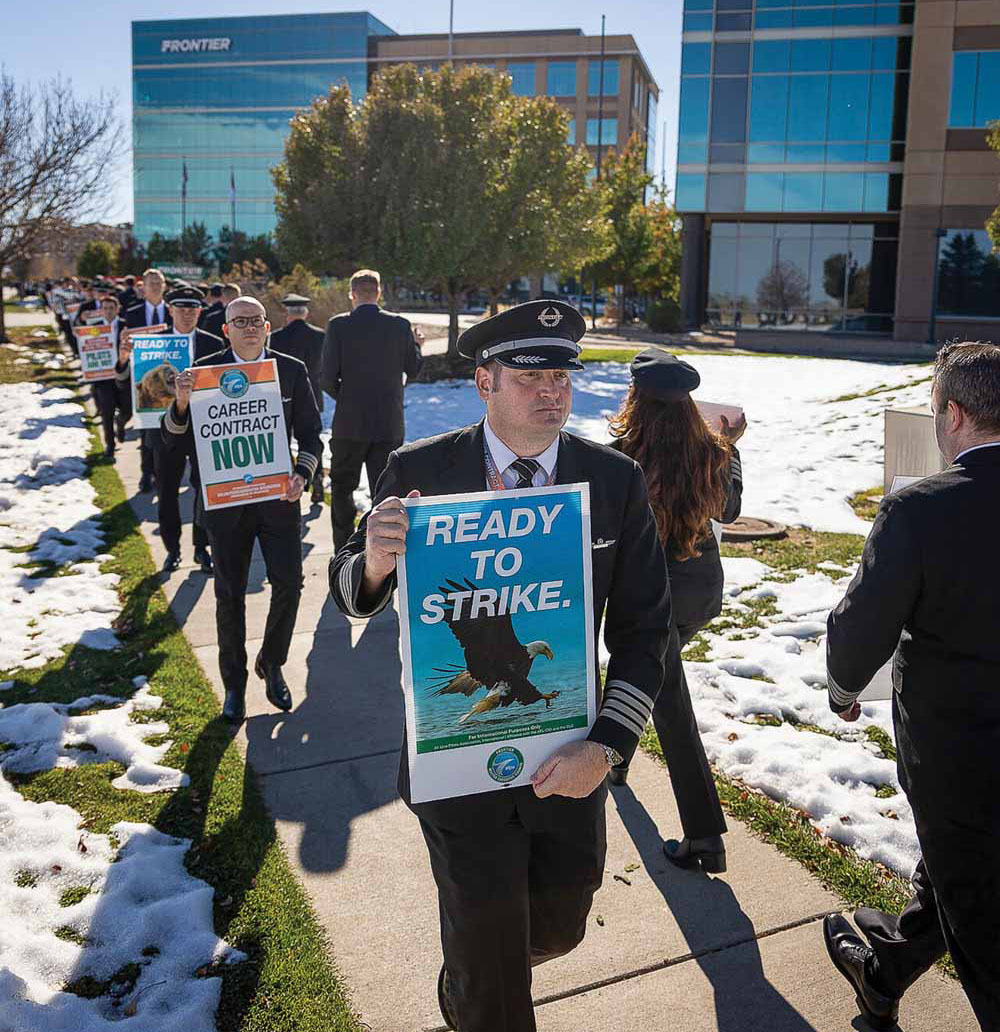 "Colorado the Bighorn Sheep" on a Frontier A320 at McCarran International Airport.
It took a worldwide pandemic to slow the rapid growth of Frontier Airlines in 2020, but as 2021 began, the low-cost carrier was in recovery mode and gearing up for renewed expansion.
After merging with ALPA in 2016, Frontier's pilot ranks grew rapidly, especially after ratifying a new contract with healthy pay increases and benefits in 2019. By early 2020, the group had grown by almost 10 percent to more than 1,600 pilots and added a sixth pilot base in Miami, Fla.
The increase in hiring led to a reshuffling of the Master Executive Council (MEC) leaders, including the creation of local Council 163 (Las Vegas, Nev.), which joined Councils 165 (Denver, Colo.), 167 (Chicago, Ill./Philadelphia, Pa.), and 169 (Orlando/Miami, Fla.).
"We were really doing well—hiring pilots, adding new aircraft, adding new routes—and then came COVID-19," said Capt. Brian Ketchum, the pilots' MEC chair.
Like other carriers, Frontier lost the bulk of its business when the pandemic hit, worsened by shutdowns at Florida theme parks and other leisure destinations that are the cornerstones of the ultra-low-cost carrier's revenue.
The airline received $204 million in federal Coronavirus Aid, Relief, and Economic Security (CARES) Act funds, and as a cost-saving measure began flying "triangle" pairings that began and ended at the same hub, such as Denver-Dane County-General Mitchell-Denver. It also became the first U.S. airline to impose mandatory preboarding temperature screenings for passengers and crewmembers.
MEC leaders ratified a series of letters of agreement (LOAs) helping to protect pilots' jobs while saving the airline money. Pilots were offered 50-hour COVID leaves of absence (COLA) from April through August, as well as other scheduling relief.
Hundreds of pilots accepted the leaves, but by July the company announced it would likely furlough as many as 600 pilots—one-third of the group—when CARES funding expired on October 1.
The pilots and the company negotiated much of the month of August on furlough-mitigation efforts, and on August 25 the MEC ratified a new LOA creating 35-hour leaves as well as three categories of zero-hour leaves of one-, three-, and six-month durations. Zero-hour pilots weren't furloughed and retained active status, including health care and retirement, with many able to add flying to their schedules.
Just as they had with the 50-hour lines, Frontier pilots helped their fellow aviators with a strong response to the COLA-35s. More than 400 pilots bid for COLA-35 lines in September, and as a result only 203 pilots were forced into zero-hour status.
As part of furlough negotiations, the pilots agreed to accelerate the process of implementing preferential bidding on the property. After the MEC ratified a preferential bidding system (PBS) LOA in June, PBS training began almost immediately using online training modules and virtual workshops, supported by more than 30 volunteer trainers. Mock bidding began in September, and the first live PBS bids were awarded in December.
"The majority of our focus in 2020 was tied up with survival, furlough mitigation, and PBS implementation," observed Ketchum. "I'm proud of the commitment put forth by our committee volunteers and line pilots who stepped up to take COLA leaves. Thanks to them, we succeeded in solving both issues and kept all of our pilots employed."
After the deployment of COVID-19 vaccines at the end of the year, Frontier has seen its bookings and pilot block hours slowly recover. Pilots began returning from COLA-35s in January, with all pilots scheduled to return to the line in March. The airline has also announced plans to resume captain upgrades in March and new-hire classes in July.
"The company continues to look at the pandemic as a 'survive and thrive' challenge where Frontier will see opportunities for continued growth and expansion, hopefully starting this spring," Ketchum said.