Frontier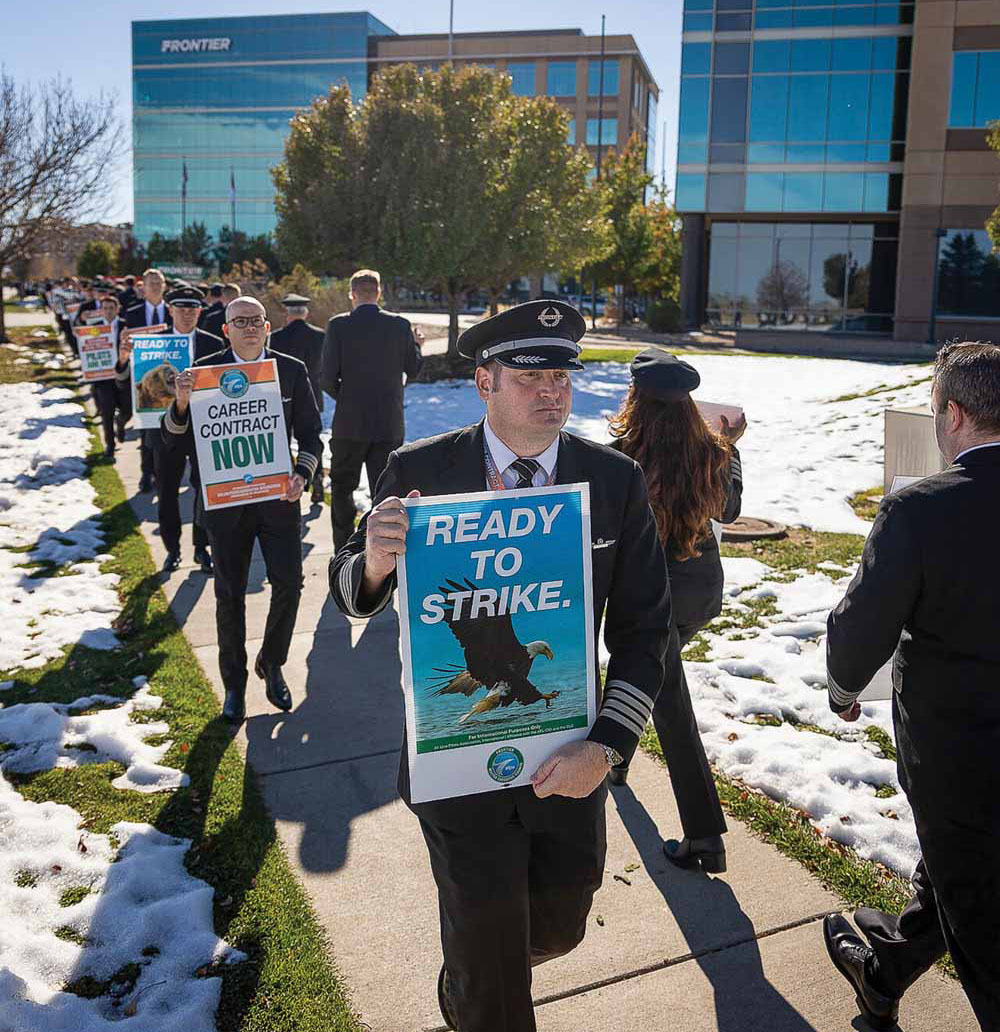 Frontier pilots ready to march in the Cleveland, Ohio, Labor Day parade.
After more than two-and-a-half years of contentious contract negotiations, the 1,300 pilots of Frontier Airlines entered 2019 with a new contract that finally brings them into the bargaining pattern of their narrowbody peers.
On January 10, the Frontier group approved a new five-year collective bargaining agreement worth $1 billion in new value. Seventy-seven percent of eligible pilots voted in favor of the agreement, and more than 99 percent cast ballots—the latest proof that Frontier is one of ALPA's most engaged pilot groups.
The collective bargaining agreement took effect January 16 and is a highlight of the group's amazing three-year journey from an independent union to a respected and influential force within the Association, said Capt. Tracy Smith, the pilots' Master Executive Council (MEC) chair.
"Our group has been active and engaged since 2016 when 94 percent of our pilots voted to merge with ALPA. We've continued to set records for participation every step of the way, and I couldn't be prouder of our pilots," Smith said.
The Frontier pilots' bargaining goals were to substantially raise their compensation to market levels and improve their job security, retirement, and insurance without giving up their favorable work rules and scheduling flexibility.
But they knew they were facing an uphill climb with Frontier's management and owners, the same equity firm that had forced Spirit pilots to go on strike to achieve a new contract in 2010. Ultimately, ALPA took Frontier to federal court for bad-faith bargaining last summer but withdrew the lawsuit when a tentative agreement was reached.
As negotiations dragged on into 2018, Frontier pilot leaders launched a two-track communications campaign to reach two very different audiences: the flying public and potential new-hire pilots. The campaign had two different websites and different advertising messages. While the public site reminded flyers that Frontier's low fares might prove a "bad bargain" if pilots went on strike, the pilot site highlighted the airline's bottom-of-the-industry compensation and benefits. The websites and related advertising garnered thousands of public supporters and millions of social media views.
Pilots held massive picketing events outside Frontier's headquarters and in downtown Denver, Colo., each attended by 300 or more pilots, and smaller, unpublicized "flash pickets" to take management by surprise. The campaign reached its peak in midsummer when the MEC rolled out the Frontier Strike Bus, a 37-foot mobile strike center that toured two dozen cities across the country.
"Our outreach finally got too big for the company to ignore," Smith said. "When a third or more of the pilot group repeatedly showed up to picket, it proved that we had a motivated, unified group that was committed to stand and fight for as long as necessary. And when the airline couldn't attract the new pilots it needed to grow, we knew the campaign was working."
In November, the two sides reached an agreement in principle, which included pay increases averaging 53 percent in year one of the deal.
With Frontier's high 75-hour monthly guarantee and its unique monthly credit override, which pays 125 percent for credit hours over 82 hours per month, total pilot compensation is higher than the same hourly rates for pilots flying similar equipment at other airlines. The contract also includes vastly improved retirement, medical, and insurance benefits while strengthening job security and merger provisions.
The agreement also includes a $75 million ratification bonus, the highest such payment ever negotiated on a per-pilot basis, ensuring that management was not rewarded for dragging out negotiations.
With labor peace now achieved, Frontier is growing rapidly. It opened its fifth pilot domicile at Philadelphia International Airport in January, and the airline plans to open two more pilot bases later this year.