Morningstar Air Express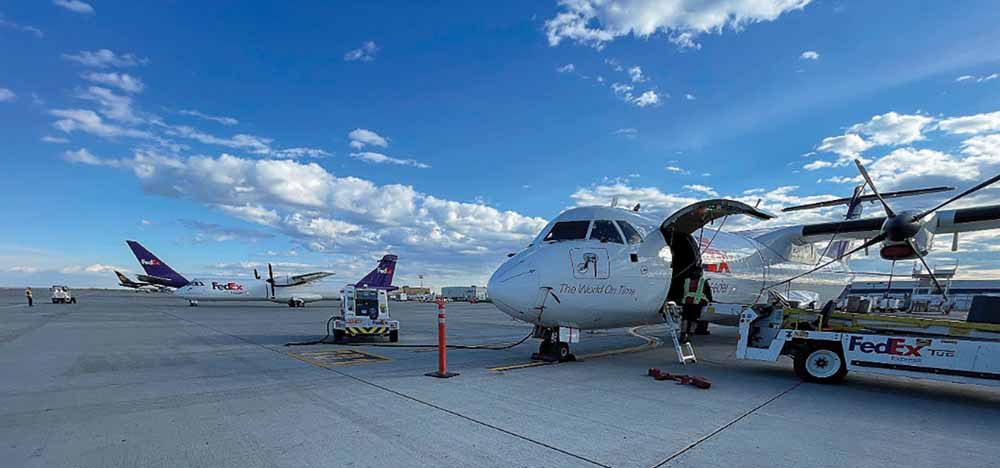 A Morningstar Air Express B-757 taxis at Vancouver International Airport. Photo: Wikimedia Commons
As more and more Canadian airlines return to prepandemic operational levels, Morningstar Air Express emerged from this public-health crisis struggling to contend with ongoing pilot turnover. "Many of our pilots are opting to move on to the majors," remarked Capt. Chad Claringbold, the pilot group's Master Executive Council (MEC) chair, who added that recently the carrier's been losing both captains and first officers.
"Others who we hired during the height of the pandemic for our ATR base in Calgary, Alb., were originally furloughed from the majors," he noted. "Many of those pilots are now being recalled, making it even harder for management to sufficiently meet staffing demands."
To curb this attrition, the pilot group has been in negotiations to secure a retention bonus program to make staying with the carrier a more attractive option. Last summer, the MEC surveyed the pilots to assess their interest in advancing such an arrangement and received positive feedback. While a management proposal appears imminent, these talks were still under way as Air Line Pilot goes to press.
Not surprisingly, the carrier is hiring as many qualified pilots as it can attract. Still, Claringbold noted, "We've been losing people faster than we've been able to add them."
From an operational standpoint, Morningstar hasn't changed significantly during the past year. Despite some shifting of its aircraft and pilots to meet specific market needs, the airline's client, flight requirements, and fleet count remain largely the same. However, Morningstar did opt to close its Montréal, Qué., pilot base. And the new flight- and duty-time regulations for CAR Subpart 703 operations, which went into effect this past December, compelled the airline to increase its Caravan pilot ranks.
Within a year of joining the Association, the pilots negotiated their first ALPA contract. The new collective agreement, secured in November 2021, remains in effect through June 2027. With this major undertaking behind them, the pilot group has steadily improved its relationship with management. In addition, with pandemic restrictions easing, the two sides now meet in person and with greater frequency, producing a positive effect on the way the parties resolve disputes.
Last fall, the pilots and management engaged in an arbitration on an outstanding issue, ultimately splitting the cost of the resolution. Since then, the two sides continue resolving their differences without deploying the grievance process. "We simply sit down with management on a quarterly basis and hash out any issues that either side has," Claringbold observed.
This new amicable relationship enables the parties to work more efficiently together and concentrate more of their attention on the airline's client. Still, finalizing a retention program and possibly considering other alternatives to help stem the flow of pilots to other airlines remain serious concerns for the carrier.
In early 2020, the pilots weighed the benefits of transitioning from their previous union to ALPA for their labour representation. Following a successful card-collection campaign, the Canada Industrial Relations Board certified the Association as the pilots' new bargaining agent. With 91.5 percent of eligible pilots participating in the vote, 98.7 percent supported the decision to move to the world's largest pilot union.
Morningstar began operations in 1970 as Brooker-Wheaton Aviation Ltd., marketing aircraft, service, parts, and fuel as well as providing a full-service, fixed-base operation. Adding to its fleet of aircraft, the carrier began flying for courier companies including Federal Express Canada. Twenty years and several ownership changes later, the airline adopted the name Morningstar Air Express and has since maintained a long-term aircraft, crew, maintenance, and insurance contract with FedEx Express, serving destinations between Halifax, N.S., and Vancouver, B.C. Morningstar also continues to offer other aviation-industry services in conjunction with its associates, Aurora Jet Partners and Signature Flight Support.