Morningstar Air Express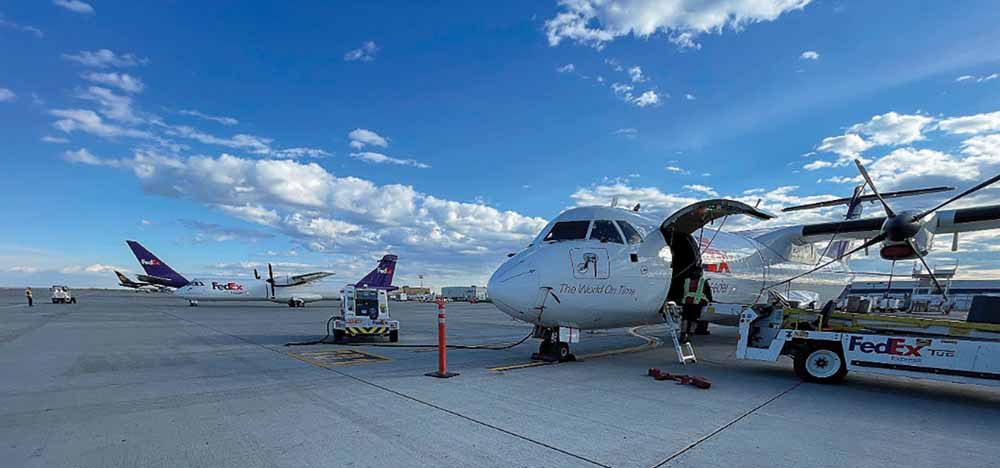 Pilots of Morningstar Air Express, the Canadian contractor for FedEx Express, fly aircraft such as this B-757-200, which sits parked on the tarmac of Toronto Pearson International Airport. {Photo: Wikimedia}
Many all-cargo airlines have been able to successfully navigate the impact the pandemic has had on the aviation industry, thanks in part to an increased demand for freight and the popularity of e-commerce. This has been particularly evident at Morningstar Air Express. Throughout the COVID-19 crisis, the Canadian contractor for FedEx Express has been expanding its operation and increasing its pilot ranks.
Recent contract negotiations for the pilots didn't proceed as expeditiously as they had hoped, but late last year, these relatively new ALPA members were finally able to secure a deal that included significant across-the-board improvements.
"When we joined the Association in 2020, we had just started negotiating with our previous union," said Capt. Chad Claringbold, the pilot group's Master Executive Council (MEC) chair. "Because we have a generally positive relationship with management, we thought the process would go quickly and that we'd simply be able to move on and set up our council. Unfortunately, that wasn't the case."
The pilots, however, remained united and focused and when an agreement couldn't be reached at the bargaining table, the dispute went to arbitration for settlement. Accordingly, the pilots prepared a final offer for submission to an arbitrator. Four months later, they had their answer.
"On Nov. 1, 2021, we received an award," Claringbold remarked, adding, "It's a great deal, but we're still trying to work out some of the details." The new agreement contains many positive changes for the pilots, including sizeable salary increases, improved per diem, and better credit hours. "The lowest raise we received for a particular aircraft and seat was around 15 percent," he observed. The MEC began an information campaign through a series of in-person road shows and videoconferences to inform members about the contract improvements.
With a collective bargaining contract now in place, the pilots have shifted gears and are concentrating their efforts on the day-to-day affairs of the union and setting up their committee structure to provide resources for their members.
Meanwhile, the Edmonton, Alb.-based carrier continues to grow. "With the purchase of new airplanes and the new duty regulations in Canada starting in December 2022, we almost need to double the current number of Caravan pilots," said Claringbold. "We're running between 20 to 25 percent short on pilots for B-757s so we probably still need another 10 to 15 pilots for that aircraft."
Furloughed pilots being recalled to their former carriers is also adding to the current shortfall of pilots. "We hired WestJet, Air Canada, and Sunwing pilots for our ATRs when they were furloughed due to the pandemic, but now they're being recalled," Claringbold noted. Obviously, these pilots will need to be replaced, and the Morningstar pilots expect the total pilot group count to reach 150 to 160 later this year. "We maintain open channels of communications with the Flight Operations Department and will continue to discuss pilot hiring for 2022."
In early 2020, the Morningstar pilots, then members of Unifor, explored the benefits of transitioning to ALPA as their collective bargaining agent. A card-collection campaign followed, and shortly thereafter, the Canada Industrial Relations Board announced that the pilot group had voted for ALPA representation. With 91.5 percent of eligible pilots participating in the election, 98.7 percent voted in favour of joining the world's largest pilot union.
Brooker Wheaton Aviation Ltd., Morningstar's original operation, was founded in 1970 to market aircraft, service, parts, and fuel as well as provide a full-service, fixed-base operation. The company eventually acquired aircraft and began flying for various courier companies including Federal Express Canada. In the early 1990s, following several ownership changes, the airline changed its name to Morningstar Air Express. Today Morningstar operates a long-term aircraft, crew, maintenance, and insurance contract for FedEx Express and offers charter service.