Calm Air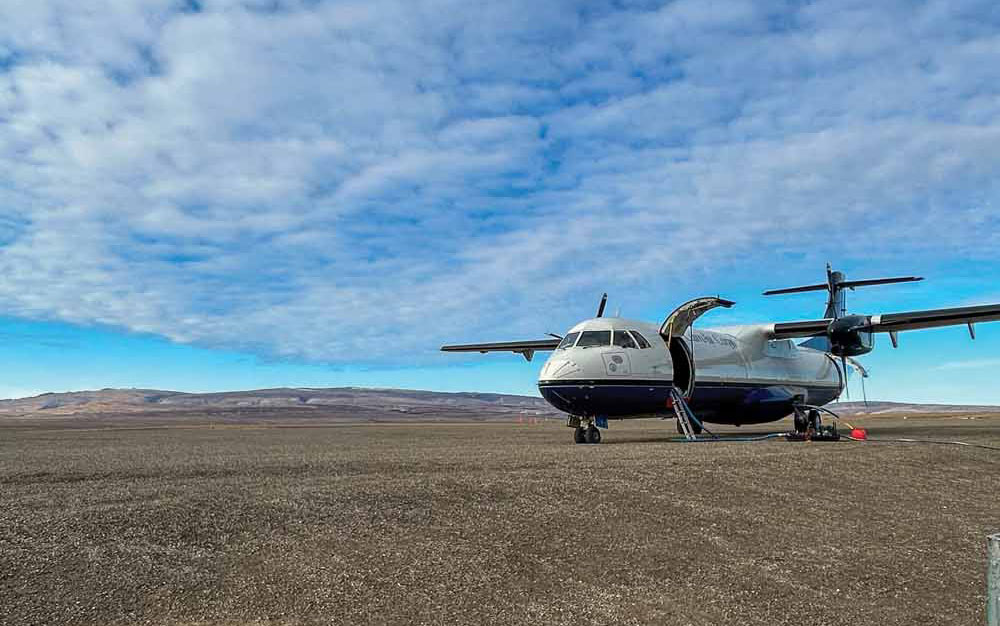 A Calm Air ATR 42 in Manitoba. Photo courtesy of Calm Air
During the onset of the COVID-19 pandemic, Calm Air and its pilots focused on providing safe and reliable service. As the number of COVID cases began to rise again in late 2021 and early 2022 due to the omicron variant, the pilot group increased communication and collaboration with management to keep the pilots and the remote communities they fly to safe from further virus spread.
By February, with the wave of omicron cases beginning to subside, operations began to increase. With little advance notice to the pilots, Calm Air announced that due to securing more work than the current fleet could cover, it was planning to enter a wet-lease agreement with PAL Airlines for a Dash 8-Q400.
The Master Executive Council (MEC) acted quickly, notifying senior management that the pilots' collective agreement required MEC approval for any wet-lease arrangement. Through collaboration and consultation, the pilot group negotiated a letter of understanding that protected the pilots and also avoided setting any precedent regarding future potential wet-leasing.
Within weeks, the parties were back in talks regarding the renewal of a previous wet-lease of a B-737 from Canadian North Airlines. Through several back-and-forth negotiations, the MEC agreed to extend the wet-lease for five years while securing various provisions, including certain lay-off protections and base protection for all pilots for the duration of the agreement.
"Wet-leasing aircraft from another company is something that the MEC takes very seriously and requires considerable thought, consultation with ALPA, and negotiations with our own company representatives," said Capt. Brendan Potter, the pilot group's MEC chair. "There's been a lot of talk and speculation about the potential for Calm Air to up gauge to larger aircraft of our own, and we believe our relationship with management sets us up for future success and the potential expansion of our fleet, which will benefit us during our upcoming contract negotiations this spring."
With the pilots' contract set to expire in April 2023, the MEC spent much of 2022 laying the groundwork for negotiating the pilot group's next collective agreement. During the year, MEC leaders established a Negotiating Committee, and regular contract surveys were distributed to the pilot group for feedback.
With the Negotiating Committee hard at work, the MEC shifted its focus to creating a new working group, consisting of pilot leaders from Bearskin Airlines, Calm Air, PAL Aerospace, PAL Airlines/Air Borealis, Perimeter Aviation, and Wasaya Airways—all Exchange Income Corporation-owned properties. During initial discussions at ALPA Canada Board meetings, the pilot leaders agreed to begin holding regular meetings as the issues each of their respective pilot groups face aren't unique. "We're all better served if we take a more collaborative approach going forward," declared Potter. "Gathering in person during ALPA Canada Board meetings and again during ALPA's recent Board of Directors meeting is just the beginning of a cooperative effort among our respective groups to work together now and into the future."