Jazz Aviation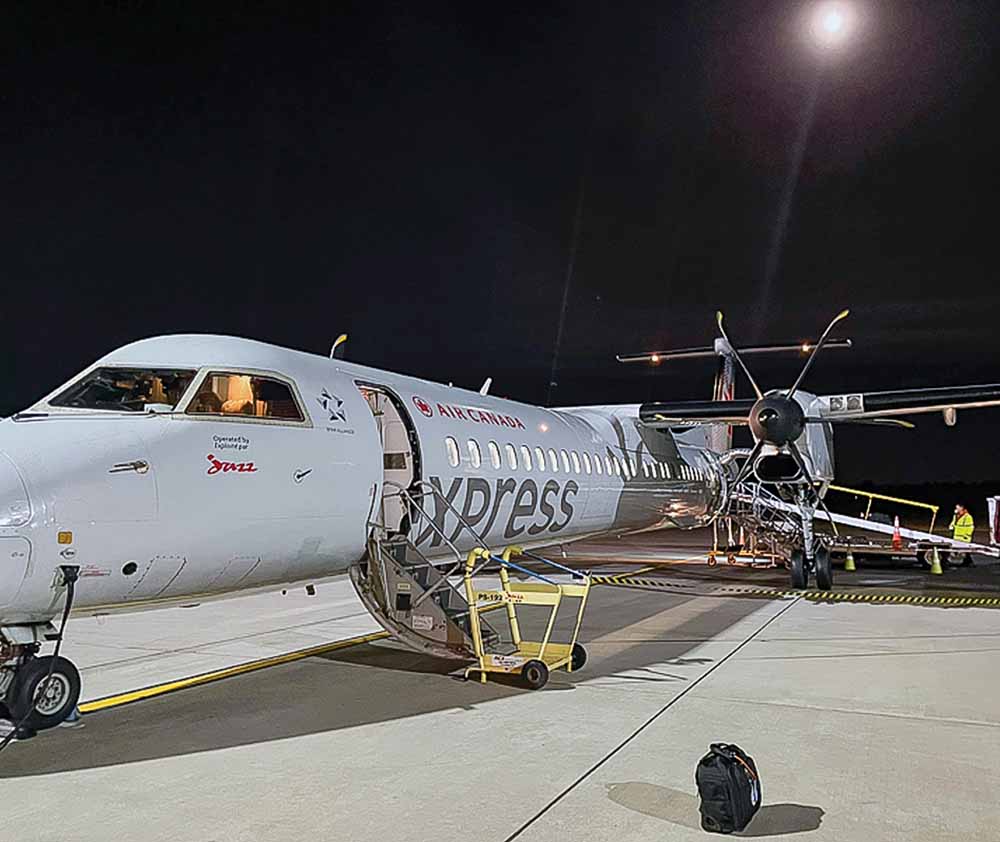 An Air Canada Express Embraer 175 at Lester B. Pearson International Airport. Photo: Galen Burrows
Jazz Aviation pilots began 2022 with cautious optimism and a healthy understanding that industry change would likely continue. To be prepared for whatever could be on the horizon, the pilots' Master Executive Council (MEC) placed high value on strategic planning, expertise from ALPA's professional staff, and being in a strong financial position to best represent members and execute strategic initiatives.
"The amount of industry-level change we continue to see is astonishing," noted Capt. Claude Buraglia, the pilot group's MEC chair. Under his leadership, the MEC has worked to ensure that the pilots are in the best possible position to benefit from the industry's evolution. "Mitigating threats and capturing opportunities that come from change is something we've done well."
While 2020 and 2021 brought unforeseen and unprecedented events, the challenges of 2022 were largely predictable. It was well known early in 2022 that, given Air Canada's contractual requirement to offer 60 percent of new-hire pilot positions to Jazz pilots, Jazz would have difficulty staffing its operation. As it turned out, this hiring requirement would define the pilots' challenges in 2022.
"We didn't believe Jazz would have the ability to hire enough qualified pilots to mitigate attrition and maintain Air Canada's desired block hours," said Buraglia. "This is partially due to internal constraints like training capacity, but it's also about total pilot compensation, which no longer reflects postpandemic workforce expectations."
Recognizing that problems almost always give way to opportunities, in early 2022 the MEC began canvassing stakeholders to address the looming pilot-supply problem. "The goal was a multiparty discussion among Air Canada management, Jazz management, and the two pilot groups represented by ALPA and the Air Canada Pilots Association," Buraglia remarked. "We were committed to working pragmatically with all stakeholders to address the current problems. We believed, and still believe, that solutions exist for providing a predictable career path and helping Jazz and Air Canada secure a reliable supply of pilots."
The MEC trumpeted this message consistently, but meaningful discussions didn't materialize before pilot supply reached a tipping point in September. At that time, Air Canada ceased hiring Jazz pilots, citing concerns of sustaining block hours at Jazz. This action was seen as quite aggressive by the Jazz pilot group. "The expectation of career progression was a key factor in the airline's recruiting from 2015 to present," noted Buraglia. "Pilots factored this expectation into their decision to ratify the 2019 agreement. This is a material part of our collective agreement, inseparable and equally as important as pay and working conditions."
The MEC began formal discussions with management in late October to address this problem plus related issues of pilot hiring and training. As Air Line Pilot goes to press, discussions are still ongoing, and no resolutions have yet to be reached.
In early 2023, the MEC and ALPA Canada will be relocating to larger offices in Toronto, Ont. ALPA Canada Toronto staff has outgrown the current location, and the MEC needs additional space for dedicated conference rooms and catering facilities large enough to host MEC meetings and workspace/breakout rooms to accommodate various uses. "It really is about evolving the way the MEC and committee structure do business. The pandemic has shown us that in-person meetings have their place. Zoom and Teams videoconferences work best when team members already have a working relationship. Having in-house conference space allows volunteers flexibility to meet and work on their own schedule, while also controlling skyrocketing post-COVID meeting costs," said Buraglia. "Volunteers are the backbone of the work we do representing pilots. Having our own dedicated space will enable volunteers and committees to be supported and work more efficiently, better serving our members.
"Looking forward, we'll continue to do our best to capture any opportunities to make improvements to our collective agreement and collaborate with stakeholders on any opportunities that would ensure the long-term viability of our company and Air Canada," Buraglia remarked, adding, "the MEC continues to believe that working for a strong, viable company creates more opportunities for our members."