Jazz Aviation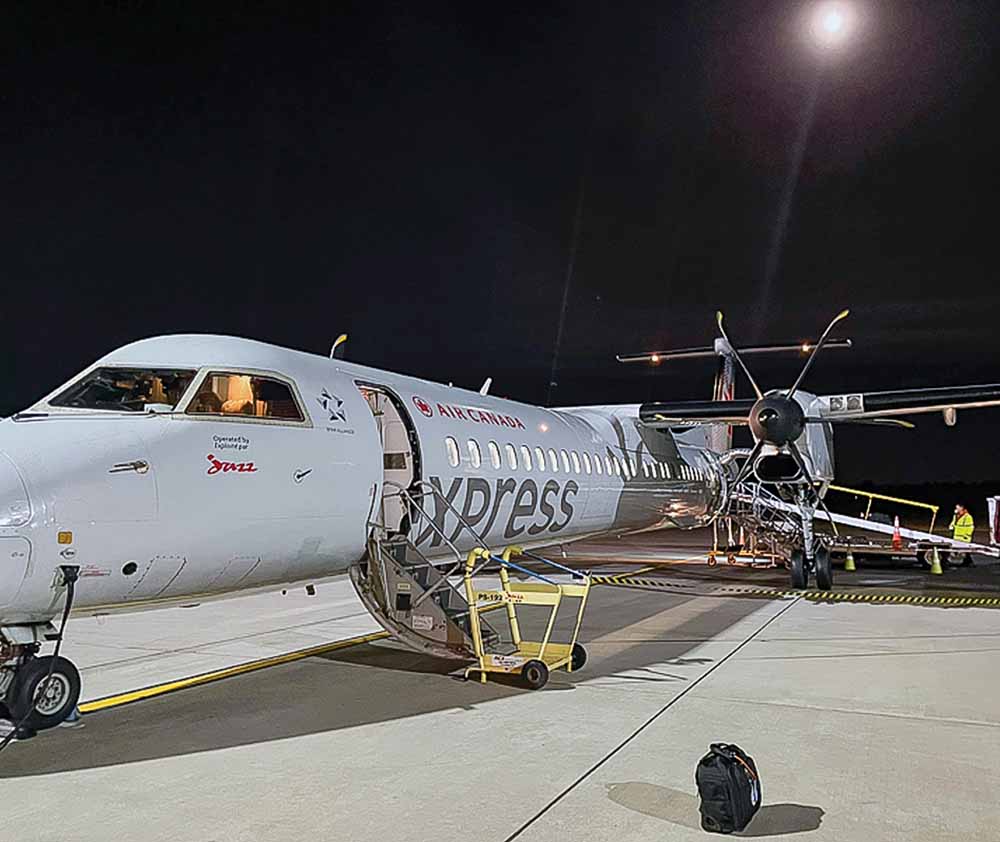 Capt. Dan Adamus (Jazz Aviation) at Halifax Stanfield International Airport.
International border closings, travel bans, mandatory stay-at-home orders, and a global fear of becoming sickened with or spreading a potentially deadly virus nearly shut down the travel industry in 2020. Like countless businesses across the world that couldn't withstand the severe economic impact from COVID-19, several airlines shuttered while others still remain in a state of crisis—Jazz Aviation included.
"Active federal and interprovincial government policies have discouraged travel," said Capt. Claude Buraglia, the Jazz pilots' Master Executive Council (MEC) chair. "We understand the need for some restrictions, but others have made travel overly onerous—greatly increasing the negative impact of COVID-19 on our industry."
In May, Air Canada reported its 2020 second quarter passenger volume at just 4 percent of its 2019 volume. The airline's CEO, Calin Rovinescu, estimated that it will take a minimum of three years to recover.
Piling on to an already dire situation, the MEC had to navigate different lockdowns and hotel restrictions in various parts of the country and adhere to 14-day mandatory quarantines—all via videoconference. "Although videoconferencing has been an invaluable tool during this pandemic, it doesn't replace face-to-face bargaining when negotiating the livelihoods of all of our members," Buraglia observed.
The MEC quickly adjusted to this new way of conducting business and throughout the year successfully negotiated 11 COVID-19 relief letters of agreement (LOUs) with the company. One of the most significant was getting the company to agree to use the federal government's Canada Emergency Wage Subsidy (CEWS) program relief and postponing layoffs until at least March 2021.
With the latest agreement, the MEC also established terms that the company continue CEWS, which is the greater of $500 or 55 percent of precrisis remuneration for the employee, up to a maximum subsidy amount of $595 per week. As this government program is by no means a full wage replacement, the MEC was also able to negotiate with the company to cover a majority portion of extended health-care benefits premiums for inactive pilots on CEWS.
"The MEC's objectives with the LOUs are to preserve the maximum possible number of sustainable jobs, ensure the long-term viability of our workplace, and position ourselves to bring members back to work as soon as possible," said Buraglia. These objectives remain at the forefront of the MEC's priorities as it continues to negotiate additional agreements that include government assistance and as much cost-saving coverage as possible for the pilots.
Like many other fee-for-departure carriers, Jazz is positioning itself for a return to increased flying in 2021, and the MEC's goal is to bring back as many pilots as possible to active status. However, the possible end to CEWS in June and the lack of meaningful government assistance for Canada's airline industry compared to those of many other developed countries remain looming concerns.
With COVID-19 vaccines now being distributed, Buraglia hopes that the Canada and U.S. border will reopen and that all Jazz pilots will be called back to work, but he acknowledged that the MEC needs to ensure that it's ready for what may come in 2021. If things don't turn around for the industry, Buraglia said, there's a real possibility of restructuring, either inside or outside of bankruptcy. "We need to be prepared for any possible restructuring so that we not only maintain our place in the industry, but also capitalize on any opportunities that may present themselves," he explained.
Looking forward to 2021, "the MEC will continue to work on developing better solutions to protect its members who find themselves out of work," Buraglia remarked, adding, "we need to negotiate severance packages to benefit our senior members as part of a meaningful mitigating strategy to recall and benefit our junior members. We must also come together as a union and find better ways to protect members as work moves from one carrier to another, oftentimes destroying careers in the process."