Envoy Air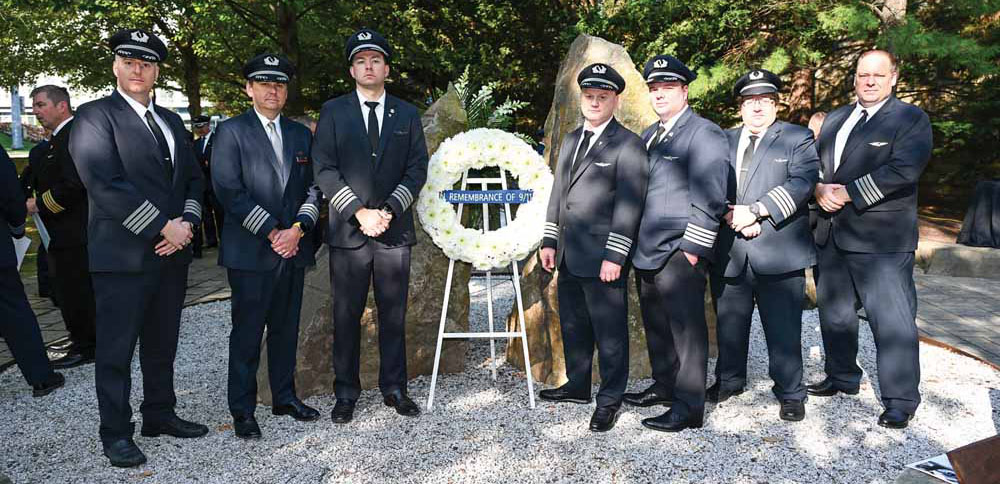 Capt. Aaron Schaap, the pilots' Master Executive Council chair, right, and then F/O Brighton McMinn on the tarmac in Miami, Fla.
For almost two years, the Envoy Air pilot group, like much of the airline industry, has been heavily impacted by COVID-19. The pandemic resulted in reduced flying schedules and 227 Envoy pilots being placed on furlough. In 2020, the airline closed its New York domicile and transformed its Miami, Fla., domicile from the E145 fleet to the E175 fleet.
"When the pandemic first hit, the entire industry was in uncharted territory," said Capt. Aaron Schaap, the Envoy Master Executive Council (MEC) chair. "Envoy was in an especially precarious situation as a fee-for-departure carrier without direct control of its own future."
As the airline industry began to recover in the summer of 2021, the pilot group experienced a quick turnaround in industrywide opportunities. The company recalled all of the furloughed pilots by June. One month later, Envoy held its first postpandemic pilot new-hire class. In September, Envoy pilots regained the ability to flow through to American Airlines when that airline resumed new-hire classes.
However, with this good news, attrition once again became an issue. Since September, more than 300 pilots have left Envoy (and the potential to flow up to American) to go to other carriers. Another 20 pilots at the top of the Envoy seniority list flow through to American every month. This attrition put stress on the remaining pilots as the company leaned on them to cover the flight schedules that were nearing prepandemic levels.
In response to this level of attrition, the MEC met with the company and negotiated a pilot-retention bonus program with the goal of keeping Envoy pilots at the airline and eventually flowing up to American Airlines. The agreement provided Envoy pilots more than $150,000 in bonuses throughout their career if they continue at Envoy and eventually go to American Airlines as a pilot.
"Although this agreement was unprecedented, it hasn't had the full effect that we hoped," Schaap observed. "We're still seeing pilots leave Envoy, usually for other carriers. Their reasons aren't just financial. In many cases, these pilots are looking for a better quality of life than Envoy can currently offer."
Just as with other pilot groups, this attrition and high turnover impact the MEC's volunteer committee structure as experienced volunteers leave and the MEC struggles to fill positions and keep the institutional knowledge intact. To help with this situation, Envoy volunteers put in place a "next-pilot-up" system. Every committee chair has one or more committee members being trained to take their place should they move on to other opportunities. This proactive, continuous training of new highly skilled volunteers to fill the ranks within many of the committees has resulted in maintaining a strong and unified pilot group.
"Every committee chair—and every MEC chair—should be looking to who will fill that chair should they leave," noted Schaap. "I came into office in December 2021 when the former MEC chair left the airline. Because of the training I received and this next-pilot-up program, I was able to hit the ground running and help our pilot group immediately.
"As pilots, we're trained to look ahead and prevent problems before they happen," Schaap said. "At Envoy, we're doing just that by addressing not only attrition, but also the consequences of it. It's not enough to keep pilots at Envoy, we also have to address the results of the attrition and make sure all Envoy pilots are getting the full benefits of being an ALPA member."