Envoy Air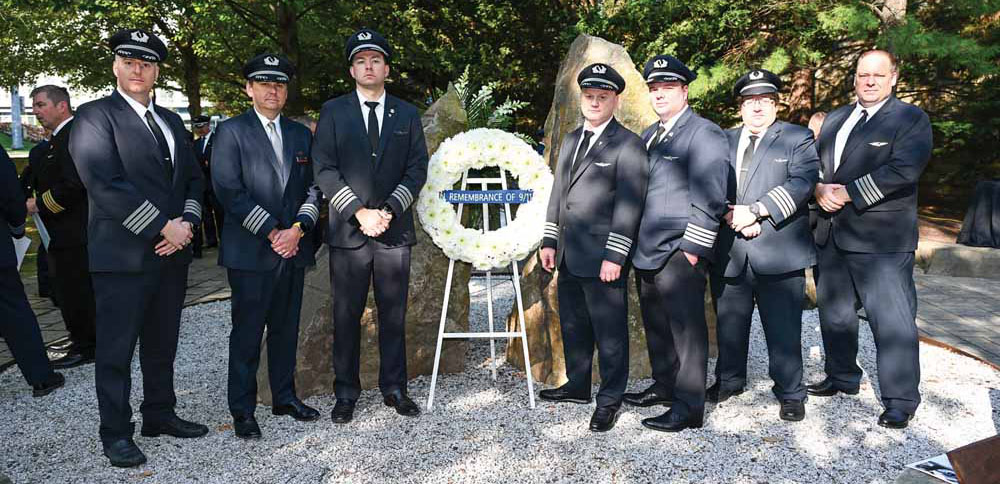 Capt. Michele Franciosa, the Envoy Master Executive Council (MEC) vice chair, left, and F/O Chase Freeman, the MEC chair, at ALPA's September 2022 Executive Board meeting.
The postpandemic era has brought unprecedented opportunities for the Envoy Air pilot group. From the start of 2022 through November, 770 pilots resigned from the airline as many had the opportunity to advance their careers at other carriers. This attrition became a driving force for gains for the pilot group.
"With massive hiring at legacy and low-cost carriers, our highly qualified pilots have had the opportunity to work almost anywhere they'd like," said F/O Chase Freeman, the pilots' Master Executive Council (MEC) chair. "It's this attrition that's given the pilot group the leverage to change the game in the fee-for-departure sector and the industry at large."
Last summer, the MEC passed a major quality-of-life letter of agreement (LOA) that gave a much-needed overhaul to several sections of the pilots' collective bargaining agreement. Included in the LOA was the implementation of trip rigs and duty rigs, 100 percent deadhead pay, a minimum 12 days off, holiday pay, and long-call reserve as well as other gains. Additionally, as part of this agreement, the MEC agreed to begin negotiating the implementation of a preferential bidding system.
Following the LOA, Envoy implemented industry-leading pay rates for line pilots and instructors. The pilot group saw a return to a high-longevity pay scale, now reaching 20 years, and the implementation of "snap up" pay to the top of scale for those pilots who haven't had an opportunity to flow to American Airlines by the end of the company-promised five years. Envoy line check pilots now receive an override equal to 100 percent of their hourly rate for instruction. Simulator check pilots and aircrew program designees earn a minimum monthly guarantee of between 130 and 145 hours depending on their qualifications. In addition, first officers with at least 750 hours of FAR Part 121.436 qualifying time earn captain pay.
"These items absolutely had to be addressed," Freeman noted. "Negotiating this LOA was a huge win for the pilot group. Quality of life was the biggest issue when I was hired. Getting this agreement across the finish line was something we'd been working toward since the 2011 bankruptcy of AMR Corporation, the holding company of Envoy's parent company, American Airlines Group. When our attrition remained high, the door opened for our massive pay agreement. For the first time since I've been at Envoy, it felt like we were in the driver's seat and leading the industry into new territory."
However, work remains for Envoy pilots. Attrition continues to outpace hiring, which has put pressure on management to find ways to adapt. Envoy has displaced all pilots from its E145 fleet, with those aircraft set to retire in early 2023, creating an all E170/175 operation. The company also announced a new domicile in Phoenix, Ariz., expanding the reach of its flight operations out west once again. Faced with staffing constraints, management, which had been flowing 20 pilots per month to American Airlines, decided to reduce the flow number to only what's contractually required, a decision Freeman believes will do more harm than good to the staffing situation.
"Attrition affects pilots just as it affects the carrier," said Freeman. "We need good pilot volunteers in our committee structure, and it's difficult when we have so many individuals leaving for better opportunities. Our job at the MEC is to find a way to work with management to make Envoy better for our pilots, and when we can do that they'll stay."