CommuteAir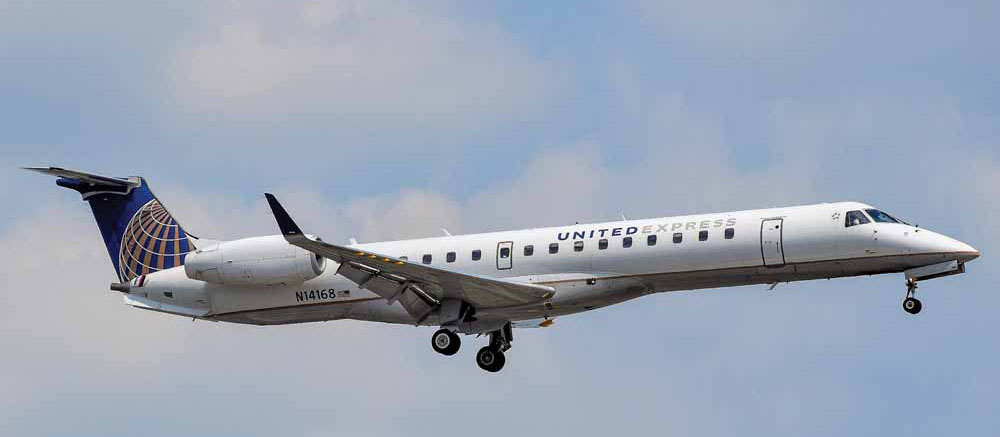 A CommuteAir ERJ 145 at Washington Dulles International Airport. Photo: F/O Rami Sankari (JetBlue)
In February 2022, CommuteAir pilots ratified a new four-year collective bargaining agreement with significant pay, retirement, and quality-of-life improvements. Highlights included a 25.4 percent pay increase for captains, a 32 percent pay increase for first officers, and improved work rules, particularly for reserve pilots.
The pilots began negotiations with management in September 2019 but suspended bargaining in response to the unprecedented impact COVID-19 was having on the airline industry. After suspending and then restarting negotiations amidst the pandemic, talks resumed in earnest in May 2021. After nine months of bargaining, the parties reached a tentative agreement that included industry-leading gains at the regional carrier, which operates under the United Express brand.
While the new contract went into effect in March, within weeks, substantial increases to hourly rates of pay and amended retention agreements at many other fee-for-departure (FFD) airlines leapfrogged the CommuteAir contract and redefined the postpandemic industry standard.
Several regional carriers announced sign-on bonus increases for direct-entry captains ranging from $100,000 to $150,000. CommuteAir had experienced a significant drop in the number of pilots on its seniority list from 643 by the end of 2021 to fewer than 500 at the close of 2022. The MEC continues to urge management to focus on sustainability through hiring, retention, and its flow program, Aviate.
"Approximately half of the pilot group is actively applying to other carriers, including Frontier, JetBlue, and Spirit, and other regionals," said Capt. Dan Tomic, the pilot group's Master Executive Council (MEC) chair. "For CommuteAir to stay competitive and keep pilots here while they wait to flow to United Airlines, the scheduling rules must be updated. In addition, there is no transparency in the Aviate program. We're still working to secure contractual gains for a flow agreement."
In response, management proposed a new compensation arrangement and promoted it as "a fantastic economic package." However, the MEC continues to direct management toward the appropriate measures needed to bring CommuteAir pilots in line with their peers, particularly converting retention bonuses into compensation, making improvements to scheduling, and providing transparency in the Aviate program. The MEC is urging managers to do more to abide by its marketing campaigns that CommuteAir pilots will flow to United within four years or within two years for a new direct-entry captain.
"Thirty-five percent of our seniority list consists of new hires still on probation," Tomic remarked. "This total training cost is north of $6.6 million. However, the cost of converting retention bonuses into compensation is about $5 million based off the approximately 80 percent opt-in figure provided by the carrier. This would be a major step toward being able to retain enough pilots for the necessary two- to three-year average to break even on cost and begin to turn a profit."
Moving forward, the MEC's goal is to enhance communication between the MEC and the pilot group through the rebuilding of the Pilot-2-Pilot® Committee. Having volunteers on the line among the pilot group will enable MEC leaders to better communicate with a greater number of the pilots and to get more pilots involved.
The MEC also continues to work with its Scheduling Committee to find ways to enhance pilot schedules given the group's current contractual limitations.
"If we're to stay in the mix, we'll need to do several things to remain competitive," said Tomic. "We've had an open line of discussion with management and will continue to push to help both the pilot group and the carrier thrive just as we've done time and time again. Complex problems require joint complex solutions. We've proven this throughout COVID, and we'll devise solutions for our current challenges."