Air Transport International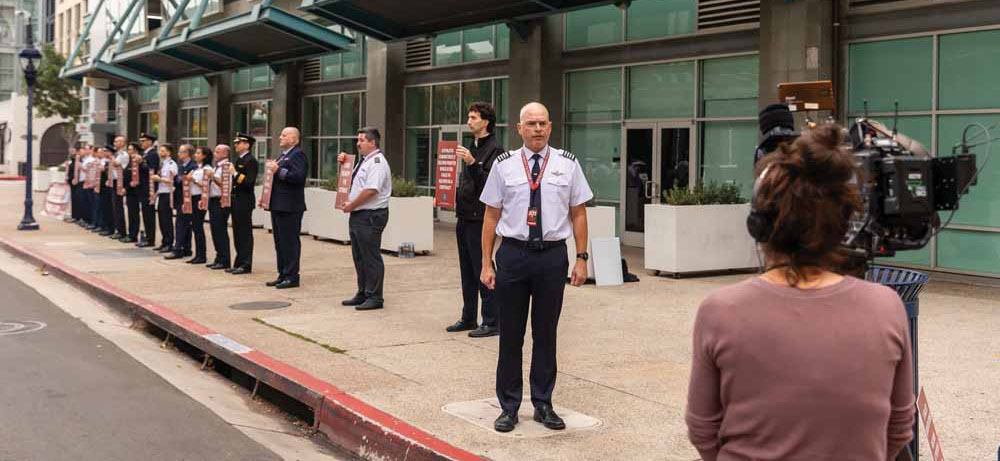 An Air Transport International airplane on the cargo ramp at Dallas/Ft. Worth International Airport.
The Air Transport International pilots kicked off 2018 with a newly elected Master Executive Council (MEC) and a ratified contract that included big gains and ended the year with their MEC working with ALPA staff to develop a strategic plan that provides focus for the next two years.
"It was a very exciting year for our pilots," said Capt. Mike Sterling, the pilots' MEC chair. "As a result of our new contract, we received the recognition we deserve for the professionalism and dedication we contribute to the success of this company. And the MEC's recently developed strategic plan now positions us to take advantage of any opportunities and to face any challenges that may present themselves in the new year."
Last year started with the election of new pilot leaders: Sterling, capt. representative and MEC chair; Capt. Travis Jordan, F/O representative and MEC vice chair; and Capt. Christian Padilla, MEC secretary-treasurer, who took office March 1. During the leadership transition, the MEC, MEC-elect, Contract Negotiating Committee, and ALPA staff met with management in a last-ditch effort to reach an agreement before entering mediated negotiations supervised by the National Mediation Board.
"After nearly four years of difficult negotiations, we went into that meeting with no expectations," said Sterling, "but our perseverance and tenacity paid off with a deal that included substantial pay increases and vastly improved work rules that enhance our pilots' quality of life."
The MEC-elect worked tirelessly with the experienced staff from ALPA's Communications, Economic & Financial Analysis, IT, and Representation Departments to pull together the resources necessary to conduct an educational campaign so that the pilots could have all their questions answered before casting their vote on the tentative agreement. On March 21, of the 94 percent of pilots who voted, 77 percent voted to ratify the collective bargaining agreement.
Pilot leaders spent the next few months working with management to successfully implement the new contractual provisions. In addition, they focused on appointing new volunteers to staff the various MEC committees that make the pilot group function successfully.
"We relied heavily on the cadre of volunteers already working on behalf of the pilots, but also needed to draw from our pilot base to staff committees that needed attention and focus," Sterling noted. "Fortunately, we had a vast pool of talented pilots who were willing to share their expertise in supporting their fellow pilots."
By fall, MEC leaders felt they were better positioned to turn their attention to strategic planning, a process designed to produce decisions and actions that shape and guide the MEC—what it does and why it does it, with a focus on the future.
Pilot leaders and ALPA staff met for two days in Washington, D.C., to conduct strategic planning. Based on the outcome of that meeting, a plan has been drafted that takes the pilots through 2019 and prepares them for a January 2020 early negotiations opener with management for a new collective bargaining agreement.
"We're confident that our new strategic plan will properly position us to take maximum advantage of whatever bargaining environment exists in the industry," Sterling observed.
Air Transport International, Inc. operates worldwide cargo charters and combi charters. In March 2016, Amazon announced that it would be using the airline to provide transport services for its Amazon Prime network. The deal under the airline's parent company, Air Transport Services Group, resulted in an increase in aircraft, frequencies, and jobs.