Air Transport International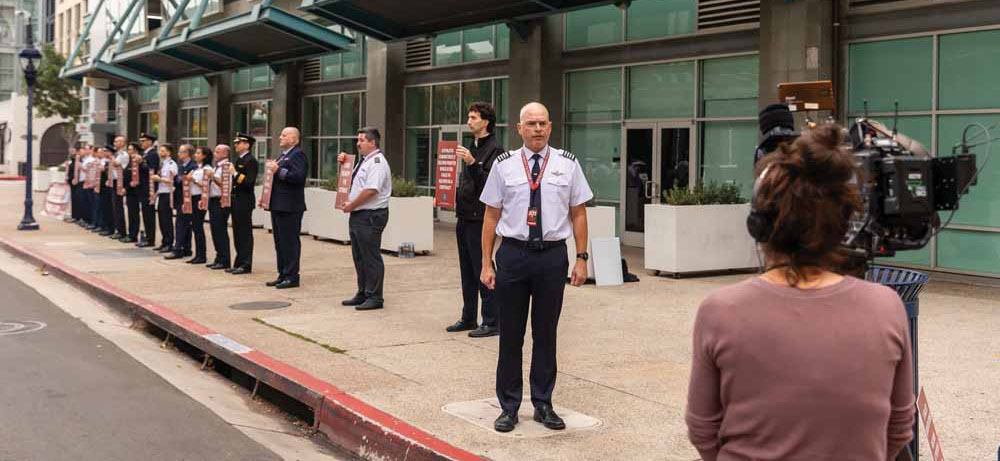 An Air Transport International B-767-200F prepares to depart Cincinnati/Northern Kentucky International Airport. Photo: Capt. Christian Padilla (Air Transport International)
Air Transport International (ATI) has a long and storied history with more than 40 years of navigating the ebbs and flows of the cargo industry. In 2015, the airline established a cargo network to serve Amazon Fulfillment Services, Inc., bringing about significant growth and taking ATI from 81 pilots and eight aircraft to 535 pilots and 48 aircraft. In 2020, ATI saw another period of growth as the COVID-19 pandemic dramatically increased demand for the airline's freighter operations, leading to increased routes and capacity from Amazon, DHL, and other customers.
"At a time when most of the world stood still, ATI pilots were busier than ever, away from home amidst the fear and unknown, yet unwaveringly supporting the extraordinary demand for cargo operations," said Capt. Mike Sterling, the pilots' Master Executive Council (MEC) chair and lead negotiator. "Every one of our pilots stepped up to provide outstanding service for our customers, benefiting people across the world."
The pilots began Section 6 negotiations for an updated contract in April 2020 in a period of uncertainty for the aviation industry but also a time of change for the airline itself. ATI is no longer just an aircraft, crew, maintenance, and insurance (ACMI) or wet-lease carrier but the next big overnight express carrier. The airline has outgrown and outperformed its peers, and the pilots are seeking a contract that recognizes their remarkable achievements and addresses the considerable pay gap with the pilots employed by industry giants FedEx Express and UPS.
"We're in a unique position in the cargo industry, leading the pack and poised to continue strong growth," said Sterling. "Our pilots' professionalism, dedication, and fortitude have been noticed and rewarded by our partners, and we're instrumental in the success of the company. We have more aircraft operating for Amazon than the next three largest carriers combined, and we consistently perform at exceptional levels. Our dedication to performance is the fuel that will drive us to the next level."
Though Section 6 negotiations started strong with both sides setting aside contract discussions to focus on immediate COVID protections and relief, the goalpost of a new contract that would "level up" ATI pilots keeps getting pushed further and further away. Now, nearly three years into Section 6 negotiations and almost two years past their contract's amendable date, ATI pilots are working under an outdated agreement in a demanding environment while facing staffing challenges that are plaguing many airlines.
"The company is suffering, and we need to reach an agreement that allows us to attract and retain the pilots ATI needs to support our growth," observed Capt. Tim Williams, the pilots' Contract Negotiating Committee chair. "The MEC's goal is to reach a position in the industry with our next collective bargaining agreement that recognizes our pilots' accomplishments and sets the foundation for a career at ATI."
Though the conditions on the line are less than tolerable, ATI pilots consistently demonstrate their commitment to providing the level of service their customers have come to expect, and they're strengthening their relationship with Amazon.
"The entire pilot group has worked tirelessly to achieve our meteoric rise in the industry, and our unity and drive are vital to our partners," Sterling remarked. "We have strong roots in providing outstanding service to the military and our charter customers, and we'll continue to nurture those relationships while simultaneously working to grow our relationship with Amazon as it moves toward market dominance in the express carrier industry."