Union Work Is Not for the Faint of Heart! (But It Starts There)
By Capt. Joe DePete, ALPA President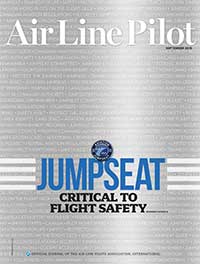 One of ALPA's greatest strengths is that we create a space where pilots with incredibly different backgrounds and experiences discover we're connected through the heart—our passion for aviation. From there, we work together, speaking with one voice to bargain strong contracts, defend fair competition, and ensure the safety and security of the skies. And let me tell you that when airline pilots speak in unity, it captures attention and creates change.
In a recent example of ALPA pilots' speaking in unity, when Known Crewmember® program uniform policy changes were unilaterally announced by the Transportation Security Administration (TSA) and Airlines for America, ALPA called for an opportunity to collaborate instead. The TSA agreed to temporarily suspend the policy, allowing the regulator, the airlines, and labor time to work together with a shared goal of secure, convenient access for eligible crewmembers.
In addition, I witnessed pilots' shared passion for aviation when I attended for the first time EAA AirVenture Oshkosh this year. As I enjoyed flying over Oshkosh in a Ford Trimotor, met key influencers from like-minded organizations, and attended workshops conducted by ALPA volunteers, I saw pilots' connectedness everywhere—and especially among our members.
I knew that pilots came to Oshkosh not only for the deep spirit of community but also to build a stronger future for our industry and profession. As ALPA's president, I wanted to be there. Of course, I was interested in seeing the planes (what pilot could resist?). However, as our union takes on our "recruitment to retirement" initiative, I also wanted the opportunity to envision the future of our profession in new ways.
As pilots, we're also connected by the lessons we've learned. From heartbreaking tragedy such as the 9/11 terrorist attacks we remember this month to the passenger and cargo airline accidents that occur, events like these bring us together to improve our system. This spirit takes shape in the work of every one of ALPA's more than 400 Air Safety Organization (ASO) volunteers, including those in ALPA's Aviation Jumpseat structure.
This year, the ASO's Jumpseat Forum celebrated its first decade. For more than 10 years, our union has defended captain's authority, improved the quality of our members' lives, and provided a greater level of safety and security for our passengers and cargo. As evidence, at this year's 65th Air Safety Forum, ALPA's Superior Airmanship Award was given to three pilots, including a jumpseater, who played a critical role in safely addressing an uncontained engine failure over the Pacific Ocean.
ALPA's history leaves no doubt that collective action allows airline pilots to achieve contracts that provide pay, benefits, and working conditions that reflect our contribution to our companies. However, it also shows that collective agreements enhance safety and security for the traveling and shipping public.
As safety advocates, ALPA pilots recognize that collective bargaining agreements play a critical role in the presence and effectiveness of proactive safety issue reporting. With a strong contract, procedures and processes are in place that encourage frontline employees to voluntarily report potential safety issues that lead to operational improvements without fear of retribution.
This connection between strong contracts and a proactive safety culture is only one of the reasons ALPA is standing together with Ryanair pilots in both Ireland and Britain as they fight for a fair contract. We support them in their goal of securing fair pay and working conditions, but also to ensure that the actions of Ryanair or any other airline management are never allowed to undermine safety.
ALPA recently worked with the International Federation of Air Line Pilots' Associations as well as leaders of the Irish Air Line Pilots' Association, the British Airline Pilots' Association, the AFL-CIO, the European Cockpit Association, and ALPA Canada to create a social media video to show our solidarity with the Ryanair pilots. The response was tremendous.
As Ryanair pilots—and all ALPA pilots—know, union work is tough. Standing up for what's fair, safe, and right isn't easy, and it's not for the faint of heart. But by standing together in solidarity, airline pilots in North America and around the globe will improve our contracts and our industry now and build a stronger profession for the future.