North American Wildfire Relief Efforts
ALPA Pilots Ensure the Safe Transport of Necessities, First Responders, and Evacuees
By John Perkinson, Senior Staff Writer
Lahaina the night of August 8, as seen from Wailea.
This year will be remembered, in part, for its numerous extreme weather events and the resulting disasters that ensued. Among these, North America has witnessed an inordinate number of wildfires. The National Interagency Fire Center indicated that, as of September 9, there have been 43,899 wildfires in the United States this year with an estimated 2.33 million acres of land destroyed.
Canada's numbers were even worse. While the Canadian Interagency Forest Fire Centre announced a "mere" 6,371 reported wildfires as of September 21, the damage spans a total of 43.5 million acres.
ALPA members were at the center of related relief efforts on the Hawaiian island of Maui and in the Northwest Territories in in Canada, providing a helping hand to crisis-stricken communities by delivering provisions and first responders and transporting evacuees.
The wildfires on Maui, which began on August 8, were the culmination of several weather-related circumstances. The dry season for Hawaii includes the summer months, but the island chain experienced unusually severe drought conditions. The El Niño weather pattern provided warmer-than-usual waters helping to spawn Hurricane Dora. Although this weather system was an estimated 700 miles to the south, it yielded high-speed winds for the state.
The Lahaina wildfire resulted in nearly 100 fatalities and more than 2,200 buildings destroyed
Together, these factors helped intensify a small brushfire, likely ignited by downed power lines, just east of Lahaina. The flames quickly spread through the northwestern Maui village, producing what became a firestorm, resulting in nearly 100 fatalities and more than 2,200 buildings destroyed. While the fire was 80 percent contained within approximately 48 hours, the burnt landscape included a 2,200-acre region as the fire continued to smolder for several days.
The state government quickly declared a state of emergency, mobilizing the Hawaii National Guard. President Joe Biden issued a federal major disaster declaration, initiating important relief programs and authorizing Federal Emergency Management Agency (FEMA) funds to help local wildfire victims.
FEMA directed many dislocated residents and stranded tourists to nearby hotels and motels, paying approximately $1.6 million in rental assistance. Many of these individuals were later evacuated to the other Hawaiian islands or to the continental United States. Daniel Inouye International, Honolulu's main airport, was soon inundated with individuals leaving the island.
United, Hawaiian, and Alaska Airlines spearheaded much of the relief efforts following the disaster, working together with other carriers to provide more than 150 relief flights from August 10 to 14.
Operating B-777s and B-787s, United transported huge quantities of food, medical supplies, and other provisions from organizations like the Red Cross and the World Central Kitchen, as well as first responders needed at the disaster site. The carrier added flights in and out of Honolulu. In addition, United contributed nearly $450,000 and 43 million Mileage Plus miles, transporting more than 11,000 individuals off the island.
Frontline Observations
"The last humanitarian sortie I participated in was conducted flying C-130s in the Air Force," said F/O Lauren Johnican (United), recounting her days as a military pilot. She remarked that she was surprised to see so little of the fire from the air even though, on August 11 as they approached the island, evidence of the conflagration was obvious on the ground. At Kahului Airport, Maui's main airfield, a gate agent told Johnican that phone and power lines were down and that no one was allowed into the areas where the fires took place.
Capt. Kent Moffer (United) recalled that, like many of the flights traveling from the mainland, his aircraft "had no passengers into Kahului Airport, but several thousand pounds of relief supplies. On arrival, it was obvious that the need there was great. The terminal literally had thousands of people trying to get off the island, yet it was very orderly."
While Capt. Jeff Brown (United) had several notable encounters on his Maui run, he recounted, "Most memorable for me was the departure controller switching us from her frequency and saying, 'United 3030 heavy, from a Maui girl, born and bred, I just want to thank you for what you did and the help you brought to my island and my people. We won't ever forget it. Mahalo and safe flight.' I don't think there was a dry eye on the flight deck."
For other pilots who flew relief flights, the primary concern was for relatives living on the island. F/O Sean Collins (United), who flew with Brown, observed, "I didn't find out until the day before that I had two family members lose their homes to the fires. One of my cousins evacuated so quickly that he left his cellphone behind. It took me quite a while to contact him." Collins added, "Thankfully, my family is safe apart from the loss of their homes."
"The memory that most comes to mind is one of our flight attendants working the relief flight into Maui, who lived in Lahaina and had lost her home and dogs in the fire," said Capt. Paul Nielsen (United). F/O Greg Sumner (United) recalled asking a Maui gate agent how she was coping. She replied, "Well, I can't find my family, I can't find my friends, but I'm here at work."
Getting Involved
Capt. Vince Eckelkamp (United) had been vacationing on Maui with his wife and daughter when the wildfire began. During the early morning hours on August 8, the Eckelkamps drove past Lahaina on their way to the airport. The B-777 pilot recalled that the winds were so strong that a large amount of sand was blowing in the air and shingles were coming off some of the roofs of homes. Massive waves of flames would soon sweep through the town.
Capt. Vince Eckelkamp (United) sits in the left seat for the August 9 flight he piloted from Maui to San Francisco, Calif.
When the Eckelkamps reached Kahului Airport, they learned that their flight had been delayed because the flight attendants hadn't arrived. The main cabin flight crew had been staying at a Lahaina hotel, and the airline was unable to contact them. Consequently, the flight delay was extended until the next day.
On August 9, Eckelkamp, upon hearing that the 3:30 p.m. departure time had been pushed back to 8:00 p.m., recognized a potential problem. This wait could easily impact the pilots' duty limitations. Upon further investigation, he learned that the assigned captain was on an operating experience flight and in danger of "timing out."
Eckelkamp spoke with Crew Scheduling, explaining the situation and offering to augment, if necessary. In short order, he was assigned to the trip and subsequently flew the leg to San Francisco, Calif., transporting 330 passengers, including his wife and daughter. For the flight, he wore shorts, a polo shirt, and tennis shoes, because that's all the clothing he had available.
Aloha Spirit
Hawaiian Airlines initially transported more than 12,500 people from Maui, delivered essentials to the island, and donated $150,000 to Hawaii and Maui food banks. The carrier transported more than 17,000 people from Kahului Airport within the first 72 hours of the crisis and even more in the days that followed.
One of the pilots flying relief trips was F/O Dinah West (Hawaiian). "I live on Maui and was flying interisland as the fires were happening," she said, adding, "In the days after the fires, the local community came together in an incredible way."
West remarked that the Honolulu-Kahului route is a popular pilot commuter run, but following the fires, she noticed that many of the regulars were nonrevving these trips for other reasons. Many were traveling to Maui to provide medical support, electrical assistance, and other needed vocations.
In August, Hawaiian was the only airline that didn't cancel flights to Maui as a direct result of the fires, making the carrier the most reliable alternative for these and other essential workers to use.
"So many crewmembers from other airlines reached out to check on friends in Hawaii, donated money, and organized supply donations to bring to Maui," West acknowledged. "The support from airline friends really made it clear what an amazing community we have within the industry."
In immediate response to the Maui wildfires, Alaska Airlines delivered more than 189,000 pounds of nonperishable food, water, and other provisions. While scheduled service between the Hawaiian islands wasn't available on the carrier, Alaska operated special evacuation flights from Maui to Oahu. The Alaska Airlines Foundation, with support from its pilots and other employees, contributed more than $100,000 to Hawaiian charities, and the airline donated 5 million Mileage Plan miles to charities like Kanu Hawaii and Maui Rapid Response.
Among the Alaska pilots flying relief and evacuation flights were flightdeck crewmembers Capt. Stephen DaSilva and F/O Taylor Barnard, Capt. John Beiter and F/O Graham Frost, and Capt. Travis Ord and F/O Alecsandra Devereaux.
In addition to United, Hawaiian, and Alaska, Delta Air Lines donated $250,000 to the American Red Cross specifically for its Maui disaster relief efforts, and FedEx Express delivered essential supplies on behalf of the World Central Kitchen.
Wildfires Ravage Canada
An ongoing drought and above-normal temperatures have helped fan Canada's worst wildfire season on record. Particularly hard hit were the Northwest Territories (N.W.T.), which as of August 14 accounted for 236 active fires so far this season.
Summer fires continued to spread, threatening multiple communities including the province's capital, Yellowknife. On August 16, the N.W.T. government directed the city's 20,000 residents to evacuate, stating, "Residents who choose not to evacuate should understand they stay at their own risk. Responders may not be able to come to your rescue if it's unsafe to do so."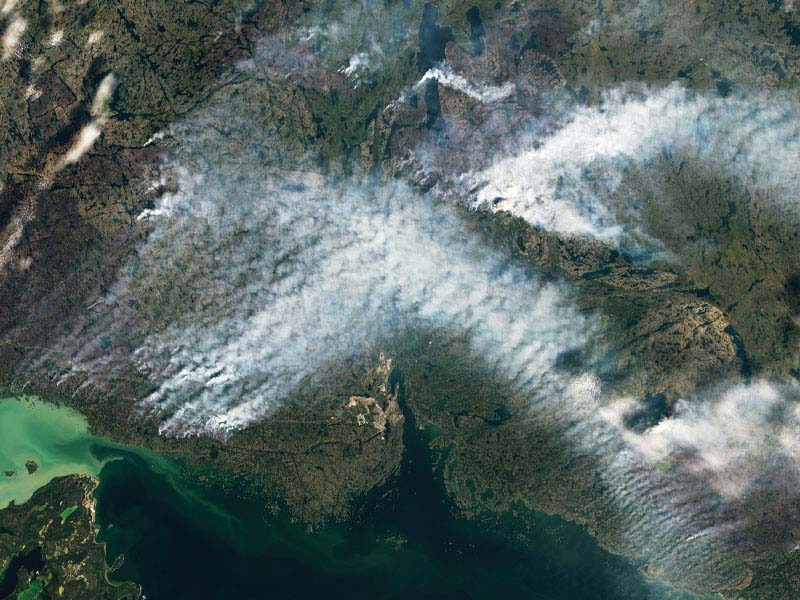 Smoke from the Yellowknife wildfires as seen from an aerial view.
Canadian Prime Minister Justin Trudeau authorized emergency relief programs and mobilized the Canadian Armed Forces through Operation LENTUS 23-07. Members of the military helped contain the fire, distributed sandbags, and delivered aid and transported evacuees using C-130 Hercules aircraft. They also assisted law enforcement and provincial authorities in getting information to the public and checked on residents who had disregarded the evacuation order.
On August 17, the fires were less than 10 miles (15 kilometers) northwest of Yellowknife. Airtankers dumping fire retardants temporarily hindered the fire's progression together with some light rain, but strong winds and uncertainty about the fire's path reinforced the importance of removing city residents from harm's way.
Long convoys of cars lined Highway 3, the main artery in and out of the community. Nearby, Yellowknife Airport handled the increase in both passenger and aircraft traffic as airlines added capacity to meet the demands of the emergency.
Canadian Transport Minister Pablo Rodriguez on August 18 announced, "Recognizing the urgency of the situation, we've granted necessary exemptions to allow pilots to extend their flying hours, ensuring that evacuation efforts continue uninterrupted; allow residents being evacuated to bring their pets on board their flights; and put in place more flexible identification requirements for passengers boarding flights who may have left their ID behind."
Air Canada, Canadian North, and WestJet Airlines canceled some of their scheduled flights to and from Yellowknife Airport so that they could be reassigned specifically for evacuations. More than 20 evacuation flights were arranged with service to Calgary, Alb., where special reception centers were opened to help manage the wildfire evacuees. Similar facilities were opened in other parts of Alberta as well as Saskatchewan, with British Columbia on call if the demand for support exceeded what was available.
From the Flight Deck
"I had seen the news of the wildfires near Yellowknife and was receiving updates from my family members who were there," said Capt. Chad Blewett (Air Canada). "With a mandatory evacuation being ordered as the fires approached the city, I knew Air Canada would be helping with those efforts. While normally we don't fly the B-737 MAX 8 to Yellowknife, our teams found a way to make it happen."
Capt. Chad Blewett (Air Canada) on the flight deck of a B-737 MAX 8 flown during evacuation efforts in Yellowknife.
Upon hearing news of the fires and the threat to the city, Blewett, who grew up in Yellowknife, immediately contacted Crew Scheduling and asked that his assigned flight to Honolulu be changed so that he could fly the evacuation flights to and from the N.W.T. capital.
"As I was flying in, I was thinking about my family because my dad and brother are still there, and my uncles and my cousins were visiting," Blewett recalled. "I saw family inside the terminal, and they seemed calm despite everything that was going on. They said they'd be leaving town the next morning."
He observed that flying directly over the fire on departure and noticing its proximity to the town was distressing. "It's tough to see; you think it's never going to happen to you or your family," he shared, continuing, "but I knew that the first responders on the ground would do their best to protect the city, my hometown."
Capt. Steven Bard (Canadian North), his pilot group's Master Executive Council chair and a Yellowknife resident, opted to evacuate his family by car. The Bards drove for 14 and a half hours to reach Edmonton, Alb. The very next day, he flew three evacuation flights.
Other Canadian North pilots flying relief trips included Capt. Dave Philpott and F/O Dylan Neilson, who on August 18 transported passengers to Calgary. With the huge crowds at Yellowknife Airport, members of the Canadian Armed Forces assisted with the boarding process.
Twenty-two days after the mandatory departure was announced, Yellowknife's residents were allowed to return home. Despite the devastating damage from the wildfires, the city was essentially spared.
Responding to these and other crises that have arisen, airline pilots continue to be on the front lines, demonstrating their value and importance to their airlines and local communities by delivering essentials to disaster areas and evacuating residents to safety.
Evacuees board a WestJet flight at Yellowknife Airport bound for Edmonton, Alb.
This article was originally published in the October 2023 issue of Air Line Pilot.