EMAS: Don't Swerve, Go Straight Ahead
By Capt. Jeff Sedin (United), ALPA's Airport & Ground Environment Group Chair, and Christopher Freeze, Senior Aviation Technical Writer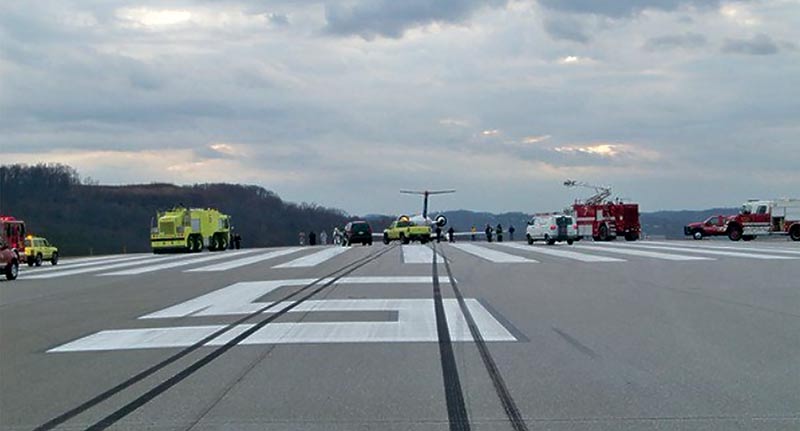 On Jan. 19, 2010, a PSA Airlines CRJ200, operating as US Airways Express Flight 2495, with 31 passengers and three crew aboard was stopped via EMAS on the departure end of Runway 23 at Yeager Airport in Charleston, W.Va. The flight crew aborted the takeoff, and the EMAS overrun stopped the jet from plunging down a steep mountainside.
It's been a long and rough flight at the end of a five-day trip. There are low clouds and wet surface conditions. You reduce speed, and the runway comes into sight. You hear the chirp-chirp of the landing gear, but the aircraft continues moving forward. Time slows as the runway lights ahead shift from white to red and then darkness as the wheels leave the runway and rumble into the overrun. And then the airplane finally stops—thanks to EMAS.
Engineered Materials Arresting System (EMAS) is the aviation equivalent to a runaway truck gravel bed commonly seen on highways in mountainous areas with steep downhill grades. Installed at the end of some runways that don't have adequate runway safety areas, these passive runway systems use specially constructed materials that crush as an aircraft's wheels sink into them, absorbing the kinetic energy quickly and bringing the aircraft to a safe stop.
Favored at airports where an object-free, graded area that extends 1,000 feet beyond the departure end of a runway isn't feasible, EMAS is a popular alternative. Today, EMAS is installed at more than 110 runway ends at 67 airports in the United States.
Nearly all of today's EMAS installations are made of ESCO's EMASMAX, current-generation blocks of crushable cellular cement material. A small number of existing and planned arrestor beds are Runway Safe's EMAS, foam silica manufactured from recycled glass and contained within plastic mesh that's anchored to the pavement at the end of a runway.
Born of Tragedy
On Feb. 28, 1984, a Scandinavian Airlines System DC-10, operating as Flight 901, overran Runway 4R upon landing at John F. Kennedy International (JFK) Airport, injuring 12 of the 177 passengers and crew aboard. While the airplane was repaired and flew again, the FAA researched the feasibility of, and develop criteria for, the design of a soft-ground arresting system.
After tests were conducted with phenolic foam and cellular cement, the FAA partnered with the Port Authority of New York and New Jersey to develop and install a prototype arrestor bed built with precast cellular cement blocks for Runway 04R at JFK. From that, the FAA issued the first generic specification for EMAS design, installation, and maintenance.
On May 8, 1999, a Saab 340B operated by American Eagle made an unstable ILS approach to Runway 04R at JFK and overran the end of the runway. The installed EMAS brought the aircraft to a safe stop, saving the 30 passengers and crew aboard in the first documented "save" for the new technology.
Since then, there have been 15 incidents in which EMAS systems have safely stopped overrunning aircrafts, the most recent in February 2021, when a Dassault F900 overran the runway at Chicago Executive Airport.
Knowledge Is Power
It's vital that pilots know and recognize what EMAS is so that when they're operating at airports with EMAS, they're aware of its presence and understand how to use it, if needed.
While EMAS is designed to safely stop an aircraft that enters the EMAS bed, operational experience shows that when aircraft approach the end of the runway at a high speed, some pilots have attempted to steer or veer their aircraft at the end instead of continuing straight into the EMAS. The majority of the time, this leads to aircraft damage and crew and passenger injuries.
However, the times that aircraft have gone straight into the EMAS bed, there's been minimal to no aircraft damage and minor or no injuries.
This action is similar to a driver swerving to avoid hitting a deer on the road and damaging the car. The driver will often wind up going into a ditch or colliding with other traffic. This causes more damage and leads to more injuries and deaths than striking the deer.
In the moment, the pilot may want to steer the aircraft toward where there's the most space and/or away from objects beyond the runway; however, the shortest, fastest, and safest way to stop the aircraft is to use EMAS.
Also, pilots shouldn't be concerned about the approach lighting system within EMAS. It's designed to break away and do very little to no damage to aircraft. Plus, EMAS is designed to be effective regardless of the reported braking action. It will stop the aircraft no matter the runway and taxiway conditions.
The use of EMAS in the PSA Airlines Flight 2495 accident allowed crew and passengers to deplane via stairs without emergency assistance.
Where's the EMAS?
Because EMAS requires flight crews to take a different approach to avoid damage and injury, it's vital to know if EMAS is installed on a particular runway to be used.
However, currently there are no signs or markings on the runway to inform pilots that EMAS is installed on a runway's end.
In response to this oversight, ALPA, the FAA, and airlines are working on changes to signage to highlight the location of installed EMAS overruns.
Some airlines have placed notations on documents like airport diagrams and within electronic flight bag software to alert pilots to the presence of EMAS, but this isn't consistent across the industry. Furthermore, EMAS isn't depicted on the instrument approach procedure charts that pilots are most likely using. That's why it's so important for pilots to be briefed on the availability of EMAS during or prior to departure or arrival.
Another way for pilots to remember that a given runway intended for takeoff or landing has EMAS installed is to add the word "EMAS" to their takeoff/landing performance calculations. This is one more reminder that the system is available for use.
Best Practices
EMAS is an amazing safety tool that, if needed, results in crewmembers, passengers, and aircraft having a much better chance of surviving with little to no damage or injuries. If a pilot knows that the airplane is going to overrun onto an EMAS installation, the recommended practice is to maintain directional control of the aircraft and roll straight into it. By doing this, the aircraft will come to a complete stop over a short distance, regardless of the runway conditions or braking action being experienced.
It's important that pilots take it upon themselves to learn more about EMAS, where it's installed, and how to properly react in the event it's encountered. This could be done in a 10-minute computer-based training event explaining what EMAS is designed to do and what pilots should do if they need to use the system: Go straight ahead.
A cross-sectional sample of EMAS material.
This article was originally published in the August 2021 issue of Air Line Pilot.