ASO Leaders, Volunteers 'Put in the Work' at Air Safety Forum Meetings
By ALPA Staff
The Air Safety Forum formally opened on Monday, September 11, with two days of private group sessions to discuss successes, priorities, and next steps in the Air Safety Organization's (ASO) four pillars of Aviation Safety, Aviation Security, Pilot Assistance, and Aviation Jumpseat. These meetings gave ALPA's ASO volunteers the opportunity to engage with their colleagues from across the Association, network, share issues affecting ALPA pilot groups, and collaborate with industry and government officials.
"This is where we put in the work that fuels our success," said Capt. Wendy Morse, ALPA's first vice president and national safety coordinator. "These meetings and the collaboration with industry and government help lay the groundwork for future improvements within the industry."
Read on for brief summaries of each of the meetings.
Security Council Meets
The ASO's Security Council—consisting of the Security Committee chairs of each of ALPA's pilot groups, with visitors from New Zealand joining as observers—met on Monday at the forum, followed the next day by the Security Forum with speakers, presentations, and discussions.
Capt. Eric Herman (Sun Country), ALPA's Security Council chair, welcomed attendees, who received information about security threats in Asia and Europe, a briefing on the "Rap Back" program, and a legislative update from ALPA's Government Affairs Department before hearing from the group's subject-matter experts on security issues such as Known Crewmember®, P-56 airspace, cargo, visas, unmanned aircraft systems (UAS), the Federal Flight Deck Officer program, and more.
The chairs also shared issues and concerns from their respective pilot groups, receiving input and advice from their colleagues and networking to address common topics. The group closed the day discussing next steps and priorities for the future.
The Security Forum convened on Tuesday, led by Capt. Wolfgang Koch (Delta), the ASO's Aviation Security Group chair, and consisted of presentations from the FBI, the Royal Canadian Mounted Police, United Airlines, and various ALPA security subject-matter experts. Topics included an update on international and domestic counterterrorism efforts, geopolitical threats and how airlines are addressing the safety of crewmembers, a report regarding Canada's in-flight security officer program, and a demonstration from a vendor on a potential security-centered app with a 21st-century communications platform. This platform will better address the needs of ASO volunteers and the incident reporting ability for ALPA pilot groups.
"I'm proud to have a passionate group of volunteers here working to protect the needs of our pilot groups while at work and on overnight layovers," said Koch. "The Air Safety Forum brings visibility to the work the Security Council does to highlight important security topics. We're able to further our collaboration with industry partners, other union associations, and regulators to formulate a more secure working environment. Working together, the Security Group looks to protect the pilots we represent."
Jumpseat Forum Convenes
The Jumpseat Forum, which was moderated by Capt. Brandyn Gonzalez (Endeavor Air), examined the status of this important pilot privilege, how it continues to evolve, and the importance of upholding pilot-in-command authority. The two days of presentations and panel discussions featured Q&A sessions, providing the 100-plus attending pilot reps from more than 50 airlines an opportunity to query subject-matter experts while commenting on trends at their respective airlines.
The first panel, "What Happened 22 Years Ago and the Effect on the Flight Deck Jumpseat," examined limitations implemented following the events of the 9/11 terrorist attacks. Capt. A.J. Berlotti (Alaska), ALPA's Aviation Jumpseat chair, remarked, "For those of us who were flying that day, the rules were forever changed."
Other panel discussions included "What We Need to Do: Education—Etiquette—Training" and "How to Better Communicate as a Group—Jumpseat App 2.0." The latter panel highlighted the continued success of the ALPA app for smartphones and tablets and, in particular, the Jumpseat Flight Finder feature, which has yielded more than 4 million searches.
In addition to these tools, ALPA pilots have access to an award-winning Jumpseat Etiquette video. Capt. Ben Wallander (Delta), ALPA's Aviation Jumpseat director of communications, commented, "All these features are designed to make pilots' lives easier."
Panelists reviewed jumpseating status in Canada and the differences in jumpseating on all-cargo carriers. United pilots are now authorized flight deck access on domestic Air Canada routes, and some all-cargo carriers allow pilots off-line access to a host of global destinations. Capt. Shawn "Mack" Murray (Kalitta Air), his pilot group's Master Executive Council (MEC) Jumpseat chair, said, "Be sure you have all the necessary documentation," adding that it's listed in the ALPA app.
Other presentations included Capt. Bob Spadea (United), ALPA's Aviation Jumpseat Education and Training subject-matter expert, and Capt. Bob Mack, United's B-737 manager, Fleet Technical Ops, who discussed the extreme heat this summer and numerous denied boardings resulting from weight restrictions. Pilots also reviewed changes to myIDTravel for jumpseat listings.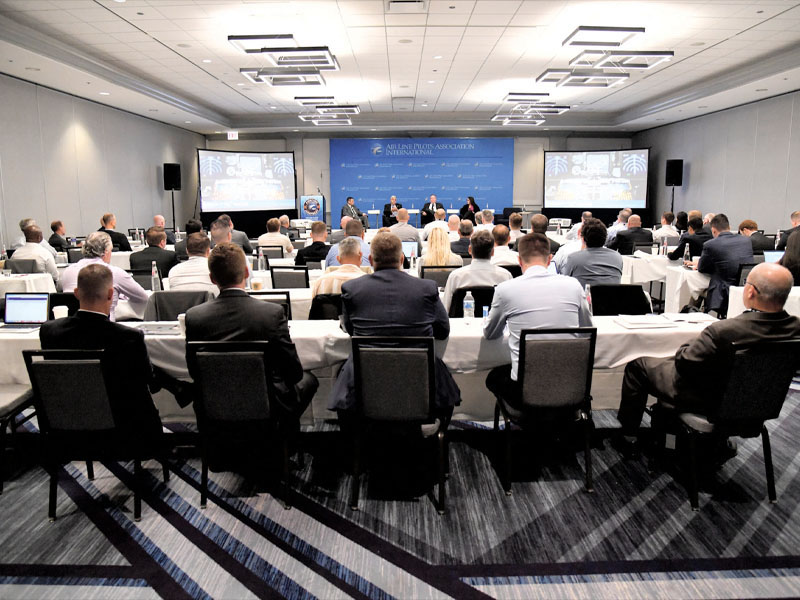 Jumpseat Forum attendees focus on the importance of upholding pilot-in-command authority.
Safety Council Meets
Capt. Blake Kelly (JetBlue) and Capt. Bill Nash (Spirit), the Safety Council's chair and vice chair, respectively, led a meeting that began with a discussion on the goals, mission, and objectives of the council. Guest speakers included Kimberly Pyle, the FAA's executive director for the Office of Accident Investigation and Prevention, who discussed the importance of safety culture and labor involvement. Dr. Kyle Ellis, a project manager at NASA, gave a presentation on the evolution of safety management systems (SMS) and the System-Wide Safety Project.
Multiple groups from individual Central Air Safety committees, including Delta, FedEx Express, JetBlue, and Spirit, gave briefings on the development of subcommittees and best practices for each group.
Training Council and HFT Group Hold Joint Meeting
Capt. Joshua Assayag (United), ALPA's Training Council chair, and Capt. Todd Lisak (JetBlue) ALPA's Human Factors & Training (HFT) Group chair, opened the meeting with introductions followed by a presentation by F/O Samantha Brown (United), ALPA's director of Human Factors. She noted that human factors in aviation refers to the study and understanding of the interactions between pilots and the various elements of the flying environment, including aircraft systems, operations, equipment, and other crewmembers. The goal for human factors is to optimize human performance and reduce human errors. An FAA representative discussed the Pilot Records Database and answered questions that ALPA had provided in advance of the meeting. Committee members reviewed hot topics at their airlines and shared how they've resolved issues.
Joint Safety Council, Training Council, and HFT Group Meeting
Kelly, Assayag, and Lisak welcomed more than 80 attendees from approximately 20 master executive councils (MECs) to the joint session on Tuesday. The daylong meeting brought together multiple safety-related groups. Morse; Capt. Steve Jangelis (Delta), ALPA's Aviation Safety chair; and Capt. Jean-Claude Patchell (Jazz Aviation), ALPA's Aviation Safety coordinator–Canada, addressed the meeting, stressing how safety and training go hand in hand and acknowledging the work of the three groups on behalf of all pilots. In addition, attendees received briefings from the five ASO technical groups—Airport & Ground Environment (AGE), Accident Analysis & Prevention (AAP), Air Traffic Services (ATS), Aircraft Design & Operations (ADO), and HFT. There was also an interactive discussion on the changing demographic of pilots being hired by airlines and whether air carriers are requiring more than the FAR minimum training requirements as a result.
Canada Breakout Session
With several new pilot groups joining ALPA in the past year, the Canada Breakout session was well attended. Senior officials from Transport Canada and NAV CANADA highlighted developments related to airlines and received input from members on issues such as Transport Canada's fatigue and approach ban regulations and NAV CANADA's True North Navigation initiative. The chair of the Transportation Appeal Tribunal of Canada provided a briefing on how pilots can appeal violations or medical restrictions imposed by Transport Canada and introduced a new tool to make the process more efficient.
New this year was a panel discussion on remotely piloted aircraft systems. Representatives from Transport Canada, NAV CANADA, Canadian Advanced Air Mobility, and the Drone Pilot Association of Canada shared their perspectives while ALPA representatives emphasized the importance of not removing pilots from the flight deck and shared additional safety concerns.
Cargo Committee and Dangerous Goods Convene Joint Meeting
Capt. Rich Hughey (FedEx Express), ALPA's Cargo Committee chair, led the first day's conversations between ALPA and industry subject-matter experts. The group examined the unique risks ALPA pilot groups are facing in today's operational environment while carrying freight and various mitigation techniques based on the experiences of other industry stakeholders. Attendees also heard from an FAA representative regarding International Civil Aviation Organization (ICAO) personnel training and licensing, automation dependency, flight path management, pilot workload, and system safety assumptions.
In addition, Capt. Shem Malmquist (FedEx Express) addressed the group on the efficacy of single-pilot and reduced-crew operations using MIT's System-Theoretic Accident Model and Processes, which demonstrates increased risk when removing pilots from the flight deck.
Capt. Scott Schwartz (FedEx Express), ALPA's Dangerous Goods program director, moderated the second day's conversations with government and industry subject-matter experts. Discussions covered aircraft systems limitations, procedures used to suppress cargo compartment fires, and the importance of properly conducting risk assessments on cargo carried in those compartments. Schwartz also reviewed proposals he presented to the ICAO's Dangerous Goods Panel, which are still under consideration, to reduce the state of charge of most lithium batteries transported by air.
ALPA's Cargo Committee and Dangerous Goods group hold a joint meeting at the Air Safety Forum.
Remote Operations Committee Gathers for Meeting
The Remote Operations Committee met Tuesday to discuss the concerns associated with day-to-day operations in remote regions, including North America's far north, and the adequacy of airports as enroute diversion alternates for international flights over the polar regions. Topics discussed included the Russia-Ukraine conflict that's significantly curtailed flights in polar regions, with ALPA advocating for a full assessment before any potential airspace reopening, and an effort to adapt the U.S. Cold Temperature Correction process to Canada. The committee will next meet in early 2024 to continue to work high-priority activities and identify new issues that arise.
Aeromedical Chairs Meeting
F/O Ellen Brinks (Delta), ALPA's Aeromedical Group chair, and F/O Richard Mahoney (Spirit), the Aeromedical vice chair, facilitated the Aeromedical Committee chairs meeting during which various medical topics were discussed, including cabin air quality and special-issuance medical processing times and deferrals at the FAA. Other topics covered recent updates to the Guide for Aviation Medical Examiners, which added information on ADHD and diabetes mellitus Type I and II. Attendees also received a briefing from ALPA's Government Affairs Department and the Reduced Crew Operations Committee regarding aeromedical issues that could impact flight crews and issues that have already impacted flight crews.
Chief Accident Investigator Group Refresher
Capt. Jeff Perin (Spirit), ALPA's Chief Accident Investigator Group chair, welcomed attendees to a refresher on Tuesday. Representatives from the NTSB and the Transportation Safety Board of Canada addressed the group, discussing the investigation process in the United States and Canada, including how an investigation is opened and the various duties and responsibilities within an investigation. Capt. Matt Gorshe (Spirit) gave a presentation on a few recent NTSB investigations and ALPA's participation.
ALPA's chief accident investigators receive briefings from the NTSB and the Transportation Safety Board of Canada.
Professional Standards Chairs Hold Meeting
Capt. Tom Letson (Delta), ALPA's Professional Standards chair, led the meeting, which started with an update from various ALPA pilot groups regarding caseloads, volunteer numbers, and the types of support needed for their individual committees. Capt. Jason Graves (JetBlue), ALPA's Professional Standards subject-matter expert, briefed attendees on trainings since the last meeting and provided an update on the process and development of Professional Standards 201 level training and other future trainings requested by Professional Standards chairs. Discussions also included generational differences and how those differences can affect pilot interactions.
Critical Incident Response Program Chairs Meet
Capt. John McFadden (United), ALPA's Critical Incident Response Program (CIRP) chair, and Capt. Marshall Motley (Spirit), the CIRP vice chair, provided an update on CIRP training accomplishments and future training goals. They shared successes and challenges when responding to events at their respective pilot groups and lessons learned from some of the incident/accident responses. McFadden observed that the meeting was very productive, noting the sharing of resources among the various pilot groups and enhanced communications to support ALPA members and each other as CIRP leaders.
Pilot Peer Support Meeting
F/O Carrie Braun (JetBlue), ALPA's Pilot Peer Support (PPS) chair, facilitated an open discussion with PPS peer volunteers regarding better understanding of pilot mental health and how to support a pilot seeking PPS assistance. Attendees heard from subject-matter experts on the pilot personality, understanding different types of coping strategies, and anxiety and depression. The group was also briefed by an FAA representative on how the agency approaches mental health and on demystifying counseling.
F/O John Hamilton (JetBlue) provided an overview of the work he does with a nonprofit organization that facilitates veterans working with youth. F/O Sonny Ruff (United), the PPS vice chair, reminded the group that self-care is an important tool for mitigating burnout, especially when dealing with some of the more difficult mental health issues.
F/O Carrie Braun (JetBlue), ALPA's Pilot Peer Support chair, addresses peer volunteers.
Pilot Assistance Canada
The Pilot Assistance Canada meeting, facilitated by Capt. Jacques Gendron (Air Transat), discussed restructuring the Pilot Assistance Committee to better serve Canadian pilot members now that ALPA Canada has 21 pilot groups and 11,000 members. Attendees were briefed on trainings related to Pilot Peer Support, the Critical Incident Response Program, and Aircrew Recovery Canada and reviewed the resources available to Canadian pilots, including the new Pilot Assistance Canada website (canadianpilotassistance.com). The aeromedical subject-matter expert updated the group on the progress of establishing a better relationship with Transport Canada.
AAP Group Convenes Meeting
The AAP Group, chaired by F/O Jeff Mee (United), gathered Monday. Jangelis addressed the group, thanking them for their hard work and stressing the importance of the work they do. He referenced the increased number of recent high-profile events, including several near-miss events and runway incursions. Group subject-matter experts briefed attendees on a variety of important issues and priorities, such as dangerous goods and risk assessments; current Aviation Safety Action Program (ASAP)- and Flight Operational Quality Assurance (FOQA)-related programs; the Joint Implementation Measurement Data Analysis Team, including TCAS and the Fatigue Working Group; and the efforts of ALPA's Accident Investigation Board, including recent investigations.
ATS Group Meets
Capt. Doug Willey (United), ALPA's Aviation Safety Group vice chair and ATS Group chair, along with Capt. Craig Boxrucker (Alaska), the ATS vice chair, welcomed ALPA pilot volunteers, industry representatives, international organizations, and presenters. The two-day meeting focused on the challenges of modernizing the national airspace system, airspace integration of new entrants, global harmonization of air traffic operations, and new technology to improve air traffic management. Willey closed the session by extending his gratitude to the attendees for their continued participation and commitment to safety and challenged them to continue their vigilance and involvement in the coming year.
ADO Group Gathers for Meeting
The ADO Group, led by F/O Chris Sidor (United), the ADO chair, met Monday and Tuesday. Topics on the first day included the SAE AC-9/OS Working Group, master minimum equipment list, Canadian issues, the Flight Training Harmonization Working Group, UAS, and RTCA, with multiple productive conversations taking place. Tuesday kicked off with a reduced-crew operations briefing followed by a joint group session among the ADO, ATS, and AGE Groups. Attendees also heard presentations from Boeing, Airbus, and Fortem Technologies representatives. The group emphasized the need for collaboration, including crosstalk among ADO, ATS, and AGE members, with a focus in 2024 on working together as a larger group when projects overlap and for the success of ALPA's safety initiatives.
AGE Meets
The AGE Group, chaired by Capt. Jeff Sedin (United), met with a focus on filling more airport safety liaison positions to achieve better coverage for ALPA pilots. The group also discussed potentially adding airport runway status lights at existing installations, noting they provide critical information to pilots. Sedin stressed the importance of having ALPA pilot reps attend annual Runway Safety Action Team meetings, especially at airports ALPA pilots frequently fly in and out of. Group members are working with NAV CANADA and the FAA regarding the ability to attend the meetings virtually. Other topics included working with air traffic control on standard phraseology, aircraft rescue and firefighting services, and improved winter operations and condition reporting.
Safety Information Analysis Program Holds Meeting
Capt. Kevin Slovinski (Spirit), ALPA's Safety Information Analysis Program director, welcomed participants to the Tuesday afternoon meeting. He reviewed the importance of voluntary safety programs such as ASAP and FOQA and how trust is the foundation to successful programs. Slovinski also discussed ASAP and FOQA CrossTalk, focusing on assessing pilot group readiness and ALPA resources available for those interested in pursuing an agreement. This sparked a conversation on program best practices that are currently in place for a successful CrossTalk program. The group was also briefed by Capt. Landon Harman (Delta) on Flight Pulse, the pilot self-assessment program that's being implemented at Delta, highlighting the preflight knowledge that can be shared on the app.
Safety Information Analysis Program members review the importance of voluntary safety programs.
SMS Breakout Session
Capt. Helena Cunningham (Delta), ALPA's SMS director and Central Air Safety chair for her pilot group, opened the meeting Wednesday afternoon with a focus on solidifying labor's voice in the process. Capt. Blake Kelly (JetBlue), his pilot group's Central Air Safety chair, discussed the importance of labor's involvement in SMS and the long journey at his carrier to codify participation through contractual language. Capt. Brian Moynihan (Alaska), his pilot group's Central Air Safety chair, reviewed the SMS structure at his airline and the touchpoints for ALPA. Cunningham and Capt. Lucy Evans (Delta), her pilot group's Central Air Safety SMS Subcommitttee chair, broke down the four pillars of SMS—safety assurance, safety risk management, safety policy, and safety promotion—and discussed how ALPA volunteers could actively participate. Attendees left with a shared understanding of their role in an SMS and the value they provide through participation.
The private days concluded with a better understanding of where ALPA has come from and where it's going as the world's largest nongovernmental safety organization.
Flickr Slideshows of Day One and Day Two of ASF


This article was originally published in the October 2023 issue of Air Line Pilot.