9/11 Scholarships: Producing New, Passionate Pilots
Recipients honor fallen pilots by carrying on their flying legacy
By Kevin Cuddihy
Airline pilots will never forget Sept. 11, 2001, when terrorists used U.S. airliners as weapons to cause death and destruction, forever changing the airline piloting profession.
In the wake of the devastating attacks, pilots and families of the fallen searched for a way to honor the lost crewmembers that would help lead the next generation of airline pilots into the profession. In memory of the United Airlines pilots of Flight 93, which crashed into the Pennsylvania countryside, two charitable foundations were established—the Captain Jason Dahl Scholarship Fund and the LeRoy W. Homer Jr. Foundation—that support kids' dreams of becoming airline pilots. Both foundations awarded their first scholarships in 2003, and they continue to support the next generation of pilots.
The funds operate through donations received from friends, neighbors, and strangers alike, as well as through enormous support from United Airlines pilots. "United pilots have long honored the memories of our fallen 9/11 brothers by supporting these worthwhile funds, as well as other 9/11 charities and foundations," said Capt. Todd Insler, the United pilots' Master Executive Council chairman. "We consider it our duty to carry on the legacies of the four United pilots who lost their lives 15 years ago, and supporting these charities and foundations is a great tribute to those who made the ultimate sacrifice that day."
The Association will never forget the ALPA members who were victims of 9/11: Capt. Jason Dahl and F/O LeRoy W. Homer Jr. of United Flight 93 and Capt. Victor Saracini and F/O Michael Horrocks of United Flight 175. Click the photo to learn more about the lives and careers of these four heroes and never forget the sacrifices they made.
The Capt. Jason Dahl Scholarship Fund
F/O Justin Dean (United) [click the pilot names to learn more about them] received a scholarship from the Dahl fund in its second year of operation and today is not only a pilot for United, but also a board member for the Dahl fund. "Flying is my passion, and although 9/11 was a horrific day," he said, "it didn't dissuade me from wanting to follow my dream." He added, "I have a full understanding of what a huge difference this scholarship can make. I love being able to be part of a wonderful group of people and help young aviators achieve their dreams."
F/O Michelle Bush (Spirit) is also a past Dahl fund recipient and current board member. She noted that "My favorite part of being a board member is reading the essays from the students. It brings back memories of my own sparkle for aviation, and it's so exciting to see that same passion in the newest generation of pilots."
The Dahl fund has awarded 125 scholarships since 2003, including scholarships to five more ALPA pilots flying the line today: F/Os Craig Utas (Delta), Luke DeNooy (United), Daniel Schumann (Delta), Andrew Voss (JetBlue), and Scott Singleton (Compass).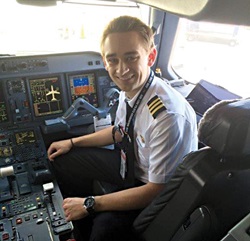 Singleton interned for United before starting his airline career and learned about the more personal side of the tragedy as well. "I met many people, including friends of Capt. Dahl, who told me their stories about 9/11 and how the tragedy affected them," he explained. "Those are the memories that will stick with me for the rest of my life." The scholarship, he said, "gave me a sense of duty to do my part in making sure Capt. Dahl's legacy continues to live on."
It has also served as a helping hand for many following their dream to fly. "The Dahl scholarship helped me achieve my dream of becoming a pilot and getting into the aviation industry," said Voss. "Without this scholarship and others like it, many deserving students and prospective airline pilots would not be able to get as far as they do."
As a current United pilot, DeNooy acknowledged, "I was so grateful for the opportunity when I was hired at United," he explained, "not only because it had been a career goal of mine, but it also meant a great deal as a past scholarship winner. I'm honored to help in a very small way to carry on the legacy of Capt. Dahl at United."
Schumann shares that sentiment. "I received the scholarship in 2011, which really felt full circle—10 years after the events of 9/11.... To receive a scholarship named after someone who gave their life doing what they loved was a huge honor and meant a great deal to me. It still does, as it has allowed me to continue on my path and end up where I am today."
Utas was attending college on 9/11 and had already committed to becoming an airline pilot. "I was actually scheduled to start my first lesson toward my instrument rating the next day," he recalled. But he never had second thoughts after the tragedy and said the scholarship came at the perfect time—putting him in a position to start working as a pilot as soon as he graduated. "The Dahl scholarship fund is carrying on his legacy by helping so many people start their careers as airline pilots," Utas said. "As a result of all the help I received from them and others, I feel like it's my duty to do what I can to pay it forward."
That's music to the ears of Capt. Tom Bush (United), the acting president of the Dahl fund. Bush said that after 9/11 Dahl's friends, colleagues, and neighbors "came out of the woodwork" with stories of what he had done for them. "We felt that it would be a shame to not continue honoring Jason and all the heroes of 9/11," he acknowledged. "And what better way to honor him than to pay it forward to future aviators and help them attain their hopes and dreams?"
Bush recounted a story about how Dahl received a scholarship in college on the basis of an essay titled "Why I Want to Fly." "We want that same ambition, that same drive and passion from our recipients," he explained. That's why, he said, the Dahl fund application asks for an essay submission with the same title.
The LeRoy W. Homer Jr. Foundation
"LeRoy loved to fly," Melodie Homer, LeRoy's wife, said. "He was one of those kids who always knew what he wanted to be when he grew up," and the foundation looks to support people just like him. Capt. Josh Mech (Compass) received a grant in 2009, and his career took off. "Winning this scholarship is what really gave me my start in aviation and on the airline career path," he said. "And there's no doubt in my mind that without the help and support of the LeRoy W. Homer Jr. Foundation I would not be where I am today."
"We look to choose a recipient who, absent our support, just might not get a chance to realize the dream of becoming a pilot," said Capt. Brian Florence (United), a director-at-large of the foundation. "We're looking for that next LeRoy to help them achieve their dreams." Melodie Homer acknowledged, "We want the message to be that if you want to be a pilot when you grow up, it's possible—and the LeRoy W. Homer Jr. Foundation wants to help make those dreams a reality!"
As long as these dreams continue, the legacy of those lost will live on. "People who fly with me ask about my LeRoy Homer Jr. Foundation pin that I wear on my tie," said Mech, "and I always tell them that it's because of him and the foundation in his honor that I'm where I am today. I'm honored to have won the LeRoy W. Homer Jr. Foundation Scholarship, and I'm privileged to represent him and the foundation by continuing his legacy as an airline pilot."
Scholarships that Soar
According to its website, "The mission of the LeRoy W. Homer Jr. Foundation is to encourage and support young adults who wish to pursue careers as professional pilots. In addition, the foundation promotes awareness about aviation careers to disadvantaged youth." The scholarship is awarded to individuals pursuing a pilot license on their own and who are not part of any college, university, or aviation program, and is not used for college or university tuition, but rather to pay for completing flight training. Eighteen scholarships have been awarded since 2003, and all but one recipient currently works in the aviation field.
To apply to the LeRoy W. Homer Jr. Foundation, visit www.leroywhomerjr.org.
The Dahl fund provides "scholarships for qualified students who wish to attend accredited commercial flight training schools in the United States." To be eligible for the Captain Jason Dahl Scholarship, the recipient must
be a full-time student having completed at least one semester at an accredited four-year university.
be majoring in aviation, with an emphasis in pilot-related studies.
To apply to the Captain Jason Dahl Scholarship Fund, visit www.dahlfund.org.
Show your Support
"Donating to the funds is a way to pat the pilots' families on the back and say, 'We have not forgotten you,'" said Capt. Brian Florence (United). You can donate to either or both of these funds—plus memorials for two of the other victims of 9/11, Capt. Victor Saracini (United) and F/O Michael Horrocks (United)—at www.justabuck.info. United Airlines employees can learn on this site how to sign up for automatic payroll deductions of any amount to one or all four funds. Donations can also be made directly to the funds at their respective websites.
ALPA 9/11 Pins
ALPA is offering 9/11 memorial pins free of charge to active members in good standing. To order, please e-mail your name, address, and ALPA member number to SMDR@alpa.org. Quantities are limited, so orders (one pin per member) will be processed on a first-come, first-served basis. To check the status of your request, e-mail SMDR@alpa.org. Please do not send multiple requests.
Living the Legacy
Want more information about these scholarship recipients, the impact the scholarship had on them, and their paths to the cockpit? Click on their names below or throughout the article for a more in-depth look.
"It's very humbling working with the very same people who helped me achieve my dream, and I look forward to years ahead helping countless more young aviators achieve their dreams."
F/O Justin Dean (United), Dahl Fund—2004
"My grandfather was a pilot and was always one of the men i admired most. He flew in the RCAF and later worked for Transport Canada. Listening to all of his stories is probably what planted the idea in my head."
F/O Craig Utas (Delta), Dahl Fund—2005
"My strongest memory of 9/11 is the immediate rise to action to help those in need. The country came together and opened its arms to anyone in need."
F/O Michelle Bush (Spirit), Dahl Fund—2006
"Even though I lived halfway across the country and didn't know anyone directly involved at the time of 9/11, I knew the impact it had on me, our country, and the aviation community."
F/O Luke DeNooy (United), Dahl Fund—2007
"While I was growing up, being a pilot was always an impossible dream for me. I was born with a severe to profound hearing loss, and for the longest time I didn't believe that I had the hearing to be able to fly.
Capt. Josh Mech (Compass), Homer Foundation—2009
"Capt. Dahl directly influenced my success and afforded me the chance to be where I am today. His life was cut short, yet he is still positively influencing the lives of those who are following in his footsteps."
F/O Daniel Schumann (Delta), Dahl Fund—2011
"I knew that i wanted to become a pilot when I was 10 years old.... I thought it was the most magical experience of my life, and from that point on I knew flying is what I wanted to do."
F/O Andrew Voss (JetBlue), Dahl Fund—2011
"I have always been asked about terrorism and why I still wanted to fly, and I always responded saying that I was born to fly and I would help make the skies safer."
F/O Scott Singleton (Compass), Dahl Fund—2012
This article was originally published in the September 2016 issue of Air Line Pilot.