Air Line Pilot, January/February 2002
President's Forum: Positioning for the Future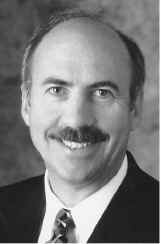 This Association and our members have experienced some extreme highs and lows this year. Generally, we have done very well for ourselves. And, as always, there is room for improvement.
Successfully negotiating numerous ALPA contracts through the use of pattern bargaining was certainly a high point for 2001. The Delta pilots were able to use the previous success of the United pilot group to raise the contract bar, once again, for the megacarriers. And, of course, the successful Comair pilots' strike clearly defined new bargaining standards for smaller carriers while strengthening our position that pilot pay and compensation must be re-moved from airline competitive equations—no matter the size of the carrier or the airplanes that pilots fly. The Air Wisconsin pilots were able to use the Comair success to raise the bar even higher.
Our ongoing pilot unity program helped to bring Continental and Continental Express pilots into ALPA and has brought FedEx pilots to an election for ALPA representation in early 2002. The addition of these pilot groups to this union should be a very positive move for us and for them.
Since the last Board of Directors meeting, we have changed the way ALPA conducts its financial business and have, as a result, strengthened our financial status. We are more financially sound than ever before and, as a consequence, well prepared for the coming storm in 2002. In the face of pilot furloughs in 2001 and 2002, our strong financial position allowed us to reduce our 2002 budget by $28 million without too many adverse consequences to the organization as a whole.
Low points for the year were certainly the multiple airline bankruptcies and shutdowns in the United States and Canada. Of course, the lowest point was the terrorist attacks of September 11.
We seem to measure our success against the backdrop of September 11. Before and after that tragedy, we have become stronger as an organization, as the advocate of airline pilots, and as a major force within the global airline industry. Pilots know that a great deal of preparation, from training to preflight planning and checklists, must go into each flight before we move an airplane into position for takeoff. In a similar manner, we have been preparing ALPA to take off into the 21st century. In recent years we set a course, planned how to arrive at our destination, looked for possible turbulence, provided training, and moved our union into position to adapt to the ever-changing environment we know as the airline industry.
As a result of this planning, ALPA was in a position of strength and financial stability, when, on September 11, terrorists used four airliners to murder thousands of innocent victims in the Pentagon in Washington, D.C., in the World Trade Center in New York City, and in a field in Pennsylvania.
On that day, the world changed.
ALPA, however, was steadfast. Minutes after the shock of those terrible events, we were prepared to act. Our security, representation, legislative, and communications resources kicked into full gear. Everyone seemed to want to know, "What does ALPA think about airport and aircraft security? What does ALPA think can be done to restore the confidence of the traveling public?" We collectively responded with professionalism, expertise, and a sense of calm and purpose that gained even more respect for the Association. Will our efforts and positions make the skies safer and will the traveling public return to the air? I certainly think so. But real security will require time, funding, and careful planning.
In the interim, airlines, already struggling with declining revenues after seven years of unprecedented growth, quickly called for pilot and other airline employee furloughs and contract concessions. We are willing to discuss realistic, short-term proposals to re-duce airline costs when appropriate. However, we have learned well the hard lessons of the 1980s and 1990s that due diligence and a plausible business plan are mandatory before we even consider sitting down to a bargaining table.
What will 2002 be like? Certainly airport and aircraft security will be high on our list. Also among ALPA's priorities will be protecting pilots' interests, continuing to fight cabotage and foreign ownership, continuing to unify pilots under one union, and improving cooperation and coordination between large and small pilot groups. Our success will depend on our resolve and our unity, because collectively, we are ALPA.
s/Duane E. Woerth