Air Line Pilot, June/July 2001
President's Forum: Respect for ALPA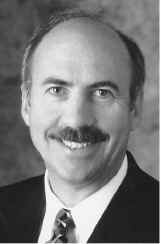 I have often expressed my respect for the depth and breadth of ALPA's efforts throughout the airline industry as the premier advocate for airline pilots. If an aviation matter or issue affects airline pilots—positively or negatively, directly or indirectly—ALPA is there to present airline pilots' viewpoints; to provide our extensive expertise, on-site experience, or technical research; and to protect airline pilots' interests. Some recent comments and reactions from outside observers have bolstered my already high opinion of our union, our members, and our professional staff. For example, a reporter from the New York Times who follows the airline industry recently expressed his observation that ALPA seems to influence every facet of aviation—not just collective bargaining, but everything from safety to international policy formation to establishing regulations and legislation.
In May, I participated in the 10th annual aviation community symposium in Phoenix. This was a must meeting for all U.S. airline managements and also included representatives from some of the big European and Asian carriers. Airline consultants, government policy makers, and many news media reporters attended. During the conference opening, I was amazed when the sponsors reviewed the agenda for the next 3 days: Labor's new strength—who is the leader? International aviation agreements—why so little progress? Limits on foreign ownership—why can't they be changed? Limits on capacity enhancement—who is in charge?
If you're building infrastructure, the aviation leaders and officials said, you have to talk to ALPA. If you're building airplanes, you have to talk to ALPA. If you're creating international routes or negotiating international aviation treaties, you have to have ALPA's support before the matter can be successfully concluded. A European or Asian carrier, when it tries to increase its stake in a U.S. airline, complains that the only real stumbling block is ALPA. When those same airlines try to win cabotage rights, what stops them? Again, it's ALPA. When airlines want to cram more flights with less separation into transoceanic routes—who objects? ALPA, and IFALPA with our backing. The conference sponsors concluded that all aviation industry issues have to go through ALPA to be resolved. The sponsors were not particularly pleased with that observation.
The other buzz that's currently making the rounds is that airline managements have clearly underestimated the resolve and solidarity of ALPA members when a line is drawn in the sand and we're told to step across—or else. After the Delta pilots received the latest tentative agreement, the Wall Street Journal reported that Delta's CEO claimed he had never before dealt with a union such as ALPA. After nearly 2 months of walking the picket line, 91.3 percent of the Comair pilots said NO to the latest "final offer" from management. Our Executive Board recently reiterated, by acclamation, every ALPA member's unwavering support for the Comair pilots. Soon, I will be mailing to every ALPA member a ballot to authorize continued strike benefits for Comair pilots.
ALPA is not omnipotent and all-powerful. No union can really make that claim. But clearly, if airline managements really want to grow their carriers and offer both their stakeholders and their employees a fair return on their investment, those officials must first talk to ALPA.
s/Duane E. Woerth