Open Skies: Upholding the Promise
Since the 1990s, the U.S. government's "Open Skies" policy has emphasized minimum government interference in, and reliance on, the marketplace, as well as the principle of fair competition to determine the variety, quality, and price of international air services. Under this policy, the United States has signed more than 115 "Open Skies" air service agreements, which have helped expand international passenger and cargo flights, foster U.S. tourism, and generate good U.S. airline industry jobs.
While the U.S. government's Open Skies agreements have opened up much of the planet to U.S. airlines and their employees, the United States does not currently have Open Skies agreements everywhere. China, with its three major, heavily subsidized, government-owned airlines, is one such country. Russia, Egypt, South Africa, and many other large economies are also on that list. The U.S. government acknowledges that while Open Skies is its general policy goal, it is not possible to achieve everywhere.
Massive Subsidies Undermine Fair Competition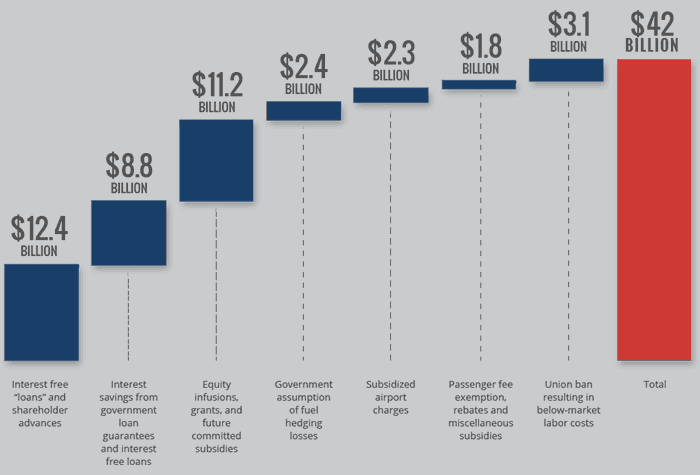 The U.S. government uses the same template for all Open Skies agreements. With generally minor variations, all Open Skies agreements include provisions related to:
Removal of government interference in the marketplace, e.g., removal of limitations on the number of airlines serving a market frequencies, aircraft type used, or fares;
Mutually agreed cooperation on aviation safety and security, with reference to international standards;
Traffic rights to operate between the United States and the other country, plus traffic rights for points beyond the United States and the other country (i.e., "5th and 6th freedoms of the air");
Requiring that airlines of all parties are allowed a fair and equal opportunity to compete;
The ability of any party, at any time, for any reason, to request consultations to address interpretations of, changes to, and enforcement of the agreement; and
Dispute resolution and termination of the agreement.
In two countries, Qatar and the United Arab Emirates, state-owned, heavily subsidized carriers are currently abusing the Open Skies system. Since 2005, these countries have provided more than $42 billion to their state-owned carriers in subsidies and other unfair benefits, distorting the international aviation market and depriving U.S. carriers of a fair and equal opportunity to compete. The existing Open Skies agreements with both of these countries have consultations provisions which give the United States the ability enforce each provision of these agreements without terminating them.
The consequences to the U.S. airline industry and its employees of these subsidies are severe. Every widebody frequency served by U.S. carriers supports 982 jobs. In contrast, frequencies served by the subsidized foreign carriers of the Persian Gulf only support 161 jobs, a negative impact of over 800 jobs lost or forgone per frequency.
---
Flight Plan
The United States must ensure that Open Skies agreements give U.S. airlines and their employees a fair opportunity to compete in the international marketplace. First and foremost, that means enforcing the letter and spirit of our existing Open Skies agreements. The U.S. government should immediately open consultations with Qatar and the United Arab Emirates to bring them into compliance with the documents they signed. The U.S. government must also consider the ability and willingness of any potential new Open Skies partners to fully comply with these agreements. We should not open negotiations for Open Skies agreements with any country unlikely to abide by the rules.
See also Flags of Convenience
---
Download the Open Skies White Paper