The Landing: Walk the Line
The power of the picket has been demonstrated time and again as ALPA pilots have used this tool to apply added pressure during stagnant negotiations and to raise public awareness. During the last year, these half dozen ALPA pilot groups have proudly pounded the pavement to let their airlines, the traveling public, and the news media know that their cause is just, their demands are reasonable, and their members are united. And thanks to these efforts, their messages have received some added traction.
Mesa
Date: Feb. 5, 2017
Location: George Bush Intercontinental Airport
Message: Six years of collective bargaining is too long
Attendance: 70 pilots
Notable: Since the event, Mesa pilots have amassed more than 800 Facebook followers.
Virgin America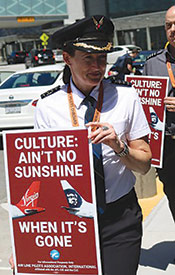 Date:
May 3, 2017
Location:
Los Angeles International, Seattle–Tacoma International, and San Francisco International Airports
Message:
A joint contract is needed to successfully integrate the two pilot groups
Attendance:
400 pilots
Notable:
The online
#ThisMergerWontFly Thunderclap message
synchronization supporting this picketing effort generated nearly 350,000 impressions.
Spirit
Date: Nov. 30, 2017
Location: Dallas/Fort Worth International Airport
Message: Management needs to return to the bargaining table (negotiations had stalled since September)
Attendance: 65+ pilots
Notable: On this day, more than 153,000 people saw ALPA social media digital ads where the picketing event took place.

Frontier
Date: Dec. 7, 2017
Location: Denver International Airport and Civic Center Park
Message: Frontier pilots are paid up to 40 percent less than pilots at similar airlines and need a new contract now
Attendance: 350+ pilots
Notable: The video created from this event has generated 450,000 views.

JetBlue
Date: Jan. 31, 2018
Location: JetBlue Headquarters, Long Island City, N.Y.
Message: JetBlue pilots have been in contract negotiations for more than three years
Attendance: 700 pilots
Notable: Coverage of the event on the JetBlue pilots' Facebook page, including shares, produced more than 500,000 impressions.

This article was originally published in the March 2018 issue of Air Line Pilot.