Slavery in the 21st Century
What You Need To Know About Flying and Human Trafficking
By John Perkinson, Senior Staff Writer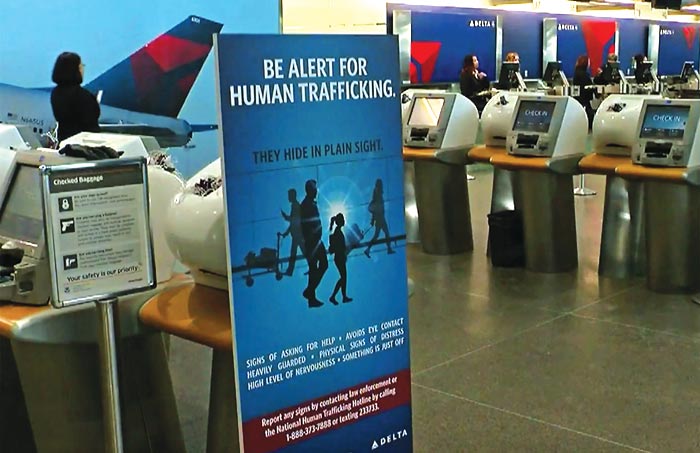 This human trafficking awareness poster was produced by Delta Air Lines and positioned near the airline's check-in kiosks at Minneapolis–St. Paul International Airport prior to the recent Super Bowl.
Passengers and pilots passing through Minneapolis–St. Paul International Airport in early February couldn't miss the ominous signs posted throughout the terminals. Notices to "Be Alert for Human Trafficking" were strategically placed to advise the traveling public that, contrary to what many might think, North America isn't exempt from this modern-day form of slavery.
At that time, the city of Minneapolis, Minn., was hosting Super Bowl LII, and the airport authority, working in conjunction with law enforcement agencies, was mindful that large-scale sporting events often attract this kind of illicit activity. However, human trafficking is widespread and occurs daily in all parts of the world. According to a U.S. Senate report published last year, approximately 1.5 million people in the United States are victims of trafficking, and estimates for Canada are in the thousands. Around the globe, the United Nations (UN) reckons this illegal action produces a projected annual income of $32 billion.
Human trafficking is defined as "the recruitment, harboring, transport, provision, or obtaining of a person by force, fraud, or coercion for the purpose of involuntary servitude, peonage, debt bondage, or slavery." The most prevalent form is sex trafficking, in which a commercial sex act is induced by force, fraud, or coercion. Human trafficking has been identified as the world's fastest-growing criminal activity, second only to the transport and sale of illegal drugs.
Canada's National Action Plan to Combat Human Trafficking highlights the reason for this crime's extensive proliferation: "Human trafficking is often characterized as a 'low-risk/high-reward activity' because of the fact that the crime is clandestine, therefore difficult to detect and investigate, which contributes to the relatively low prosecution rates worldwide." The report notes, "Victims can be exploited over and over for the financial or material benefit of the traffickers making this crime lucrative."
Strange conduct
Those at risk for human trafficking include individuals who are socially or economically disadvantaged (plus migrants and new immigrants), teenaged runaways, and others whose circumstances can lead them to feel isolated. Women, men, and children are trafficked for a range of purposes, including forced labor in factories, farms, and private households. Women are at the greatest risk, but males are also subjugated to this illegal practice.
A flight attendant recalled a domestic flight she worked several years ago in which a group of young girls boarded, wearing nothing but t-shirts and blue jeans, even though it was the middle of winter. They didn't appear to speak English and, strangely, none of them conversed, even though they sat together on the coast-to-coast flight, which lasted more than five hours. The flight attendant thought this seemed odd but divulged that she didn't know what to do about it.
In the United States, the Department of Homeland Security (DHS) investigates instances of human trafficking using a victim-centered approach that places equal value on identifying and stabilizing victims as well as investigating and prosecuting traffickers. Above the 49th parallel, the Royal Canadian Mounted Police leads an integrated enforcement team while a Human Trafficking Task Force, spearheaded by Public Safety Canada, coordinates the National Action Plan to Combat Human Trafficking.
Trafficking means travel
Human trafficking is particularly pertinent to the aviation community because "trafficking" highlights the fact that transportation is involved. Frequently, victims are lured to unfamiliar surroundings where they're more easily manipulated. Accordingly, the United States has taken detection and enforcement one step further in the aviation sector.
On July 15, 2016, Congress passed Public Law 114–190, requiring U.S.-based airlines that operate U.S.-bound international routes to provide their flight attendants with initial as well as recurrent training to help them recognize and respond to potential human-trafficking situations. Subsequently, the FAA issued InFO (Information for Operators) 16019, and the U.S. Department of Transportation partnered with the DHS to create the Blue Lightning Initiative.
Per the U.S. Customs and Border Protection (CBP) website, Blue Lightning is a component of the DHS Blue Campaign and "trains aviation industry personnel to identify potential traffickers and human-trafficking victims, and to report their suspicions to federal law enforcement. To date, more than 70,000 personnel in the aviation industry have been trained through the [initiative], and actionable tips continue to be reported to law enforcement."
Airline employees are given computer-based training, review printed materials on human-trafficking indicators, and learn safe and anonymous methods for advising federal law enforcement of possible incidents. "Because airline personnel are uniquely positioned to observe possible human trafficking, making them aware of what potential trafficking looks like is an important first step," the CBP remarked.
Those who come in routine contact with passengers are instructed to look for things like physical control of travel documents for a passenger by a fellow passenger, restricted movement and social interaction of an adult passenger by a fellow passenger, or a passenger who is unclear about his or her final destination. With this kind of preparation, airline employees can be a force multiplier in identifying this crime and discouraging future acts.
More is better
Current Blue Lightning activities focus largely on flight attendants because this employee group typically spends the most time in direct contact with the traveling public. However, human trafficking continues to grow, and other frontline airline employees, including pilots, can play a vital role in recognizing and reporting trafficking.
In recent years, the UN has been at the forefront of fighting global human-trafficking activities. Through its Office on Drugs and Crime and its Office of the High Commissioner for Human Rights, the UN has produced numerous tools and publications, created voluntary trusts for victims, and hosted events to help the nations of the world better work together on this front.
In fact, F/O Hannah Peavey (ExpressJet), an ALPA Air Safety Organization representative, and Candace Kolander, ALPA's occupational health, safety, and security specialist, are advisors to the International Civil Aviation Organization's (ICAO) Cabin Safety Group (CSG) and will be attending a UN human-trafficking summit in Geneva, Switzerland, on May 28. The CSG is composed of subject-matter experts who offer advice and assist with the development of requirements, guidance materials, and implementation support to enhance aircraft cabin safety. Both Peavey and Kolander previously were flight attendants.
In addition, ALPA continues to reach out to the DHS to see how the two organizations can better work together to build pilot awareness to support the goal of eliminating or reducing incidents of this wrongdoing.
Human trafficking is a complex issue that can take many forms. As a result, the nature and circumstances of its victims vary greatly and aren't always easy to identify. And because human trafficking is profitable, it isn't going to simply go away. But passengers, frontline airline employees, and others who are aware of this criminal activity and the telltale signs can help law enforcement organizations free its victims and bring perpetrators to justice.
Telltale Signs of a Human-Trafficking Victim
A passenger who is
not in control of his or her travel documents.
edgy or frightened.
bruised on his or her body.
being controlled by a fellow passenger.
unsure of his or her final destination.
Help Is a Phone Call Away
To report suspected human trafficking in the United States, call 1-866-347-2423. To get help from the National Human Trafficking Hotline, dial 1-888-373-7888 or text HELP or INFO to BeFree (233733). In Canada, the Royal Canadian Mounted Police (RCMP) has created the Human Trafficking National Coordination Centre at its headquarters in Ottawa, Ont. However, to report possible incidents, contact the local RCMP detachment or municipal police agency.
This article was originally published in the May 2018 issue of Air Line Pilot.