Retired ALPA Pilot Transports Passengers Back to Early Days of Air Travel
By John Perkinson, Senior Staff Writer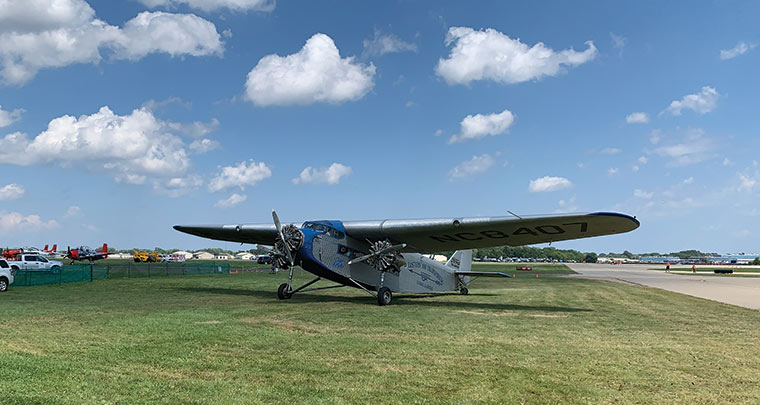 Little Ford parked on the grass at Wittman Regional Airport in Oshkosh, Wisc.
Capt. Cody Welch (Northwest, Ret.) enjoys providing people with an education about what air travel was like during the North American airline industry's infancy. But rather than assigning books to read, Welch gives his "students" hands-on experience. As a pilot and chair of the Experimental Aircraft Association's (EAA) Ford Trimotor Tour program, he takes them for rides in the pioneering airliner.
"People used to show up in a horse and buggy to ride this plane," said Welch, who's been flying the Trimotor with EAA for more than 25 years. Over the years, the Linden, Mich., resident has transported more than 47,000 people and accumulated more than 7,500 landings in the aircraft.
The Ford Trimotor, nicknamed the "Tin Goose," revolutionized air travel in North America, providing reliable and, for the time, comfortable passenger service for nearly a dozen passengers. Between 1926 and 1933, automobile innovator Henry Ford manufactured 199 of these airplanes, which featured an enclosed cabin, three air-cooled radial engines, and an aluminum corrugated sheet-metal body and wings. Aircraft like the Boeing 247 and the Douglas DC-2 would soon surpass the Trimotor's popularity, offering greater efficiencies. However, Trimotors would continue to make a name for themselves in other parts of the world and in other ways.
Welch learned about the opportunity to fly the antique aircraft from a fellow Northwest Airlines pilot. The aviator knew of Welch's familiarity with Douglas DC-3s and Beechcraft Model 18s and asked if he might be interested in joining the burgeoning EAA Ford Trimotor pilot ranks. "It was the opportunity of a lifetime," remarked Welch, who became a Trimotor captain in 1993. As the current chair of the program, he handles pilot standardization, scheduling, and any challenges that might arise—in addition to flying as a member of the current team of 16 pilots.

Capt. Cody Welch (Northwest, Ret.) repositions one of the Ford Trimotors from Decatur, Ill., to Oshkosh for the 2019 EAA AirVenture.
Plane talk
EAA flies two Trimotors—a Model 4-AT-E painted in Eastern Air Transport livery, which goes by the name of Little Ford for FAA traffic separation purposes, and a 5-AT-B in Transcontinental Air Transport livery, which answers to Big Ford.
Little Ford (NC8407) was 146th off the manufacturer's assembly line and initially took off on Aug. 1, 1929. It became the first aircraft for Eastern Air Transport (what was later to become Eastern Air Lines), and was subsequently leased to Cubana Airlines, where it was used to inaugurate air service between Havana, Cuba, and Santiago de Cuba.
The aircraft briefly served the government of the Dominican Republic before eventually being relegated to barnstorming, crop dusting, and aerial firefighting duties. A thunderstorm in 1973 severely damaged the parked plane and EAA purchased the wreckage, restoring and displaying the Trimotor until 1991 when the organization decided to take it on tour for passenger rides.
Little Ford received added notoriety as a movie star; the aircraft appeared in the 1965 Jerry Lewis comedy The Family Jewels and again in 2009 in the Johnny Depp movie Public Enemies about gangster John Dillinger.
Big Ford (NC9645), previously nicknamed the "City of Wichita," first took to the skies on Dec. 1, 1928, and was purchased by Transcontinental and Western Air (TWA) for passenger service. It would later be sold to Grand Canyon Airlines and Salvadorian carrier TACA Airlines. The aircraft had several subsequent owners, including William Harrah of Harrah's Hotels and Casinos, before being acquired by the Liberty Aviation Museum in Port Clinton, Ohio. The facility now leases the aircraft to EAA.
Touring towns
The two Trimotors embark on an annual tour of small- to medium-size communities. "We hit about 70 cities a year with the two planes," said Welch, who remarked that the airplanes will temporarily operate at a local airport where they typically fly between 300 to 600 passengers per visit. "We're hosted 99 percent of the time by EAA chapters," Welch noted, adding that at EAA AirVenture Oshkosh this past summer the two planes operated 313 flights.
To staff the aircraft, the 16 EAA Trimotor pilots bid on schedules several months in advance. Schedules cover the repositioning of planes from city to city as well as flying passenger tours. Welch commented that a significant number of the crewmembers are current or former Alaska, Northwest, and United pilots. "It's a doggone ALPA fraternity," he chuckled.
Over the years, Welch has experienced his share of memorable moments while operating these tours. He's piloted celebrities including actors Harrison Ford and John Travolta. "Wedding proposals are always fun because you get to conspire with the groom-to-be and come up with a plan before the flight and execute it," he revealed. Welch has also watched passengers tie the knot aboard his flights.
"Grandfathers who brought their sons who brought their sons and the three flew together" account for other unforgettable experiences. On a more somber note, Welch has flown final flights for pilots and others facing incurable diseases and terminal conditions.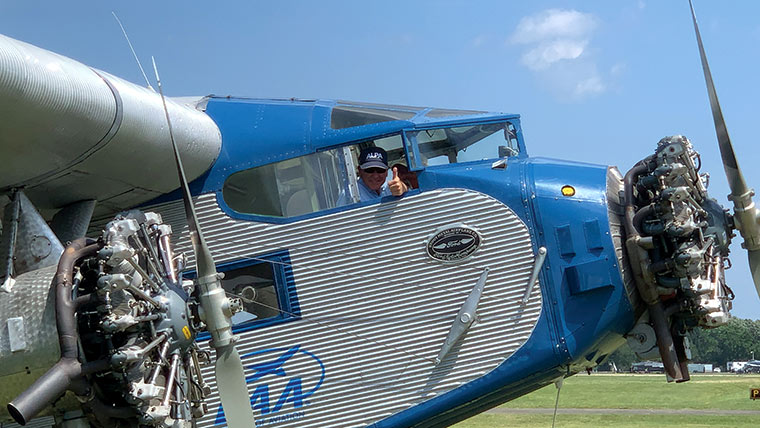 At Oshkosh, Capt. Joe DePete, ALPA's president, gives a "thumbs up" from the Little Ford cockpit as Welch watches from behind.
Stick-and-rudder skills required
If you love to fly, Welch acknowledged that the Ford Trimotor might just be the aircraft for you. As you prepare to take off and advance the throttle levers, the guttural roar of the engines and the heavy vibration in the floor serve as reminders that this is technology of yesteryear. "I tell pilots that it's a very honest airplane. It has very severe adverse yaw," he observed, pointing out that "it's a rudder airplane; you have to have happy feet…. It's fingertip steering when it's calm and two-handed aerobics when it's gusty."
Welch noted that Ford Trimotors didn't come with flaps; they were designed to be angle-of-attack aircraft. He also pointed out, "You have to fly the airplane all the way to touchdown. It's great on ground handling; it's a very easy to maneuver taildragger, thanks to the wide-track gear and the differential throttles."
To further distance the Ford from the Boeing 757 Welch retired on several years ago, the Trimotor's rudder and elevator control cables are strung on the outside of the airplane. Imagine having to look out the window to see the aircraft's engine gauges; they're mounted externally on the engines.
In addition to the work with the Ford Trimotor Tour program, Welch and his wife, Jackie, are active with EAA in a variety of ways and received "Volunteers of the Year" recognition in 2015.
Welch is also founder and president of Wings for Mercy, a nonprofit organization providing free air transportation to distant medical centers. The former Northwest pilot noted that, since its creation, the charity has flown 2,700 patient missions. "That gets you out of bed in the morning because our organization save lives," he said. Whether transporting those in need of medical attention or exposing the masses to a little piece of airline history, Welch has discovered great ways to utilize his love of flying well after his airline career, and those who ride with him are most certainly the beneficiaries.
Help Keep the Ford Flying
With its continuous operation and age, Little Ford once again needs some work, and the Experimental Aircraft Association has turned to the public for help. It costs approximately $50,000 to overhaul the engines alone, and this maintenance needs to be performed every 1,500 hours the plane is in service. If you're interested in making a donation to keep this vestige of aviation history in the skies, visit tingoose.eaa.org for more information.
This article was originally published in the December 2019 issue of Air Line Pilot.