Our Stories: Air Wisconsin Pilot Balances Flight, Musical Instruments
By John Perkinson, Senior Staff Writer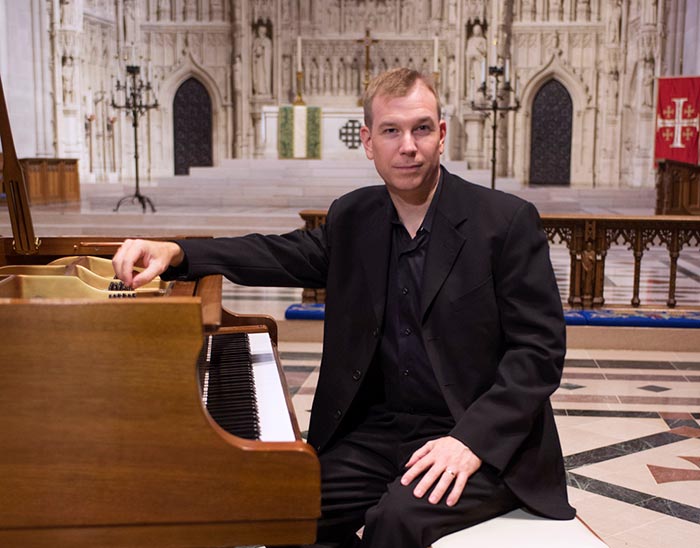 Capt. Erik Suter (Air Wisconsin) sits at the piano in the Washington National Cathedral in Washington, D.C.
You could say Capt. Erik Suter (Air Wisconsin) leads two lives. When he isn't flying the CRJ200 for his airline, he's an acclaimed organist, performing fugues and other classical compositions in beautiful cathedrals and concert halls around the world.
Suter has played with the Philadelphia and National Symphony Orchestras and has appeared on the syndicated American Public Media show Pipedreams. However, his longest gig was with the Washington National Cathedral—from 1998 to 2007—where he played for both state occasions and concerts.
"I had just finished grad school," said Suter, who holds music degrees from both Oberlin Conservatory and Yale University. "The National Cathedral had an opening for an assistant organist, which I applied for. They gave me the job, and four years later I was promoted to head organist."
The son of a Lutheran minister, Suter grew up with easy access to the family church's organ. He took piano lessons at age six and organ lessons by the time he was a high school sophomore. However, he also loves to fly.
After establishing himself as a professional musician, he began taking flying lessons a dozen years ago at the Montgomery County Airport in Gaithersburg, Md. He earned his licenses and ratings, built up his flying time, and in 2007 applied to several regional airlines. He was hired by Air Wisconsin in 2008 and, although furloughed for a year, has been flying for the carrier ever since.
On the flip side, Suter has had a remarkable music career, accumulating quite a few accolades along the way. Originally from the Windy City, Suter placed first in the 1993 Chicago American Guild of Organists Young Organist's Competition. He took first prize at the 1995 National Undergraduate Organ Competition in Iowa, and received a Gold Medal from the mayor of Musashino/Tokyo, Japan, for the 1996 International Organ Competition. He also won first prize in the 1997 Yale Biennial Organ Competition and was a finalist twice at the AGO National Young Artists Competition in Organ Playing.
Suter said his most memorable performance was playing at President Ronald Reagan's funeral on June 11, 2004. "That was a tremendous honor. I'll never forget it." He recalled, "I improvised on 'Amazing Grace.' I played some French organ music, obviously all of the hymns for the service itself, and a few secular things."
Reflecting on his job choices, the Air Wisconsin captain noted, "There are quite a few similarities between flying and playing music. You need to be physically fit and well-coordinated. You need to think about the big picture while keeping track of the details. You put a lot of the same skills to use, but with different applications."
There's no denying that Suter is a man of many talents. He admits that juggling his music and flying responsibilities while trying to make time for his family has been challenging. His wife, Chuyoung, is also a professional musician, which helps her understand at least half of the demands of his callings. Now in his early 40s, Suter has scaled back his performances to once or twice a month, depending upon the days he can bid off. Looking forward, he hopes to continue this dual identity, divulging, "Flying is what I do. Being a musician is who I am."
Visit www.erikwmsuter.com to learn where Capt. Erik Suter will be performing this fall, hear some of his music, and purchase his recordings.
This article was originally published in the September 2016 issue of Air Line Pilot.