Delta Pilot Transforms B-747 Engine into Automotive Sensation
Promotes Charities and the Profession with One-of-a-Kind Creation
By John Perkinson, Senior Staff Writer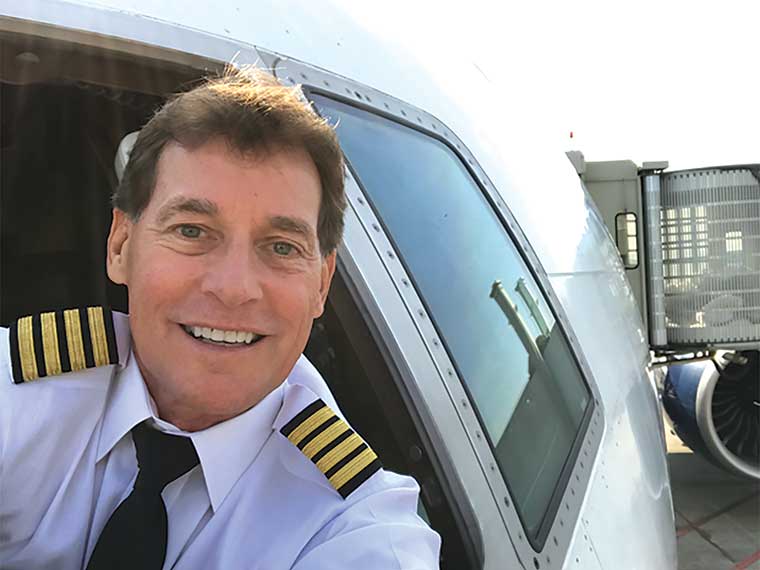 Capt. Paul Holmes (Delta) in a Delta aircraft.
Is it an airplane? Is it a car? Is it a golf cart? It's all three! And Capt. Paul Holmes (Delta) refers to it as his Jetmobile—an earthbound, motorized transport designed from the cowling of a Boeing jumbo-jet engine. Holmes envisioned and engineered the vehicle on a cocktail napkin nearly seven years ago and uses it to promote awareness of worthwhile charities and the airline piloting profession.
The Delta captain, however, initially acquired the engine for completely unrelated reasons. He and his wife, Susie, purchased an old elementary school with plans to modernize and convert it into a 20-unit office complex. Because the structure is located in the 700th block of an otherwise unoccupied part of the street, Holmes could choose any address number. He selected "747" to honor the aircraft he had flown for so many years, and he and his wife decided to decorate the property with an aviation motif.
Holmes soon acquired various aircraft parts, including an engine from a salvaged B-747 parked at Miami-Opa Locka Executive Airport in Miami, Fla. While the materials were intended to serve as functional art for the property, he later came up with a surprising and rather unconventional idea. "I figured, 'Why not make a car out of it?' and that's how the Jetmobile came to be," he said, adding, "It's really the world's biggest, coolest golf cart."
Holmes positioned the Pratt & Whitney JT9D engine cowl on the chassis of an electric golf cart. He configured a "cockpit" on the top, noting, "I installed the actual -747 captain's seat and rudder pedals, which serve as the accelerator and the brake."
Inside the cabin, Holmes fitted two first-class seats for passengers along with carpeting, wood paneling, and one third of the spiral staircase removed from the B-747. Fully assembled, the Jetmobile reaches speeds of up to 15 miles per hour and sports lights, music, and smoke and bubble machines.
On the front exterior appear the words, "Do good things," a philosophy Holmes wants to share with Jetmobile fans. As part of the vehicle's purpose, he offers free advertising for charities including the EAA Young Eagles, United Way, the American Red Cross, and the National Foundation for Cancer Research. "I put their stickers on the side of the vehicle to help raise awareness," he said.
Holmes debuted his creation in 2014 during the Turkey Run at the Daytona International Speedway, an annual event that features unique automobiles and swap-meet vendors. "There had to be 10,000 cars there," Holmes remembered. "When I showed up with the Jetmobile, people were running to stand by it and take photos. Everyone had their cameras out." He noted, "It was a giant hit, so right from that day, I thought, 'This is going to work.'"
The Jetmobile has been a routine attraction at the Sun 'n Fun Aerospace Expo in Lakeland, Fla. It's also appeared at the Vero Beach Air Show, EAA AirVenture Oshkosh, and in local parades and events near Port Orange, Fla., where Holmes and his wife reside. "The kids just love it," he shared.
And kids are a big part of the Holmes' motivation. They offer housing each year to an Embry-Riddle Aeronautical University student, and the Delta captain has mentored and encouraged dozens of future pilots over the years.
Holmes' love for flying began with general aviation many years ago. He served as a flight instructor in college and later joined the U.S. Air Force. In 1981, he began flying for Northwest Airlines, which later merged with Delta. Today, Holmes is a B-777 captain based in Atlanta, Ga., but he still loves general aviation flying. Not surprisingly, he owns several small airplanes and lives in a residential airpark.
Looking back on his decision to construct the Jetmobile, Holmes acknowledged, "As an airline pilot, I'm committed to professionalism, but it's nice to throw in a little fun once in a while to keep things interesting."
Capt. Paul Holmes (Delta) in the cockpit of his one-of-a-kind Jetmobile.
This article was originally published in the August 2019 issue of Air Line Pilot.