ALPA@WORK: ALPA Pilots Help Others Find Their Path at OBAP
By ALPA Staff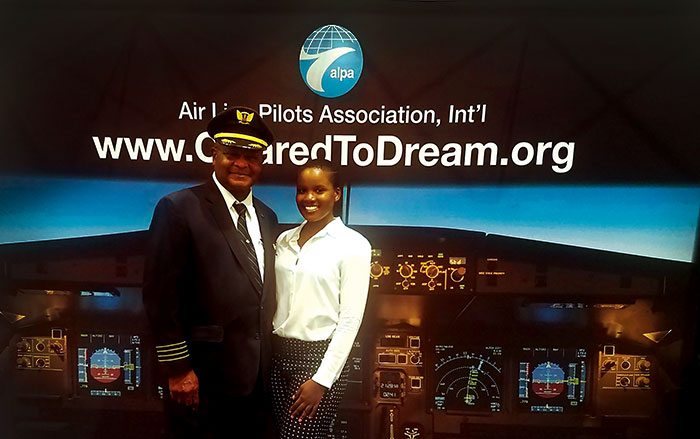 Capt. J.G. "Paco" Sulmers (United, Ret.) and Ashley Young at the recent Organization of Black Aerospace Professionals Convention and Career Exposition.
As part of ALPA's mission to secure the future of the airline piloting profession, pilot volunteers recently attended the Organization of Black Aerospace Professionals (OBAP) 42nd Convention and Career Exposition in Houston, Tex. Representing the Association during the convention's career exposition, the volunteers and ALPA staff had the opportunity to connect with current and former ALPA members, other aviation professionals, and future aviators alike.
OBAP and its members focus on promoting diversity within the aviation and aerospace industries and paying it forward. In addition to ALPA's presence, the convention featured various airlines, branches of the military, and aviation-related vendors with presentations focused on career advancement.
The connections made through OBAP are often life-changing. Most conversations at OBAP conventions begin with "How can I help?" and end with "Keep in touch and call me if you need anything." At this year's convention, ALPA members who are also members of OBAP had the opportunity to share their stories and experiences and help inspire and motivate current and future aviation professionals.
Although Capt. J.G. "Paco" Sulmers (United, Ret.) left his airline more than 12 years ago, he continues to inspire future generations of aviators. A member of OBAP for more than 30 years, he's mentored countless pilots. Sulmers' most recent success story began with a simple conversation. On a flight in September 2017, he crossed paths with Ashley Young, a Delta flight attendant who asked him questions about flying. Always eager to share his love of flying, he invited her and another flight attendant to experience flight firsthand in the right seat of a small aircraft.
Young's passion for travel led her to pursue a career in aviation, working in baggage service, as a ticketing agent, and as a flight attendant, Young's chat with Sulmers was the defining moment when she knew she wanted to become an airline pilot. Within nine months of her flight with Sulmers, she earned her private pilot license. Young expects to become a flight instructor by January 2019 and then plans to obtain her air transport pilot certificate and type ratings.
Attending her first OBAP convention, she said, "The conference is inspiring and has opened avenues to a whole other side of aviation that I thought was out of reach." Grateful for the support she's receiving, Young's already paying it forward by guiding another flight attendant through the process so that she can achieve her dreams.
An OBAP member since 2013, Capt. John Tabet (Spirit) recalled a unique flight experience at age four that influenced his career ambitions. In the 1970s he was on a British Airways flight and was introduced to the pilots in the cockpit. Not only did he meet them, he rode the jumpseat on the flight from Nigeria to Heathrow Airport. After that flight, Tabet would regularly go to the airport in Jamaica to watch airplanes take off and land. "At this stage in my career, I see the benefits of networking at OBAP and being involved with ALPA," acknowledged Tabet. "I didn't have a role model or mentor to help me find my way. If I had known about or had the opportunity to join OBAP when I was younger, I may have gotten started on my aviation career earlier. I want to help others find their path."
F/O Curtis Jackson's (PSA) mother was an Eastern Airlines flight attendant; and despite his everyday exposure to aviation, he can pinpoint the one event that led him down the path to becoming an airline pilot. At four years of age, Jackson was on a flight with his mother. Before the flight took off, he met the crew and was allowed to flip a switch in the cockpit. That action also flipped a switch within him. By the time Jackson was 15, he was involved with OBAP, attending and volunteering at OBAP's ACE academies while in high school and later in college. Even then he recognized the benefit of networking. "My mentor felt that I would be a good candidate for the Edward Horne scholarship," Jackson said. "With his encouragement, I applied and was awarded the scholarship, which paid for my instrument rating. His recognition of my dedication helped me get to where I am today."
Pay It Forward
If you're interested in inspiring and mentoring the next generation of airline pilots, contact ALPA's Education Committee at Education@alpa.org or go to clearedtodream.org for more information.
This article was originally published in the October 2018 issue of Air Line Pilot.