ALPA@Work: Fee-for-Departure Committee Meets to Discuss Changes Affecting Industry
Pilot Leaders at Regional Carriers Plot Course for New Generation
By Julie Mayes, ALPA Senior Communications Specialist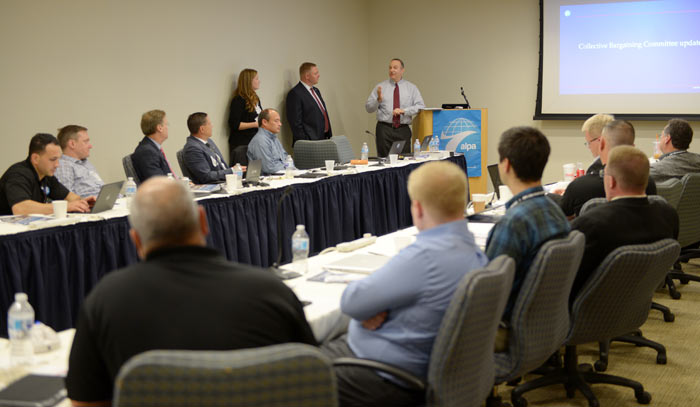 Andrew Shostack, assistant director of ALPA's Representation Department, front right, along with F/O Lindsey Van Beusekom (Express-Jet), a member of ALPA's Fee-for-Departure (FFD) Committee, and Capt. Paul Ryder (ExpressJet), FFD Committee chair, leads a discussion on bargaining.
In conjunction with ALPA's May Executive Board meeting, the leaders of ALPA's fee-for-departure (FFD) pilot groups convened at the Association's offices in Herndon, Va., to discuss changes affecting FFD pilots and the regional-carrier sector of the airline industry. Capt. Paul Ryder (ExpressJet), ALPA's FFD Committee chair, led a discussion that focused on the evolution occurring within the FFD segment of the industry, including improving wages and ALPA's continued effort to make sustainable improvements to pilot contracts—particularly converting temporary bonuses to pay rate increases.
"First officer wages have risen by 50 percent, and many FFD carriers have formed formal career-progression programs with their mainline partners," said Ryder. "While temporary bonus programs still have room for improvement, the shift we've experienced has had positive outcomes with record enrollment at aviation universities and improved working conditions for many ALPA pilots at regional carriers."
The group also discussed demand shifts in regional market destinations and ALPA's role in preparing for the ongoing evolution of the FFD marketplace. Participants noted that the Association's regional pilot leaders will continue to coordinate with ALPA's Collective Bargaining Committee to better navigate the unique bargaining environment in which FFD carriers are often competing for the same business. The discussions on bargaining also covered a comprehensive look at FFD capacity, growth at mainline carriers, and the 50 percent increase in first officer pay within the last four years.
"While retention bonuses proved that low wages at regional airlines had to come up, they fail to provide a long-term solution," Ryder observed. "As attrition through retirements continues, the resulting movement brings benefits and improved quality of life to pilot groups where progression is orderly and predominantly from the top of the seniority list. This is best attained when pilot groups work with their airlines to achieve programs that benefit all parties and manage growth, progression, and professional development."
To that end, the committee also reviewed ALPA's publication Air Line Pilot Careers. Aimed at supporting the Association's strategic goal to secure the future of the piloting profession, Air Line Pilot Careers serves as a guide for prospective pilots. The first issue covers pay rates (including comprehensive contract comparison data) and additional topics of importance to students and other pilots interested in flying for regional carriers.
Printed copies of the publication will be distributed throughout ALPA's network of ACE Clubs and at national aviation events featuring career fairs. Air Line Pilot Careers is also available online at clearedtodream.org
"We know that this will be the first introduction to ALPA for a whole new generation of pilots," said F/O Lindsey Van Beusekom (ExpressJet), a member of the FFD Committee. "We worked with ALPA's Economic & Financial Analysis Department to gather clear, concise, and timely contract data for all of ALPA's fee-for-departure and regional pilot groups. The result is a comprehensive guide that will help tomorrow's pilots become educated consumers when the time comes for them to land their dream job."
The FFD Committee is also continuing its career-progression program with another upcoming application and interview workshop scheduled in Herndon, Va. This follows a successful year of ALPA workshops with approximately 300 FFD pilots attending events in Atlanta, Ga.; Chicago, Ill.; Denver, Colo.; and Palm Springs, Calif. The committee will also sponsor additional career-progression open houses and interview walkthroughs. These events are free for ALPA members, and details can be found at ffd.alpa.org.
The group also discussed a new exit interview survey developed for pilots leaving their airlines for new employers. ALPA will use the survey results to collect data on pilot motivations for changing jobs. The data will help identify additional areas in which ALPA can aid in career progression and bargaining. The survey is available to departing pilots at www.alpa.org/exit.
The FFD Committee working group's next meeting will take place in October during the Association's Board of Directors meeting in Washington, D.C.
This article was originally published in the June 2018 issue of Air Line Pilot.