ALPA@Work: CIRP Chairs Share Experiences, Discuss Best Practices
By John Perkinson, Senior Staff Writer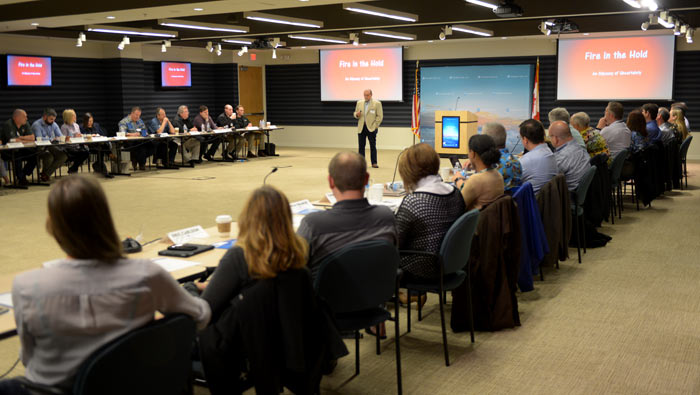 Capt. "Bo" Corby (Northwest, Ret.), standing, recalls the stress of having to make an emergency landing in a hostile nation.
"When a workplace tragedy occurs, we're all one team regardless of the union logo or different job description," said Capt. Louise Cullinan (Mesa), ALPA's Critical Incident Response Program (CIRP) chair, during a recent meeting that included ALPA CIRP representatives as well as representatives from other North American and European aviation organizations. CIRP, which is part of ALPA's Air Safety Organization Pilot Assistance Group, provides post-incident/-accident crisis intervention through peer-to-peer support to help affected pilots recover more quickly.
"It's vital that we work together to help people manage and overcome the harmful stress reactions that often follow critical aviation incidents or accidents," Cullinan noted.
The meeting, held at ALPA's Herndon, Va., Conference Center in April, included presentations and discussions on hot-topic issues and best practices. Presenters included Capt. Alan Campbell (Delta, Ret.) who recounted the events of Aloha Airlines Flight 243 that on April 28, 1988, experienced an explosive decompression followed by the loss of approximately 18 feet of its upper forward fuselage. While Aloha Capt. Robert Schornstheimer and F/O Madeline "Mimi" Tompkins safely landed the B-737, both dealt with issues stemming from the accident for nearly a year. And both withheld what they were experiencing for fear of losing their medical certificates.
Campbell explained that Flight 243 served as the impetus for ALPA's CIRP and that in the following years he worked together with Tompkins and Capt. Robert Sumwalt, a former US Airways pilot who now chairs the NTSB, to research and develop the program. In May 1994, the Association's Executive Board unanimously recognized and approved funding for CIRP. ALPA has since worked with the International Critical Incident Stress Foundation and other organizations helping to develop aviation crisis-intervention and stress-management programs around the globe.
A critical incident can take many forms, and Capt. Galey "Bo" Corby (Northwest, Ret.) described what it was like to land in a hostile nation after his DC-10 experienced multiple warnings for an aft cargo fire. The flight crew of Northwest Airlines Flight 41, which was transporting 241 passengers from Mumbai, India, to Amsterdam, Netherlands, was compelled to make an emergency landing at Mehrabad International Airport in Tehran, Iran, on June 19, 2005.
Corby had previously flown for Iran Air and knew some Farsi as well as many of the local customs. "Everything works in Iran; it just works in a different way," he remarked. Despite the system warnings, there was no fire, and Corby reported that he, his crew, and the passengers were treated very well. However, the event was both taxing and traumatic, and Corby later divulged that he regretted declining CIRP services.
Operational irregularities can be more commonplace in the manufacturing world, and Capt. Christopher Caps discussed his experiences as a Boeing flight test pilot and CIRP rep. In 2010 a massive electrical fire broke out during the test certification of an aircraft. "Smoke was coming up the sidewalls of the cabin, and once the plane touched down, there was an evacuation on the runway," he recalled.
Caps noted how such an event can affect more than just the pilots involved, sharing that numerous employees working on the project submitted their resignations. That's when Caps decided to contact Cullinan to help create CIRP at his company. "The response was overwhelming," he observed, adding that Boeing management continues to be very supportive.
In addition to presenters, several attendees had their own stories to share. Grant "Sid" Lawrence, a search-and-rescue helicopter captain who flies Ireland Coast Guard missions, described an accident in March 2017 that claimed the lives of four of his fellow pilots. "We spent 42 days looking for our friends," he said, noting that residents of the nearby community placed candles in the windows of their homes each of those nights. Soon after, Lawrence's organization reached out to the Irish ALPA pilots of Aer Lingus to help set up a peer-support program.
CIRP chair meeting participants also talked about the recent engine failure of Southwest Airlines Flight 1380 and how it affected air traffic controllers working the flight. In addition, they discussed how CIRP is administered at their airlines and organizations and how their companies notify them of events.
This article was originally published in the June 2018 issue of Air Line Pilot.