All in the Family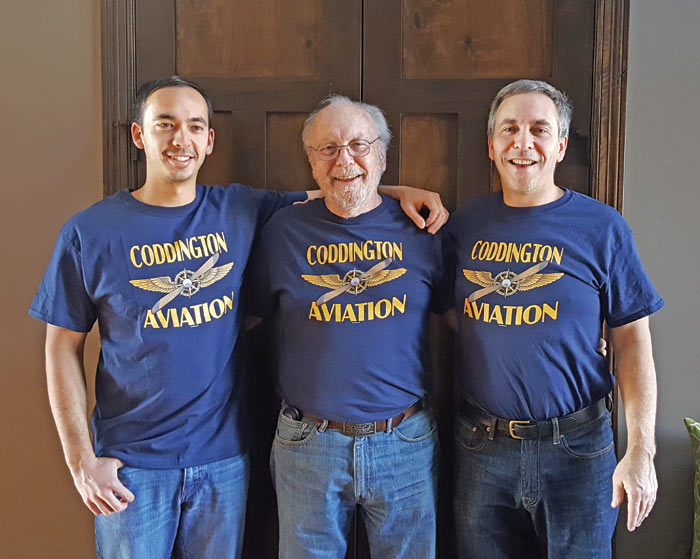 Three of four generations of Coddington family aviation professionals.
Does the love of flying run in your family? Many ALPA members have inspiring stories to share about the generations of airline pilots that run in their immediate family.
Share your story
.
Still a Blur
By Capt. Marty Coddington (Endeavor Air, Ret.)
My father went to work for Western Airlines in the early 1940s at its Los Angeles, Calif.-area headquarters when I was a little boy. He worked at a number of jobs at Western but mostly in passenger services. One early memory of mine is my father bringing me along as a jumpseater on what I believe was a checkride in a Lockheed Lodestar.
From Los Angeles we moved to Salt Lake City, Utah, where my father was the passenger services manager. While in Salt Lake City, he joined a flying club—but it was never clear to me if he got his pilot license. The club had a Taylorcraft, and one of the instructors took me up in it. From Salt Lake City we moved to Billings, Mont., where my father was the station manager in the late 1940s and most of the 1950s.
I joined the U.S. Air Force in the mid-1950s and became an air traffic controller. About four years later, my hitch was up and I was hired by the FAA in Great Falls, Mont. I took flying lessons there and in Chicago, Ill., and finally was licensed in Honolulu, Hawaii. I left the FAA during the controllers' strike in 1981, having put in enough years to retire.
After that, I did a lot of flight instructing, but most of the hours were in balloons and seaplanes. A few years later, I began flying full time, and in 1988 ended up flying in the Northwest Airlink system for what is now Endeavor Air. After 10-plus years of Airlink flying, I reached retirement age for an airline pilot and became a safety rep/consultant for ALPA, working with the Engineering & Air Safety Department for the next 14 years. I started working for ALPA exactly one day after my retirement.
My youngest son, Dean, a Navy pilot, left the U.S. Navy to join Atlas Air in 1994 as a B-747 captain. Three years later, he was hired by Northwest Airlines and is now an A320 captain for Delta. My oldest grandson, Mitchell, attended the University of North Dakota and flew as a captain for two regionals, first at Great Lakes and then Compass. He's now an A320 first officer for Delta.
This makes us four generations of aviation professionals! And even though Lodestars and DC-3s were not very fast, the last 75 years or so is still a blur.
Looking Forward to the 100th Anniversary
Capt. David Sperry (Hawaiian)
Capt. David Sperry (Hawaiian) and his son together in flight in 2016.
My father learned to fly at the Boeing School of Aeronautics in the mid-1930s as a result of winning an essay contest the school sponsored. He dropped out of the University of California Berkeley and learned to fly at the school in Oakland, Calif. He was hired by United Airlines in 1937. After a career that spanned Boeing aircraft from the B-247 to the B-747 and Douglas from the DC-3 to the DC-8, he retired in 1973. I was 12 years old at the time, and my dad spent many hours in retirement taking me in our Cessna around Oregon, where I learned to love flying.
My parents never pushed me into flying; but after graduating from college, the flying bug hit hard. After the usual instructor/commuter pilot route, I'm now flying as an A330 captain and check airman for Hawaiian Airlines. I'm also working occasionally as an instructor for my local flying club near Seattle, Wash., so that I can enjoy flying both the big and small end of the flying spectrum.
And so it continues: In February 2017, my family and I spent my son's mid-winter break doing a college tour looking at aviation universities. My wife and I have never pushed our son into aviation, but just like me he seems to have a passion for flying. I don't know if it's genetic, but I would bet that on the 100th anniversary of my father's first solo in September 1935, my son will still be carrying on a family legacy driven by a passion for, and enjoyment of, flying.
The author's father, C. Gilbert Sperry, as a new-hire first officer on a B-247 in Philadelphia, Pa., in 1937.
This article was originally published in the March 2018 issue of Air Line Pilot.